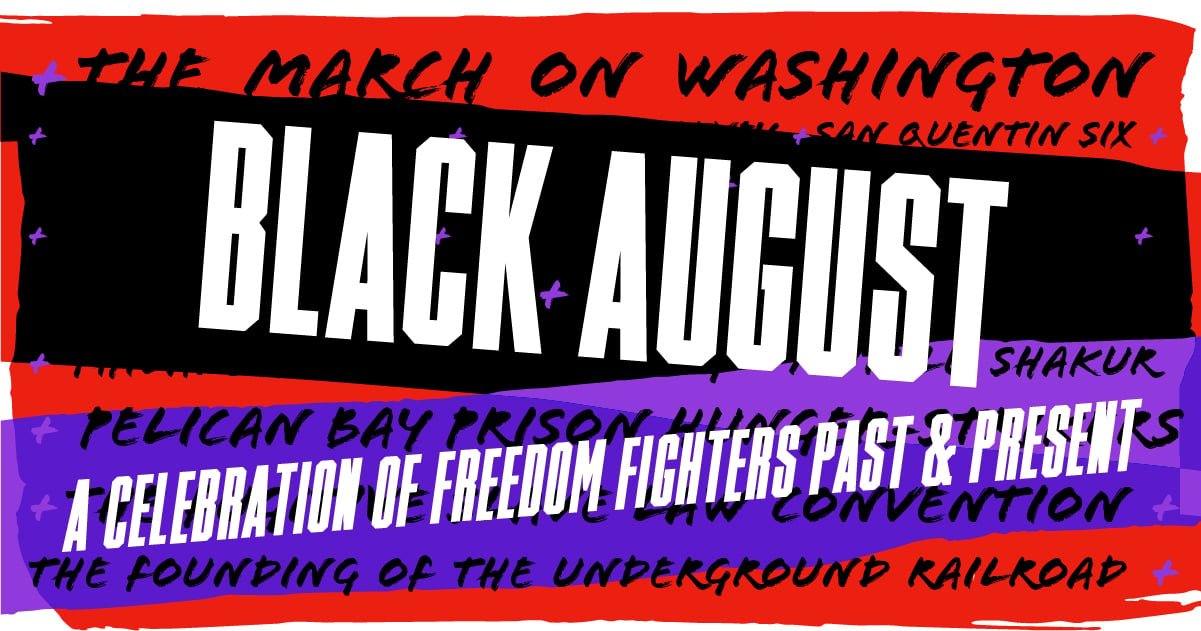 Black August 2020: Remembrance, Resistance, and Righteous Rebellion
We commemorate Black August in a time of collective grief, clarity, rage, and rebellion. Mighty waves of popular uprising against the ravages of white supremacy and anti-Black racism are flooding the streets, rising within and outside of prison walls, and reverberating through communities and institutions. Upon centuries of enslavement and subjugation exists an intolerable present, where the state continues to wield violent force against Black people in the form of mass criminalization and incarceration, repression and militarized police brutality, and willful neglect and discrimination, only amplified in the face of a deadly pandemic. And so, Black people resist. First, to survive. And, like generations of ancestors before, to fundamentally alter our collective condition and make freedom real. This is the legacy of Black August.
Black August began in the 1970s to mark the assassination of the imprisoned Black Panther, author, and revolutionary George Jackson during a prison rebellion in California. It is a time of reverence to honor political prisoners, freedom fighters, and martyrs of the Black freedom struggle. This month, we celebrate all the political prisoners who have helped us understand that prison is political and that our collective freedom depends on abolishing the state's capacity, through incarceration, policing, and surveillance, to disrupt communities and diminish principled struggle against the unjust status quo. The month of August is also rich with the history of Black resistance outside, from the Haitian Revolution to the Watts rebellion and the Ferguson uprising. Black August is a reminder of power in unity, and a mandate to continue joint struggle.
For over fifty years, the Center for Constitutional Rights has worked together with people inside, from Attica to Pelican Bay, with freedom fighters, and with survivors, to protect Black resistance and eliminate the power of the state to inflict harm on our communities. Today, we continue working to decarcerate prisons, jails, and detention centers, to end death-by-incarceration sentences, and to push back against the state's violent repression of those demanding a transformed society. As the Black freedom struggle continues, so too does our commitment. Join us this Black August to reflect, to learn and to unlearn, and to advance the righteous rebellion towards Black liberation. Together, we will honor the faith that past resistance has taught us and lean into the hope that the present fight for liberation has brought us.
For more information about currently held political prisoners, you can check these websites to learn their stories and offer support:
Dr. Mutulu Shakur
Rev. Joy Powell
Mumia Abu-Jamal
Sundiata Acoli
Jalil Muntaqim
Russell "Maroon" Shoatz
Veronza Bowers
Ruchell "Cinque" Magee
And more: https://thejerichomovement.com/prisoners

STATE REPRESSION OF THE BLACK POWER MOVEMENT

State Repression of the Black Power Movement
Assassination of George Jackson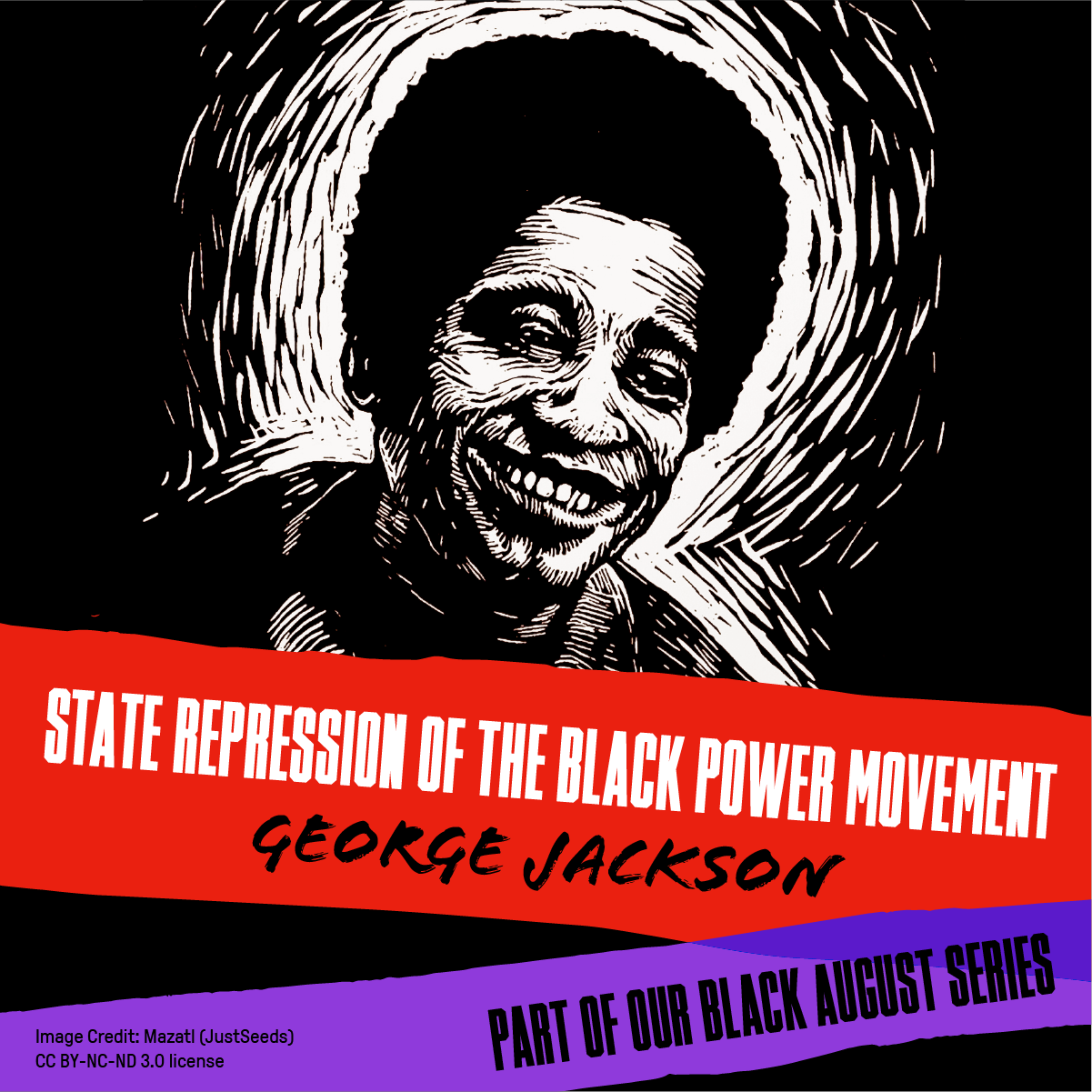 Illustration of George Jackson by Mazatl
Created for the Critical Resistance ten year anniversary conference in Oakland, California, which took place in 2008. Critical Resistance Ten was a gathering of activists, educators, and allies of prisoners who came together to promote organizing efforts against the US prison system.
Justseeds.org
On August 21,1971, George Jackson, an abolitionist, author, and prisoners' rights movement leader, was assassinated by guards during a rebellion at San Quentin State Prison. At the time of his murder, Jackson had served 10 years of a oneyear to life sentence for stealing $70 from a gas station. Seven and a half of those 10 years served were spent in solitary confinement.
In 1970, while imprisioned, George Jackson, Fleeta Drumgo, and John Cutchette were charged with the murder of Prison Guard, John Mills. The three became known as the "Soledad Brothers." The same year, George Jackson published his prison letters in the book Soledad Brother: The Prison Letters of George Jackson.
Watts Rebellion
On August 11,1965, the Watts neighborhood of Los Angeles rose up in rebellion in response to police brutality against a Black man during a traffic stop. Mounting instances of police brutality, housing discrimination, and failing school systems served as the kindling for a fiveday long rebellion. Following the uprising, and despite the findings of a gubernatorial commission, city and state officials failed to improve the social and economic conditions in the Watts neighborhood.
Assata Shakur
Former Black Panther Assata Shakur was a target of the FBI's deliberate attempts to criminalize political dissent and intimidate activists. In the 1970s, the FBI's infamous COINTELPRO surveillance program targeted and killed leaders of the Black Liberation Movement using tactics later investigated by Congress and found to be illegal. As recently as 2013, the FBI still included Assata on its Ten Most Wanted list.
Ferguson Uprising
On August 9, 2014, Michael Brown was murdered by a white police officer in Ferguson, Missouri. The collective grief and outrage of yet another Black life taken by state-sanctioned violence incited a community-led uprising that lasted over 300 days and inspired nationwide protests as well as the formation of the Movement for Black Lives, including legal support infrastructure. While the St. Louis County Prosecutor recently announced he would not charge the police officer who murdered Mike Brown, the legacy of the Ferguson uprising is felt today as communities across the globe rise up in defense of Black Lives. Mike Brown Forever.