The Freedom of Information Act (FOIA) is a federal statute that enables anyone in the United States to request records from federal agencies such as the Federal Bureau of Investigation or the Department of State. The act was signed into law by President Lyndon Johnson in 1966, the same year as the founding of the Center for Constitutional Rights. States also have their own open records laws, many of them enacted after the passage of FOIA.
FOIA and other public records requests have long been critical tools at the core of the Center for Constitutional Rights' social justice work in support of communities and movement partners. Our unique approach to FOIA is not just about transparency. We center our allies' vision for accountability and social change in our legal and advocacy work.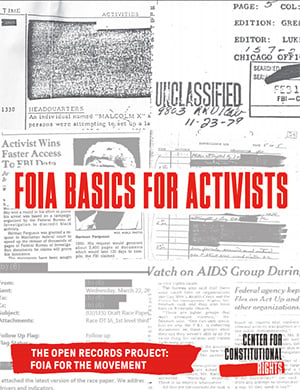 FOIA has been essential in defending activists facing government surveillance and repression, uncovering gross human rights violations, and arming movements with the information they need to fight powerful interests. Through FOIA requests, litigation, and advocacy, we expose the actions of both government and private actors who have gone to unprecedented lengths to bury information about official conduct and wrongdoing.
Through the Center for Constitutional Rights' new Open Records Project: FOIA for the Movement, we bring our history and expertise to bear, with FOIA trainings and resources that will assist movement partners and the legal community to use FOIA more effectively in their work to challenge oppressive systems of power.