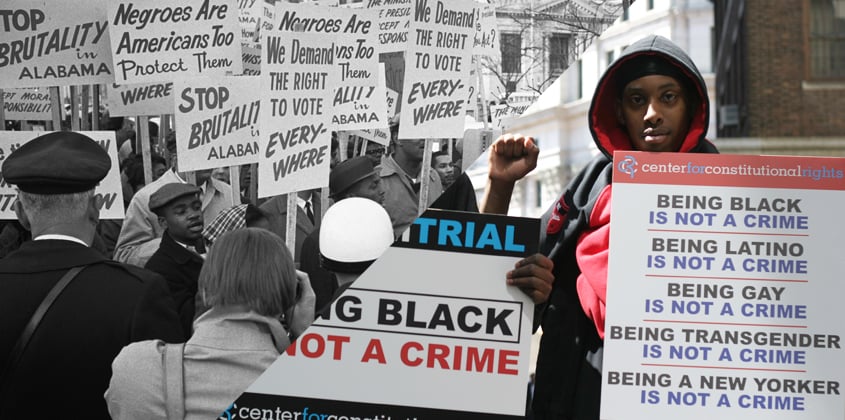 The Center for Constitutional Rights is dedicated to advancing and protecting the rights guaranteed by the U.S. Constitution and the Universal Declaration of Human Rights. Founded in 1966 by attorneys who represented civil rights movements in the South, CCR is a non-profit legal and educational organization committed to the creative use of law as a positive force for social change.
CCR employs litigation, education, and advocacy to advance the law in a positive direction, to empower poor communities and communities of color, to guarantee the rights of those with the fewest protections and least access to legal resources, to train the next generation of constitutional and human rights attorneys, and to strengthen the broader movement for social justice. Our work began on behalf of civil rights activists in the 1960s, and since then CCR has lent its expertise and support to virtually every popular progressive movement.
Since our founding, CCR has pioneered daring and innovative legal strategies that have produced many important precedents. CCR is often ahead of the curve, both in recognizing a problem and in suggesting novel or radical legal responses to it. Over time, many of our strategies have become accepted and respected precedents and legal theories.
CCR accepts cases and projects based on principle and the value of the struggle itself, not based on any calculations about likelihood of success. We believe that change happens outside the courtroom, and our work can further change with or without legal victory. There are cases CCR has worked on tenaciously for decades, yet we stood by the cause and the client. We will continue to take these kinds of cases because justice demands it.

History has repeatedly taught us that the hard-won victories of yesterday can never be taken for granted. As society changes, new threats to our rights arise, even as old ones are defeated. The Center for Constitutional Rights will continue defending people's movements for social change and devising new strategies to ensure that fundamental rights are enjoyed by the many and not just the few.