Date
Monday, September 20, 2021
7:00pm

to

9:00pm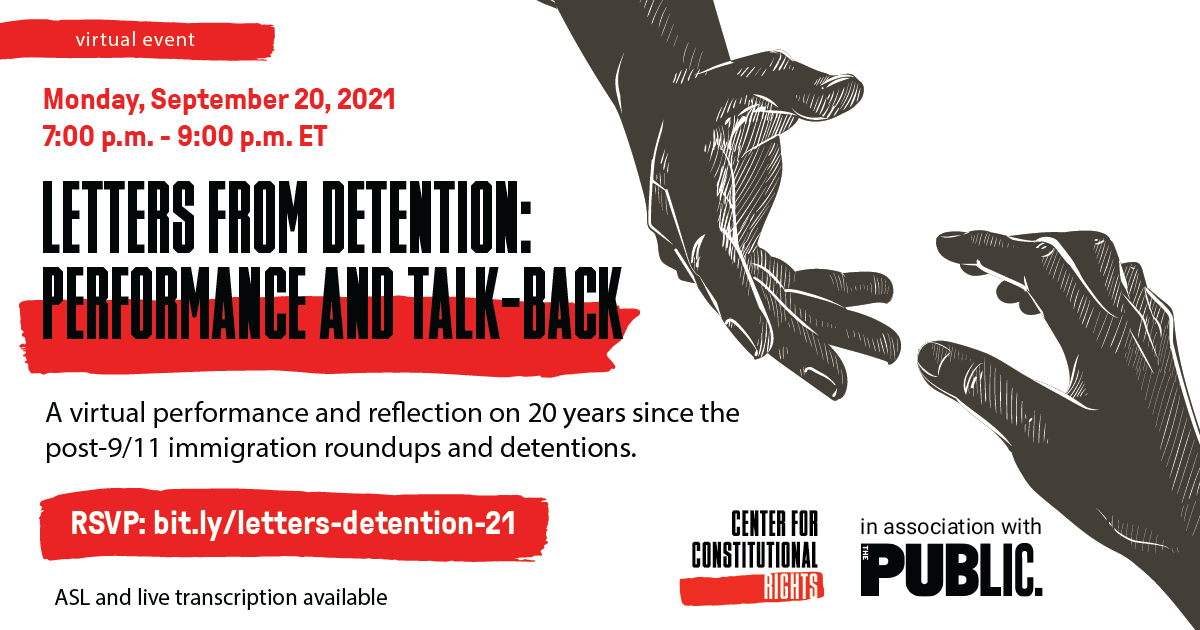 Join the Center for Constitutional Rights for a virtual performance, conversation, and reflection on 20 years since the post-9/11 roundups, detentions, and deportations. This event is organized in association with The Public Theater.
"Rest assured, I am 100% fine," Hany Ibrahim insists in a letter to his brother, Yasser Ebrahim, as they languish on separate floors of the Metropolitan Detention Center in Brooklyn. Detained without cause, and treated as dangerous based only on their race, religion, immigration status, and national origin, Yasser and Hany were among hundreds of Muslim, Arab, and South Asian immigrants who were rounded up in New York and New Jersey in the days and weeks following 9/11.

Physically and psychologically abused in detention, the brothers were not released until they were cleared of any connection to terrorism, at which point they were deported. Though the 9/11 roundups and detentions were roundly criticized by Congress, the media, and public, the Supreme Court declined to hold the detentions unlawful. 

Letters from Detention is a moving theatrical performance by Jessica Blank and Erik Jensen (authors of The Exonerated and Aftermath), adapted from a series of letters exchanged between the brothers and Center for Constitutional Rights clients during their time in detention. Actors Laith Nakli and Hadi Tabbal will perform the roles of Yasser and Hany. 
After the performance, Yasser Ebrahim will join a conversation with his lawyer and Center for Constitutional Rights senior attorney Rachel Meeropol. They will reflect on this history and its connections to what communities are facing now, and discuss what justice means 20 years later. This conversation will be moderated by Malika Bilal, host of Al Jazeera's The Take.
Please register to receive the access link and password. ASL translation and transcription will be provided for this event.
Any donations made during this performance will go towards advancing the mission of the Center for Constitutional Rights, including the use of art and cultural programming in our work fighting for justice.