Details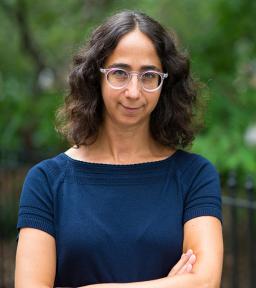 Senior Staff Attorney and Associate Director of Legal Training and Education
Rachel Meeropol is a Senior Staff Attorney and Associate Director of Legal Training and Education at the Center for Constitutional Rights, where she works on prisoners' rights, Muslim profiling, criminalization of dissent, and First Amendment issues, including defending environmental and animal rights activists targeted by the Green Scare. She is lead counsel on Turkmen v. Ashcroft, a class action suit on behalf of non-citizens suing high-level federal officials for illegal detention and abuse after 9/11, is counsel in Ashker v. Brown, a class action lawsuit challenging long-term solitary confinement in California's Pelican Bay prison, and represents federal prisoners held in the Bureau of Prisons' restrictive Communication Management Units, in Aref v. Holder. Rachel was lead counsel in Blum v. Holder, a First Amendment challenge to the Animal Enterprise Terrorism Act, and on CCR's amicus brief in Animal Legal Defense Fund, et al. v. Otter, et al., a challenge to Idaho's "ag-gag" law, which punishes undercover investigations and whistleblowing inside animal agricultural facilities and slaughter plants. She is lead counsel on CCR's motion to dismiss "animal enterprise terrorism" charges against two animal rights activists accused of freeing thousands of mink and foxes from fur farms, in U.S. v. Johnson.
Rachel holds an undergraduate degree from Wesleyan University and graduated from NYU Law School. She has co-edited and written two editions of the Jailhouse Lawyers Handbook, a do-it-yourself litigation manual for prisoners distributed free by CCR and the National Lawyers Guild, and was the contributing editor of America's Disappeared: Secret Imprisonment, Detainees, and the War on Terror, published by Seven Stories Press in 2005.   
Rachel's recent writing includes, "Activists are fighting to speak. Are you willing to listen?" on the Huffington Post, "Death row: America's torture chamber" in The Guardian, and "Attention Left, Liberal and Radical Groups – Pennsylvania Has Been Monitoring You" on Common Dreams. She and her writing have appeared in outlets including The New York Times, The Boston Globe, The Guardian, Dan Rather Reports, and ProPublica.