Celebrating a Legacy of Black Queer & Trans Resistance, Resilience & Rebellion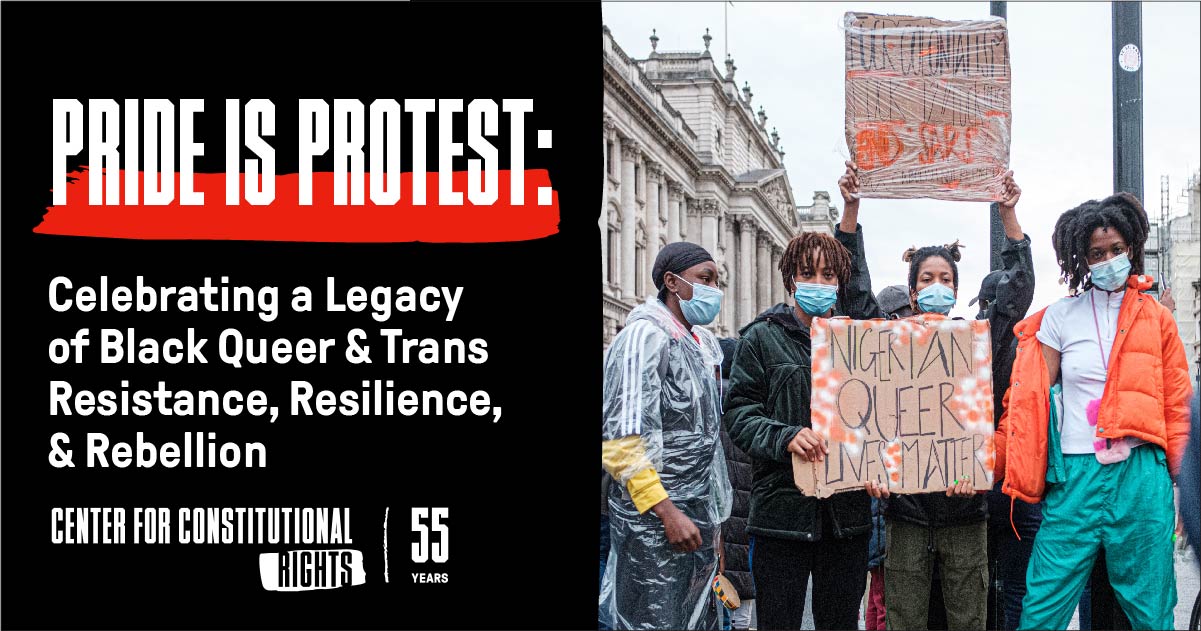 It's Pride Month, a month that centers the radical legacy of Black and Brown queer and trans people who rose up against police brutality and state violence. This month and every month we honor and celebrate the organizing, resilience, resistance, and rebellion of our LGBTQIA + community, and continue to follow the leadership of those on the ground, in the streets, and beating down doors to institutions of power in pursuit of queer and trans liberation.
On episode 39 of our Activist Files podcast, Center for Constitutional Rights Bertha Justice Fellow Rafaela Uribe talks with members of the Free Ashley Campaign about their work to support Black trans liberation and prisoners' rights activist Ashley Diamond while she is incarcerated in a men's prison in Georgia. They discuss why it's important to organize support campaigns for people in prison, how their support work connects to their position as abolitionists, and how Ashley's experience offers an important case study for the particular issues faced by trans women both in prisons and through the discrimination-to-incarceration pipeline that criminalizes and punishes trans people for their survival. The Center for Constitutional Rights and the Southern Poverty Law Center represent Ashley in her legal case, while the Free Ashley Campaign works with Ashley to provide her with support to meet her material needs, advocates for her safety and her release, and organizes events and actions to mobilize the large community of supporters that Ashley has on the outside.
This year, we're also excited to uplift our partners across the African continent who are challenging the legacy of colonialism and imperialism that oppresses those who dare to live in their authentic identity, gender expression, and sexuality. Join us for a special two-part series on Instagram Live (@ccrjustice) on June 24th and June 28th, 12-12:45 p.m. EST. We'll be in conversation with our comrades and co-conspirators in Uganda and Nigeria discussing efforts to protect and promote the rights of LGBTQIA+ people, the export of homophobic and transphobic laws and policies, and steps we can all take to help dismantle the colonial legacy of gender oppression. Learn more on our event page.