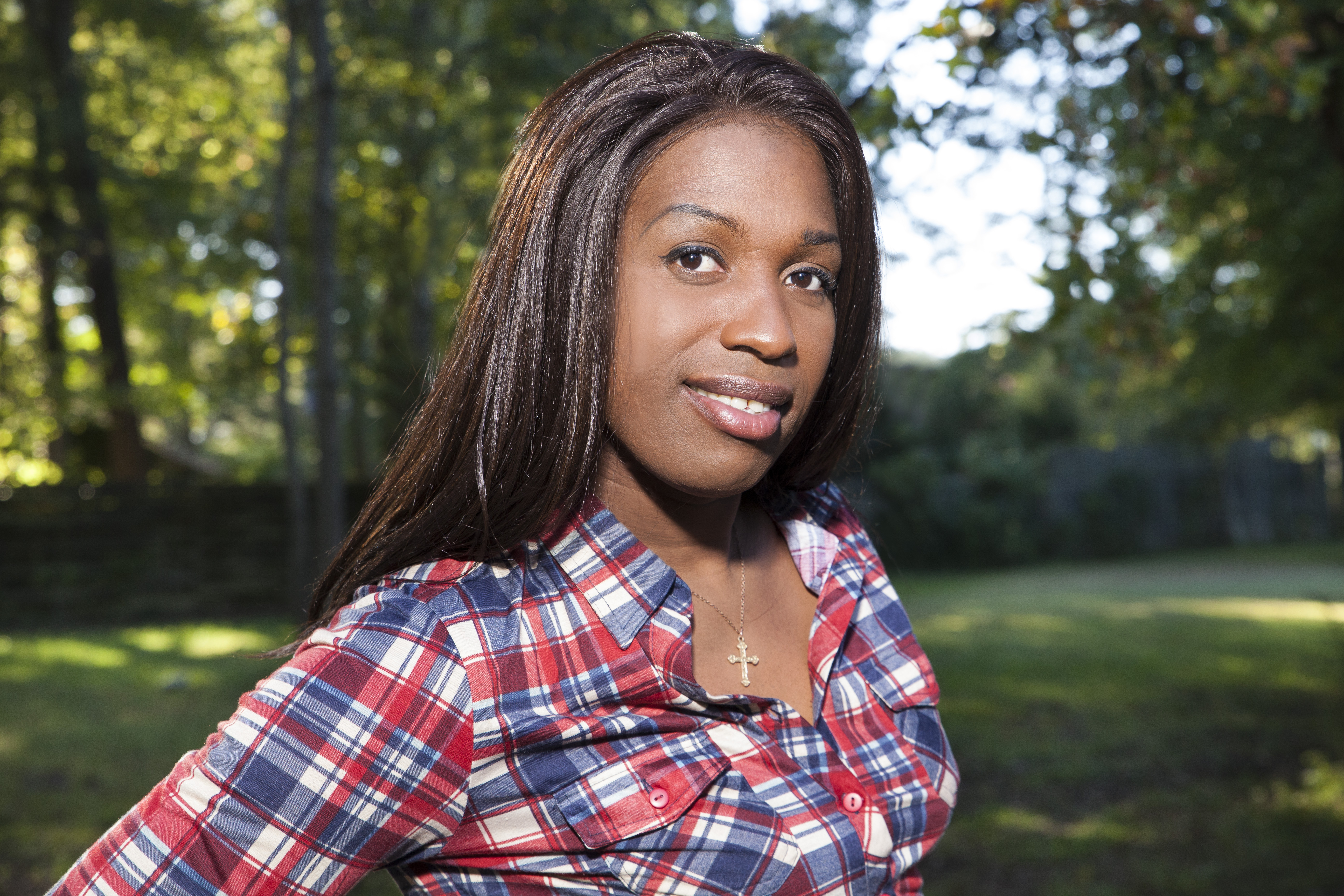 Photo Credit: Robin Henson / Southern Poverty Law Center 
"They've been putting a knee on my neck for my whole life."
Ashley was born in 1978 to a large Southern Baptist family. When she was just six years old, she told her family that she was different and identified with the cartoon "Jem and the Holograms" in which the main character had multiple identities. Though she had friends who respected her gender, she ultimately dropped out of school because of incessant bullying by others. Growing up, Ashley had to deal with the fact that her gender was not accepted by many people in her life, including her family. At age 15, as she struggled with gender dysphoria, a doctor recommended that she live as her real gender and then consider hormones and surgery.
In 2011, Ashley's boyfriend at the time convinced her to pawn a saw that he had stolen; she was charged with burglary and ultimately sent to prison on a ten-year sentence.
Lawsuit - Ashley Diamond v. Brian Owens, et al. (2012-2015)
"It was not only unconstitutional, but inhumane. I was physically, mentally, and emotionally abused every day from the moment I woke up to the moment I went to bed by both guards and inmates."


When Ashley was incarcerated in 2012, GDC prison officials blatantly disregarded her safety, health, and mental state. Ashley was housed in a series of maximum-security prisons for men, where she endured repeated sexual assaults by other prisoners while prison officials ignored her pleas regarding safety. GDC officials openly told Ashley that they could not protect transgender prisoners and instructed her to "guard your booty" and "be prepared to fight" when she complained of assaults.
Prison officials also denied critical hormone therapy that Ashley had been receiving for 17 years and placed her in solitary confinement for "pretending to be a woman." Denying this medically necessary care resulted in grave physical and mental harm to Ashley: she endured a painful physical transformation after her hormone therapy was terminated and even attempted suicide and self-castration.
Ashley brought a case demanding that GDC provide both safe placement for transgender prisoners and medically necessary care, including hormone therapy. In February 2016, with the support of the U.S. Department of Justice, she reached a landmark settlement that led to significant reforms for transgender individuals state-wide and nationally. GDC rescinded its policy so that transgender individuals could receive hormone therapy for the first time since being incarcerated; the prison officials adopted a sexual assault prevention policy more closely aligned with federal standards; and they agreed to train prison staffers throughout the state on the health and safety needs of transgender inmates. However, despite the policy changes on paper, in practice, transgender individuals still experience the same issues while incarcerated.
Her experience in prison has had a lasting effect on Ashley. "Being in prison and being brutally raped seven times has left me mentally scarred," she said. "The fabric of trust that I have for authorities has been broken, especially with those who the state has designated as my caretakers."
Ashley's Release
"The challenges I faced on parole were plentiful. Not only was I forced to remain in rural hells of a historically racist town from which I came, I dealt with transphobic parole officers who treated me awfully."


In 2015, Ashley returned to Rome, Georgia after being released from prison. Ashley, who was well known for her advocacy, quickly became a target of harassment and abuse by law enforcement. In early 2018, Ashley was charged with a traffic ticket for a broken taillight and was also given a bribery charge because she said she "would do anything" to not go back to jail. The officer interpreted this as an offer to perform sexual acts to avoid arrest. As a result, she spent four months in county jail before her bribery charge was eventually dismissed and she was given time served. In April 2019, she attempted suicide. For two weeks in early May 2019, she left Georgia to go to a treatment facility in Florida, which was one of the few places that was trans-inclusive and provided the gender-affirming healthcare she needed. However, this was a technical violation of her parole, because she was not allowed to leave the state.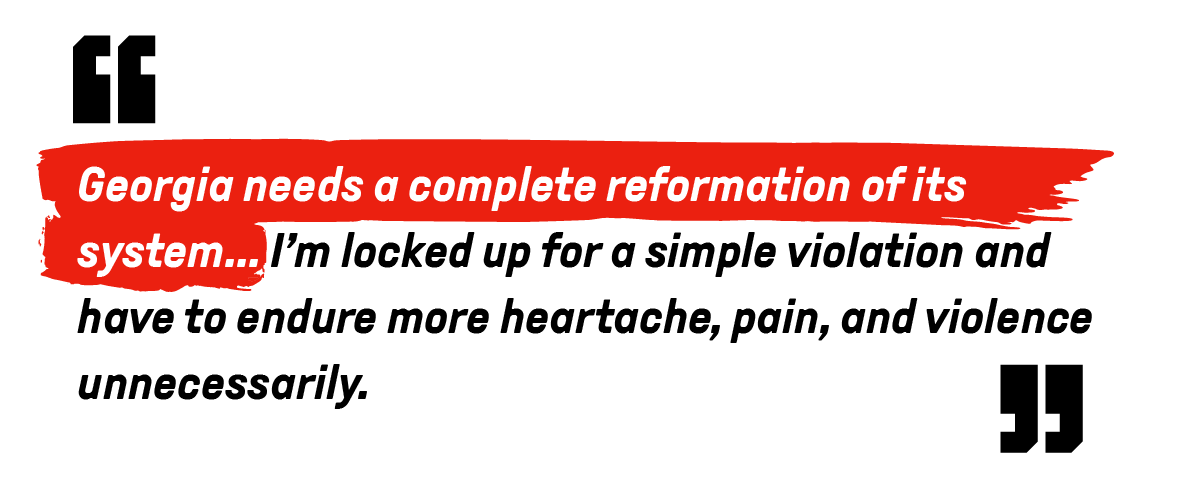 On August 18, 2019, she was arrested for failure to appear for a court hearing and violating parole. The police used excessive force against her--they stomped on her head, resulting in damage to her teeth, and left imprints of their boots on her skin after beating her.
Ashley spent approximately four months in Floyd County Jail, during which she spent 40 days in a temporary holding cell without running water and only a thin mat on which to sleep. She was then transferred into GDC custody.
Second Incarceration (2019 - 2022)
"I face unspeakable challenges in prison."


Just a few years after the landmark settlement in her lawsuit, Ashley faced identical problems of abuse in prison. Despite her request to be housed in women's facilities, Ashley was held in men's facilities and faced repeated sexual assaults, harassment, and the denial of the health care her prior lawsuit was supposed to guarantee. She regularly experiences humiliation and inhumane treatment. Her conditions were further exacerbated by the COVID-19 pandemic, which spread rapidly through prisons in Georgia and nationwide.
On November 23, 2020, Ashley filed a second lawsuit against GDC, demanding that it immediately transfer her from a men's facility, where she remained a target of violence, as well as provide her access to vital healthcare. The lawsuit also argues that the minimum standards of adequate care for gender dysphoria go beyond just hormone therapy and must include additional treatments that allow individuals to affirm their gender. The abuses and deprivations that Ashley has endured are part of a larger custom, practice, or unwritten policy of disregarding the rights of trans people in GDC custody and failing to protect them from violence.