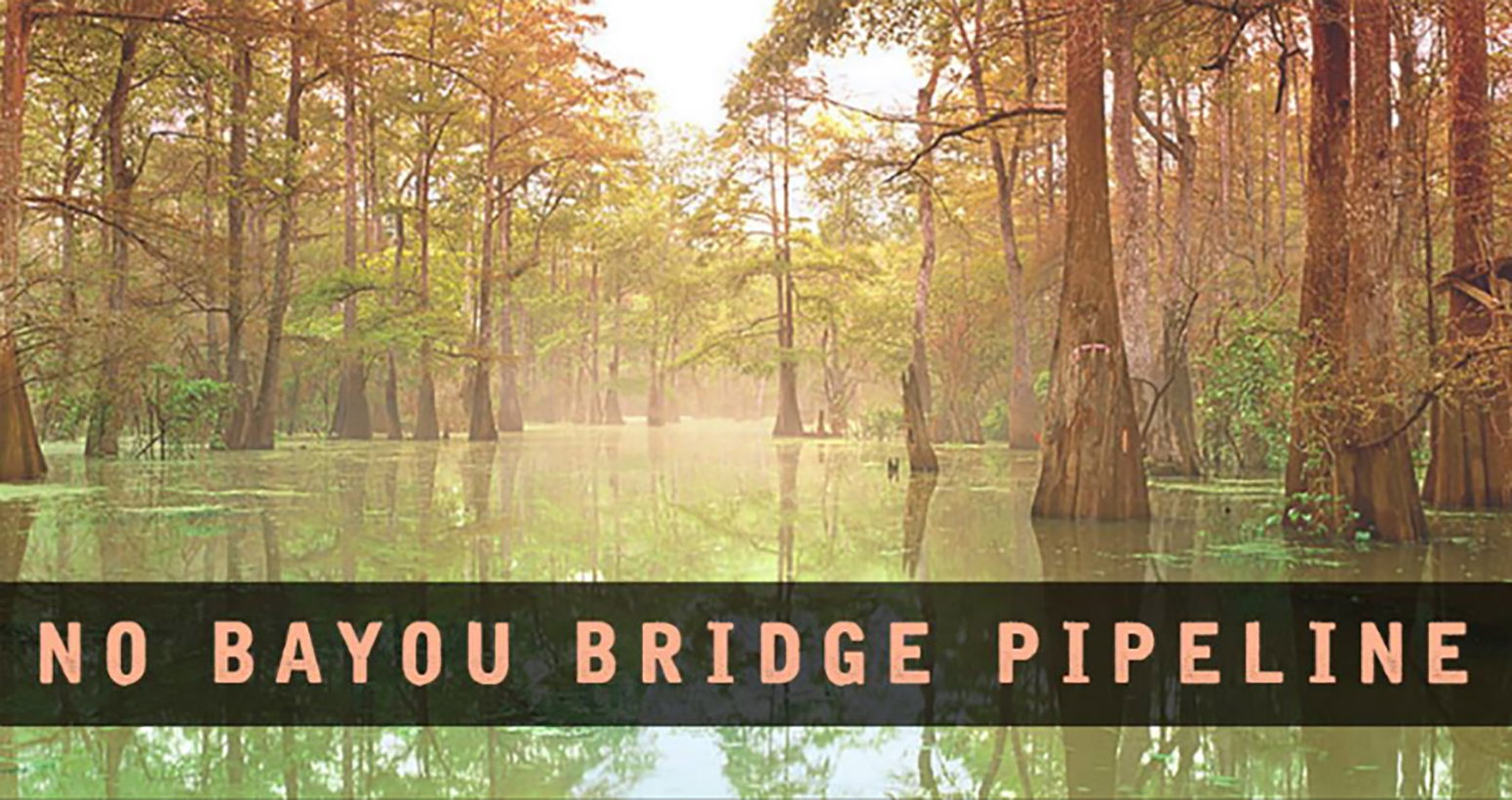 The three companies that built, own, and operate the Dakota Acccess Pipeline in North Dakota—Phillips 66, Sunoco, and Energy Transfer Partners (ETP)—have formed the Bayou Bridge Pipeline, LLC, and aim to construct a 162-mile pipeline that would affect 11 parishes in Louisiana and cut across 700 waterways, including through the Atchafalaya Basin. Local faith leaders, fishermen, conservationists, and advocates for environmental and social justice are aligned in opposition to the pipeline, and CCR is supporting them in their efforts in various ways.
ETP contracts with private security corporations to handle public opposition to its pipeline operations. One of these companies is TigerSwan. Detailed investigative journalism revealed how TigerSwan has engaged in military-style counter-insurgency operations in attempts to divide and discredit the efforts of pipeline opponents. After being retained by ETP, TigerSwan was denied a license to operate in North Dakota by the North Dakota Private Investigations Board. Later the board sued TigerSwan for operating without a license in North Dakota. On the basis of the activities in North Dakota, the Louisiana State Board of Private Security Examiners (LSBPSE) denied TigerSwan's application to operate in Louisiana. TigerSwan is seeking an appeal. In support of the efforts of local groups opposed to the pipeline, CCR wrote to the LSBPSE to express concerns about the activities of TigerSwan in September 2017. A month later, CCR petitioned the LSBPSE to allow local groups to participate in a hearing regarding TigerSwan's appeal.

CCR is also supporting local groups to closely examine the extent that corporations involved in Bayou Bridge might have unduly influenced relevant executive agencies and offices of the State of Louisiana. In doing so, CCR, sometimes in direct partnership with local groups and other times separately, has filed public records requests with the Governor of Louisiana, the Department of Environmental Quality, the Department of Natural Resources, and St. Charles Parish Sheriff's Office. In each case, the requests seek to disclose communications between these executive offices and agencies and the companies involved in the pipeline. Furthermore, together with several local organizations, CCR has also issued a public records request directly to Bayou Bridge Pipeline LLC and ETP for communications relevant to the pipeline project, since Bayou Bridge Pipeline LLC has claimed, and has exercised, the state government's authority of eminent domain, thereby acting as an 'instrumentality of the state', to expropriate Louisianans' land in the process of developing the pipeline.  
For further information related to specific litigation emanating from the No Bayou Bridge Pipeline project, see: