New York State Legislature introduces "Dignity Not Detention Act" to end ICE detention
The New York State Senate and Assembly introduced the Dignity Not Detention Act Monday, a bill that would end existing and future contracts with Immigration and Customs Enforcement (ICE) in New York State. This bill seeks to end the practice of jailing New York immigrants as they face deportation. It will reunite families and communities while also enabling them to more capably fight deportation. This bill was introduced by State Senator Julia Salazar (D18) and Assemblymember Karines Reyes (D87). We signed a letter urging the legislature to pass the bill.
The Dignity Not Detention Act comes on the heels of multiple announcements out of New Jersey that local county jails—Essex, Hudson, and Elizabeth—may end their contracts with ICE to detain immigrants and will start depopulating their facility.
"Immigration detention is an extension of the racist U.S. criminal system and should not exist," said Attorney and Bertha Justice Fellow Samah Sisay. "New York has the opportunity to join the growing national movement to end ICE detention and affirm the dignity and right of immigrants to fight their civil cases in their communities instead of in cages." 
Continue reading on our website.
ICYMI: Wednesday's #FreeAshleyDiamond letter writing event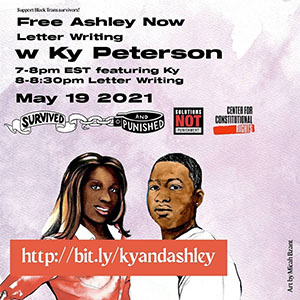 We are honored to have joined the #FreeAshleyNow team and partners for a letter writing and educational event for our client, Ashley Diamond. Ashley is a Black trans woman and social justice activist, who is suing the Georgia Department of Corrections after repeated sexual assault and denial of medical care while she has been incarcerated. 
Abolitionist organizer and writer Mariame Kaba and formerly incarcerated Black trans man and survivor Ky Peterson spoke at the event. Ky was one of the first trans people inside a Georgia State prison to receive gender-affirming care after Ashley won her first lawsuit in 2015. Bertha Justice Legal Fellow Rafaela Uribe, a member of Ashley's legal team, shared updates about Ashley's current situation and the status of our lawsuit, Diamond v. Ward. 
Ashley is represented by the Center for Constitutional Rights and the Southern Poverty Law Center.
Learn more about Ashley's story  by reading her op-ed in them. magazine (one of their top posts of the week) and find ways to support the #FreeAshleyNow campaign by visiting the support committee's website.
Take action to protect over 350 protesters who still face federal charges for rising up for Black lives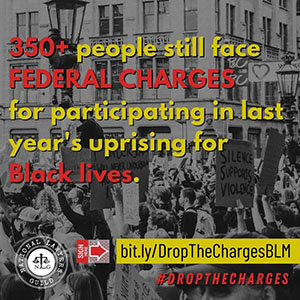 Last summer, millions of people took the streets with the Black Lives Matter movement in response to the police murders of Breonna Taylor and George Floyd. A year later, hundreds of people are still facing federal charges brought by Attorney General William Barr under the direction of the Trump administration.
Take action to demand that the Biden administration #DropTheCharges against Black Lives Matter protesters. Sign the petition to President Joe Biden, Vice President Kamala Harris, and Attorney General Merrick Garland here.
Join us: What Michael taught us, Moving the Bar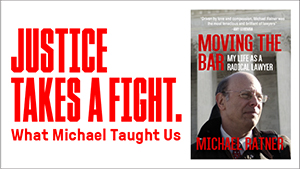 Michael Ratner devoted four decades of his life at the Center for Constitutional Rights as a staff attorney, legal director, and board president, until his untimely death in 2016. We miss him every day; but he left a powerful legacy. Not only did he handle some of the most significant human rights cases of his time, he lived and breathed the principles of radical lawyering.
Join Center for Constitutional Rights Executive Director Vince Warren, Legal Director Baher Azmy, former Center for Constitutional Rights Staff Attorney and Board Member Ellen Yaroshefsky, and others as we discuss Michael Ratner's just published autobiography "Moving the Bar" and reflect on his inspirational and indispensable lessons for the next generation of movement lawyers and activists. 
The conversation will be Wednesday, June 16, 2021 from 2-3 p.m. ET. ASL and live transcription services will be provided.
Please contact Development Director Theda Jackson-Mau at [email protected] or 212-614-6448 to RSVP, for Zoom and call-in Instructions, or questions.
RSVP by June 14.