This is CCR's weekly "Frontlines of Justice" news round-up, keeping you in the loop about what we've been up to and what's coming soon. Check it out every Monday, your one-stop-shop for CCR opinions, news coverage, reports from court appearances, upcoming events, and more!


Big news in Abu Ghraib survivors' quest for justice
On Friday, a federal court in Alexandria, VA, ruled that our clients in Al Shimari v. CACI, three Iraqi men, Salah Al Ejaili, Asa'd Al-Zuba'e, and Suhail Al Shimari, who were held at the infamous Abu Ghraib prison, were subjected to treatment that could constitute torture or cruel, inhuman, and degrading treatment, and that the case to hold the private military contractor CACI Premier Technology accountable for this treatment can proceed. The hearing marked the first time in the course of our nine-year case that CCR presented in detail the torture and serious mistreatment their clients suffered at Abu Ghraib in 2003 and 2004.
[caption caption="Al Shimari legal team, CCR staff, and supporters outside the courthouse on Friday" align="right"]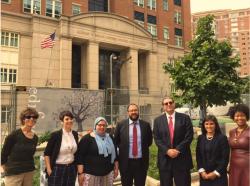 [/caption]
CCR legal director Baher Azmy, who argued the case on Friday, said, "The court has sent an important message that there can be accountability for torture, a vital step for our clients who have yet to see justice. This is a crucial ruling in a political climate where Trump has called for bringing back widely denounced torture techniques like waterboarding."
"Fourteen years later, Salah, Asa'd, and Suhail are still suffering from the severe mistreatment they experienced, and the torture of Iraqi civilians at Abu Ghraib remains one of the darkest chapters in recent U.S. history," said CCR senior staff attorney Katherine Gallagher. "Yet there remains an accountability gap: military officers were court martialed for their misconduct, but the private contractors walked away with large payments, and they continue to be awarded millions of dollars in government contracts. This case hopefully will narrow that accountability gap."
Salah, Asa'd, and Suhail were subjected to dehumanizing acts of torture, and continue to suffer today from the cruel, inhuman, and degrading treatment they received in 2003 and 2004. A U.S. Army general referred to their treatment as "sadistic, blatant, and wanton criminal abuses." Salah himself wrote about his experience, "My body was like a machine, responding to all external orders. The only part I owned was my brain, which could not be stopped by the black plastic bag they used to cover my head. The most important question to which I could find no answer at the time is: what is all this for?"
Since 2004, CCR has worked with a team of private attorneys on behalf of hundreds of Iraqi plaintiffs on a series of civil lawsuits against private military contractors. We will continue to keep you updated as we move forward with Al Shimari.
Spread the word: 2018 Ella Baker applications now open
Applications are now open for the 2018 Ella Baker Summer Internship Program, which CCR created in 1987 to honor the legacy of Ella Baker, a hero of the civil rights movement, and to train the next generation of social justice lawyers. Through our program, students work with CCR staff on active cases and advocacy campaigns. In addition, we bring in CCR clients, movement allies, and other advisors to speak with students about all aspects of our work. At the same time, students build a cohort with their colleagues that will further expand our growing network of CCR-trained lawyers from around the world. 
[caption align="left"]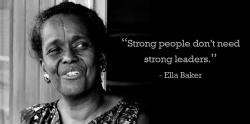 [/caption]
Ruby-Beth Buitekant, a 2016 Ella Baker intern, wrote this about her experience: "We challenged the exceptionalism that is often taught in law schools and instead were encouraged to think about the ways that the law can support of organizers and movements. We talked about the power of listening, learning from organizers and taking a back seat — not something lawyers are typically trained to do."
The program is open to 1L and 2L students. If you are a 2L, you must upload your application by October 16, 2017. 1L applicants may upload their applications between December 1-15, 2017. 1L applications uploaded before December 1, 2017 will not be considered. Please spread the word and encourage any eligible students to apply.
Body-worn cameras: Not a panacea
In response to the NYPD releasing the first-ever body camera footage of a fatal police shooting, of Miguel  Richards in the Bronx, senior staff attorney Darius Charney called for guidelines and greater transparency in the release of police body camera footage: "Is the NYPD only going to release footage that they think is favorable to them? I think that is very much a question in a lot of people's minds."
[caption caption="CCR's Darius Charney speaks to NY1 about body cameras." align="right"]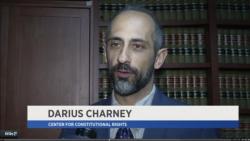 [/caption]
As this case demonstrates, body cameras are not a panacea for police violence and are only as good as the policies dictating their use. While we acknowledge that the NYPD's release of this footage is a positive first step, the department must make many more strides towards accountability and transparency.
It is important to note that the police officers who shot Miguel Richards were only wearing body cameras because of the landmark settlement in our case Floyd v. City of New York, representing thousands of Black and Latinx New Yorkers who were stopped and frisked by the NYPD, and who fought to successfully overturn this violent, discriminatory practice. In continued partnership with communities organizing to stop police violence, we will keep fighting for accountability and transparency from the NYPD.