"The memories of the Abu Ghraib detention center are imprinted in my imagination as a movie, playing every time I see images of a prison, or torture, or if I hear of violations of human rights anywhere in the world."
[caption align="right"]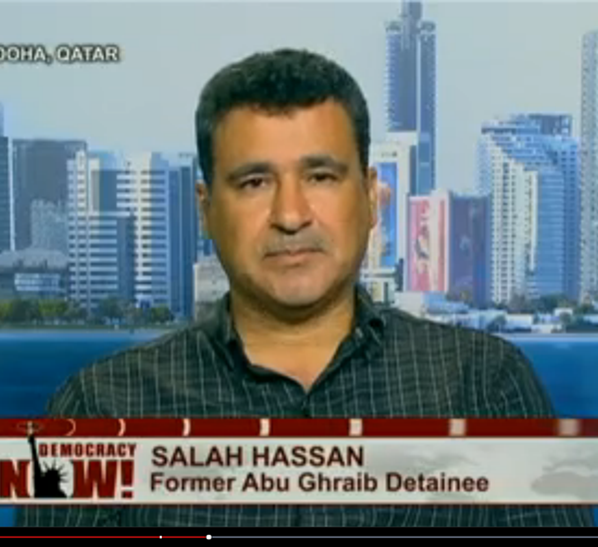 Salah Al Ejaili[/caption]
Salah Al Ejaili lives in Sweden with his wife and three children and has worked as a reporter for Al Jazeera news network. He is a plaintiff in Al Shimari v. CACI, a lawsuit filed by CCR on behalf of Iraqi torture victims against U.S.-based government contractor CACI International Inc. and CACI Premier Technology, Inc. The lawsuit asserts that CACI directed and participated in a system of torture and serious abuse of detainees at the Abu Ghraib prison in Iraq where it was hired by the U.S. to provide interrogation services. Salah was imprisoned at the "hard site" for approximately six weeks in the fall of 2003 and was subjected to a continuous campaign of mental and physical torture and other serious mistreatment, before being released without any charges.
In November 2003, Salah, who was working with Al Jazeera at the time, traveled to Iraq's Diyala province to report on an explosion. He was detained by U.S. military personnel at the scene and, after being held at several locations for approximately five days, he was transferred to Abu Ghraib. 
"Entering the Abu Ghraib prison was an unprecedented shock. I would never forget the first minute I entered the prison," Salah has said. "How would I, when it is a turning point in my life? I vividly remember when the prison guard pushed me, saying, take off your clothes."
Salah was brought to the prison's "hard site"—a small and confined area consisting of cells on two tiers and nearby interrogation rooms formally under the control of United States forces. Military personnel and a civilian interpreter forced Salah to remove his clothes in a hallway in a crowd of people. They placed a bag over his head, handcuffed him, and screamed at him. He was left naked and hooded in the hallway. Salah was next taken to a room by a military officer, Corporal Charles Graner, who told Salah to stand up against a wall and handcuffed him to a pipe and left him in this stress position for approximately twelve hours overnight. While bound to the pipe, Mr. Al Ejaili was mocked with taunts of "Happy birthday, Al Jazeera" and "Happy anniversary, Al Jazeera." The severe pain from the stress position made him physically sick.
"During two months, torture took different forms, including undressing, being caged like animals, using dogs for intimidation, banning food and drinks, hand and foot cuffing, physical humiliation, sexual harassment and many others. My body was like a machine, responding to all external orders," Salah reflected. "The only part I owned was my brain, which could not be stopped by the black plastic bag they used to cover my head. The most important question to which I could find no answer at the time is: what is all this for?"
Salah and the other plaintiffs in the case have been seeking justice and redress in a U.S. court in Virginia since 2008 for the torture and other serious abuse they suffered. Despite the fact that a few low-level U.S. soldiers were court-martialed for their actions at Abu Ghraib, and several investigations have concluded that CACI participated in "sadistic, blatant, and wanton criminal abuses," no CACI employee has ever been convicted of any offense.
"We will have our day in court and the story of Abu Ghraib will be told by me and other men who lived – and – survived it."