But Some of Us Are Brave: Honoring Black Feminist Resistance to Patriarchal Violence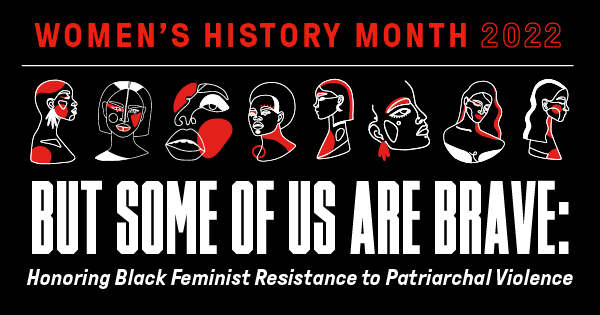 This Women's History Month we reaffirm our duty to actively support those who daily fight to dismantle patriarchal violence: the interconnected systems of dominance that marginalize and limit the lives of gender-oppressed people in our communities, particularly Black cis/trans women, girls, non-binary, and transmasculine people. In doing this, we intend to deliberately disrupt both the traditional prioritization of cisgender white womanhood in women's history month commemorations as well as the isolation of gender justice from broader struggles for liberation. Instead, we choose to honor the spirit and powerful legacy of Black feminist organizing.

We are directed in our visioning and actions by the words of Black queer feminist and cultural theorist bell hooks, who stated the importance of "reorganizing U.S. society so that the self-development of people can take precedence over imperialism, economic expansion, and material desires" (Ain't I a Woman: Black Women and Feminism). Black feminists have led the resistance within a multitude of freedom struggles, and have offered a framework for liberation that both envisions life beyond the current constraints of patriarchal violence and calls for the full reconfiguration of society.

For decades, our movement and community partners have helped us imagine a world without the pervasive violence of cisheteropatriarchy, white supremacy, colonialism, and capitalism. Black feminism recognizes the intersections and thus requires the abolition of sexual violence, rape culture, whorephobia, imperialism, militarism, policing, nationalism, and ableism. From our 1975 litigation combatting the involuntary sterilizations that primarily targeted Black and Puerto Rican women in New York City, to our work that challenges the colonial legacy of gender oppression with our partners at SMUG in Uganda, or our current efforts to free Black trans prisoners' rights activist Ashley Diamond from the horrific conditions of confinement within the Georgia Department of Corrections, the historic arc of the Center for Constitutional Rights' gender justice work draws immensely from Black feminist thought.

A gender justice lens refines our understanding of the harms of systems of social control like the prison-industrial complex and clarifies who must be centered in our collective struggles against state violence and neglect. The systemic harm that Black cis/trans women, girls, non-binary, intersex, and transmasculine people face is often invisibilized. We know that gender-oppressed people—especially those in the sex trades and other criminalized economies—are deeply impacted by policing, incarceration, and surveillance in all its manifestations due to the unique ways that they are denied access to socioeconomic opportunities and forced into poverty.

We draw our inspiration from our partnerships with visionary and powerful Black feminist cultural workers and intellectuals. With partners across the country like Women with a Vision, Mississippi in Action, Movement for Family Power, Black Alliance for Just Immigration, and Access Reproductive Care-Southeast we are rejecting a reality that suspends or denies the fundamental human right to comprehensive reproductive justice: whether that be abortion, gender-affirming healthcare, or the right to raise Black children without the fear of state violence or criminalization. We also stand with Black communities on the frontlines of the climate catastrophe and against the twin pandemics of COVID-19 and white supremacy. Southern Black women-led groups like Inclusive Louisiana, Descendants Project, and RISE St. James in Cancer Alley are all fighting for Black futures against the environmental racism that aims to erase Black history.

We commit to safeguarding the wellbeing of all gender-oppressed people by engaging in internal work within our own organization to create a culture oriented toward gender justice. It is futile to fight against patriarchal violence like transmisogynoir throughout society if we are perpetuating this very oppression in our own communities of struggle: we understand that cisheteropatriarchy affects all of our lives and that everyone has a stake in seeing a world without gender-based hierarchies of power. Our commitment to showing up and practicing our politics every day is in pursuit of the freedom dreams of Black women radicals like Fannie Lou Hamer, Ceyenne Doroshow, Barbara Smith, Mariah Lopez, Marsha P. Johnson, Toni Cade Bambara, Miss Major Griffin-Gracy, Loretta Ross, and Ella Baker.

This Women's History Month, through political education, oral histories, writing, and archival work, our programming But Some of Us Are Brave: Honoring Black Feminist Resistance to Patriarchal Violence will demand a renewed commitment to rallying against racialized sexism, homophobia, and transphobia. The unparalleled legacy of Black feminist struggle against patriarchal violence is the antidote to the forces that seek to limit bodily autonomy, gender self-determination, and the freedom to demand a just society.

In this time of global mass repression, fear-mongering, and suffering, we must choose to be brave. We have all the tools we need: Black feminism dares us to imagine a world of human flourishing, and invites us to be courageous enough to build toward it.