Commemorate Juneteenth with Fenceline Communities in Louisiana
Black communities throughout Cancer Alley are fighting to preserve their history and secure a just, healthy, and safe future. You can join them in the streets and the fields for Juneteenth, or catch them online, as they commemorate the memory of their ancestors. Find out more about their struggles and how you can support their campaigns.
RISE St. James Commemoration on the Land of Their Ancestors
Join the newly announced 2021 winner of the prestigous Goldman Prize for grassroots environmental activism, Ms. Sharon Lavigne, and all the other community members of RISE St James. This is RISE's second annual Juneteenth commemoration to honor their ancestors buried at the site currently occupied by Taiwanese petrochemical giant, Formosa Plastics.  The event is a celebration of their ancestors' lives and a continued honoring of their legacy by standing against the petrochemical industry's oppression of present-day Black communities in St James parish. 

Saturday June 19th, 11 a.m.-12.30 p.m. Central Standard Time, Brock Rd. & Highway 18, St. James, La. 70086
Streaming at: https://www.facebook.com/events/775119573186987/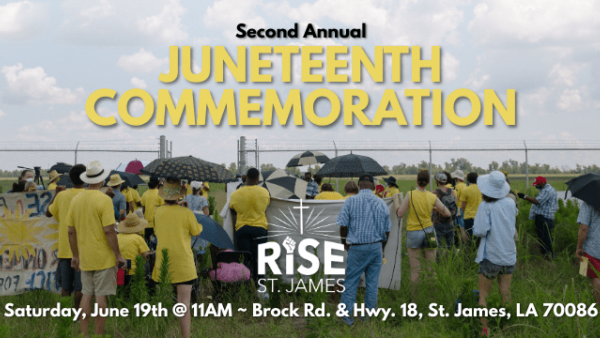 The Descendants Project's Blessing of the Land and Candlelight Vigil
The Descendants Project and other community members from Wallace, Louisiana, are campaigning to stop the proposed Greenfield Grain elevator. Join them in prayer, celebration, and resistance as they bless the land and honor the sacred burial grounds of their enslaved ancestors that are currently threatened by the proposed grain elevator.
Saturday June 19th, 7.30 p.m.-9 p.m. Central Standard Time, Fee-Fo-Lay Cafe, 5593 Highway 18, Wallace, La. 70090
Streaming: TBD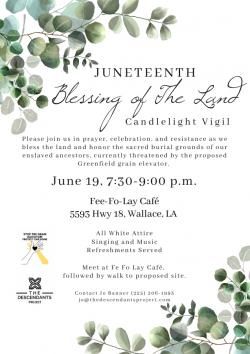 Inclusive Louisiana's March for Democracy
On Sunday June 20th, join with members of Inclusive Louisiana as they march to build community solidarty through prayer, singing, and rejoicing in resistance. The community March for Democracy will lift up their continued demands for clean air, water, and land as it proceeds through the streets of Convent, Louisiana – in the heart of the environmental racism plaguing Cancer Alley.
Sunday June 20, 10am - 12pm Central Standard Time, Watertower Street to Legion Street, Convent Louisiana.
Streaming at: https://www.facebook.com/labucketbrigade