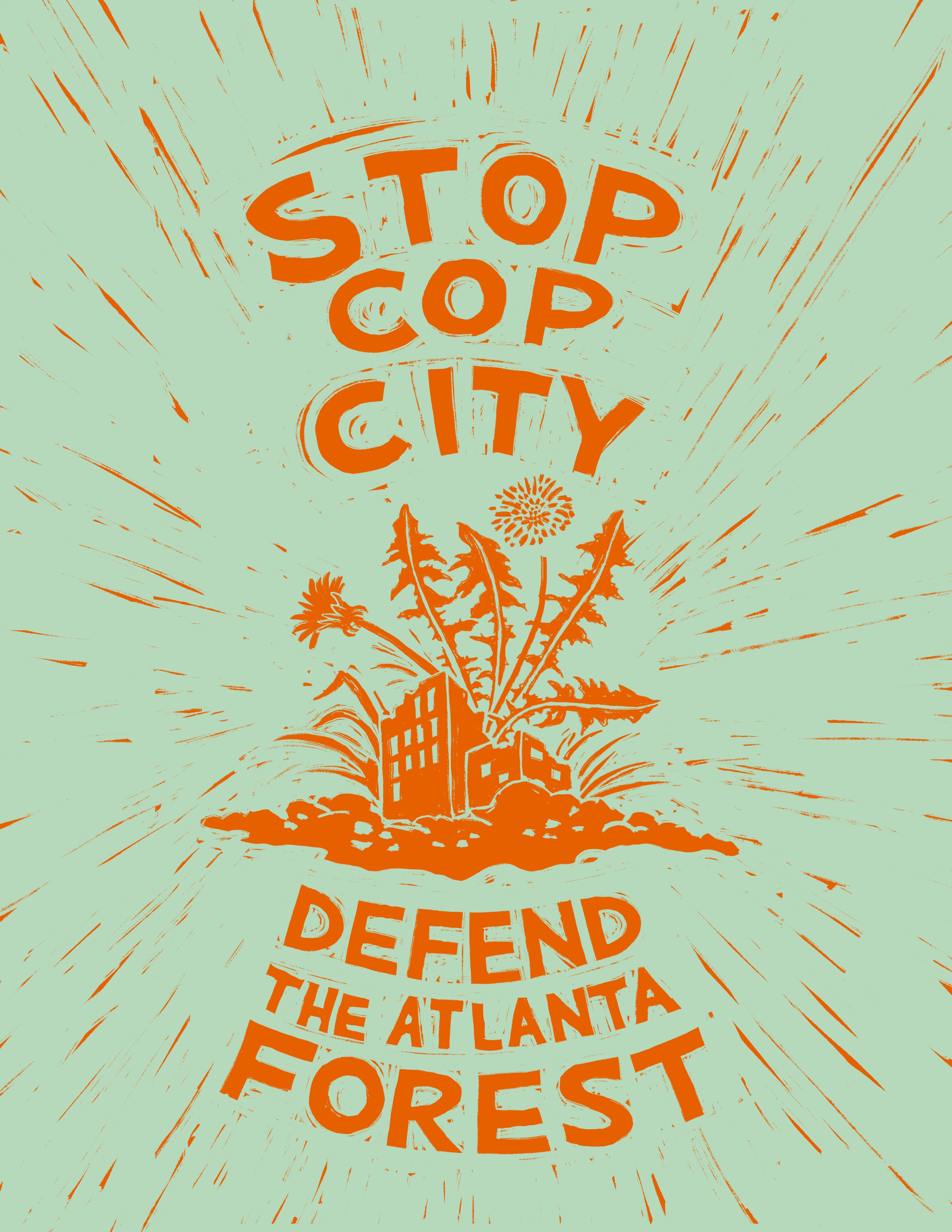 The Center for Constitutional Rights stands in solidarity with the activists enduring mounting state violence and repression as they seek to protect their communities and natural resources from the proposed corporate-backed, taxpayer-funded, militarized police training compound known as Cop City. We are working closely with local and national partners to challenge law enforcement's labeling of activists protesting Cop City as terrorists and "domestic violent extremists," and to provide resources and support to communities on the ground who are fighting to ensure that Cop City will never be built.
Artwork by Dio Cramer via Justseeds
More about the movement against Cop City
Organizers working to Stop Cop City are part of a growing movement of abolitionist, indigenous, environmental, and racial justice activists. This mobilization is a response to the state's repressive reaction to the 2020 uprisings against police violence. In Atlanta, after an officer killed Rayshard Brooks, a 27-year-old Black man, activists demanded divestment from the police and investment in the kinds of services, systems, and infrastructure projects that actually strengthen and protect communities. Instead, city politicians and corporations responded with bolstered police infrastructure, most notably Cop City—a proposed police training facility spanning over 381 acres and costing $90 million.
Community Movement Builders, an Atlanta-based partner spearheading the resistance, says Cop City's purpose is to "stop mass movements and continue the harassment of Black poor and working class communities." The Atlanta Police Foundation chose the Weelaunee Forest, Atlanta's largest remaining green space, a precious ecological and spiritual resource, as the site for Cop City. If built, the facility would desecrate 87 acres adjacent to a majority-Black, working-class community that was promised the land for walking trails and park space.
Some activists have engaged in civil disobedience, camping in the forest imperiled by Cop City, protesting and engaging in musical performance. The crackdown in response to this activism escalated in late 2022, and continues. In January 2023, police officers fatally shot forest defender Manuel Esteban Paez Terán, known as "Tortuguita"; an autopsy later revealed that Tortuguita was sitting down with their hands in the air when they were killed. The police have dispatched SWAT teams to confront people engaged in First Amendment-protected acts and have charged dozens of activists with domestic terrorism. 
Protesters with Defend the Atlanta Forest are only the latest to face terrorism charges for their human rights activism. Georgia prosecutors are using a state law that legislators amended following the 2015 massacre in a Black church in Charleston, South Carolina, by white nationalist Dylan Roof, which expanded the definition of "domestic terrorism" to include property crimes. Notably, Georgia also amended the law to define activism against oil and gas pipelines (described in the laws as "critical infrastructure") as "terrorism" in line with the right-wing group American Legislative Exchange Council (ALEC)'s national proliferation of its model legislation designed to criminalize dissent against corporations. Over and over, we have seen how these laws are turned against communities of color and used to undermine movements and silence dissent. Alarmingly, the Georgia Attorney General announced in early September that 61 activists were charged with violating the state's Racketeer Influenced and Corrupt Organizations (RICO) law. Read the redacted Indictment and the Center for Constitutional Rights press statement. 
The mobilization against Cop City exhibits the interconnectedness of varied struggles for social justice, uniting community-based Black collectives with Indigenous environmental groups, and prison and police abolitionists with economic justice and peace activists. Despite the repression this movement faces, organizers continue to oppose Cop City and to propose a new vision of community safety in Atlanta. Groups have launched a ballot referendum to let the people of Atlanta vote on whether to repeal the lease for the construction of Cop City.
Our Work
Learn more
Take Action