As we mark twenty years since the U.S. invasion of Iraq in March 2003, the Center for Constitutional Rights renews our call for reparations for those harmed as a result of the U.S.'s unlawful act of aggression. In pursuing meaningful accountability from the U.S. for its cruel, senseless, and baseless war-for-profit, we stand in solidarity with Iraqis and all other people resisting U.S. imperialism. We call on Congress to repeal overbroad authorizations for military force and demand the reallocation of trillions of dollars of military spending toward addressing material needs of our most marginalized communities. We also continue our decades-long work to expose and hold accountable those responsible for torture and other war crimes, and recommit to our vision of a world in which revolutionary movements struggle together for liberation from U.S. imperialism and all other oppressive systems of power.
Anti-militarism is a guiding principle of the Center for Constitutional Rights and a beacon of our history. We have challenged illegal U.S. war-making in the Southwest Asia and North Africa (SWANA) region, Southeast Asia, the Balkans, the Caribbean, and Latin America. In addition, we work with movement partners and impacted communities to seek accountability for U.S. support for and complicity with dictators, paramilitaries, and human rights violators throughout the world. Through litigation and campaigns, we have worked to exact a cost from contractors who are complicit in the use of torture and other human rights abuses and have profited from devastating military engagements. We recognize the ongoing, intergenerational traumas of war, and support community efforts toward accountability, reparations, and justice.
Our resistance to the Iraq War began before it started. As the Bush administration prepared to unlawfully invade Iraq, Center for Constitutional Rights attorneys published an anti-war primer, Against the War in Iraq, arguing that the war was illegal and the costs would be high – in terms of human life and the political and economic chaos that would follow. At the time, we were deeply engaged in responding to the U.S. campaign of post-9/11 human rights abuses that targeted immigrant, Muslim, Black, and Brown communities at home and abroad, and we knew that another war would further compound these harms.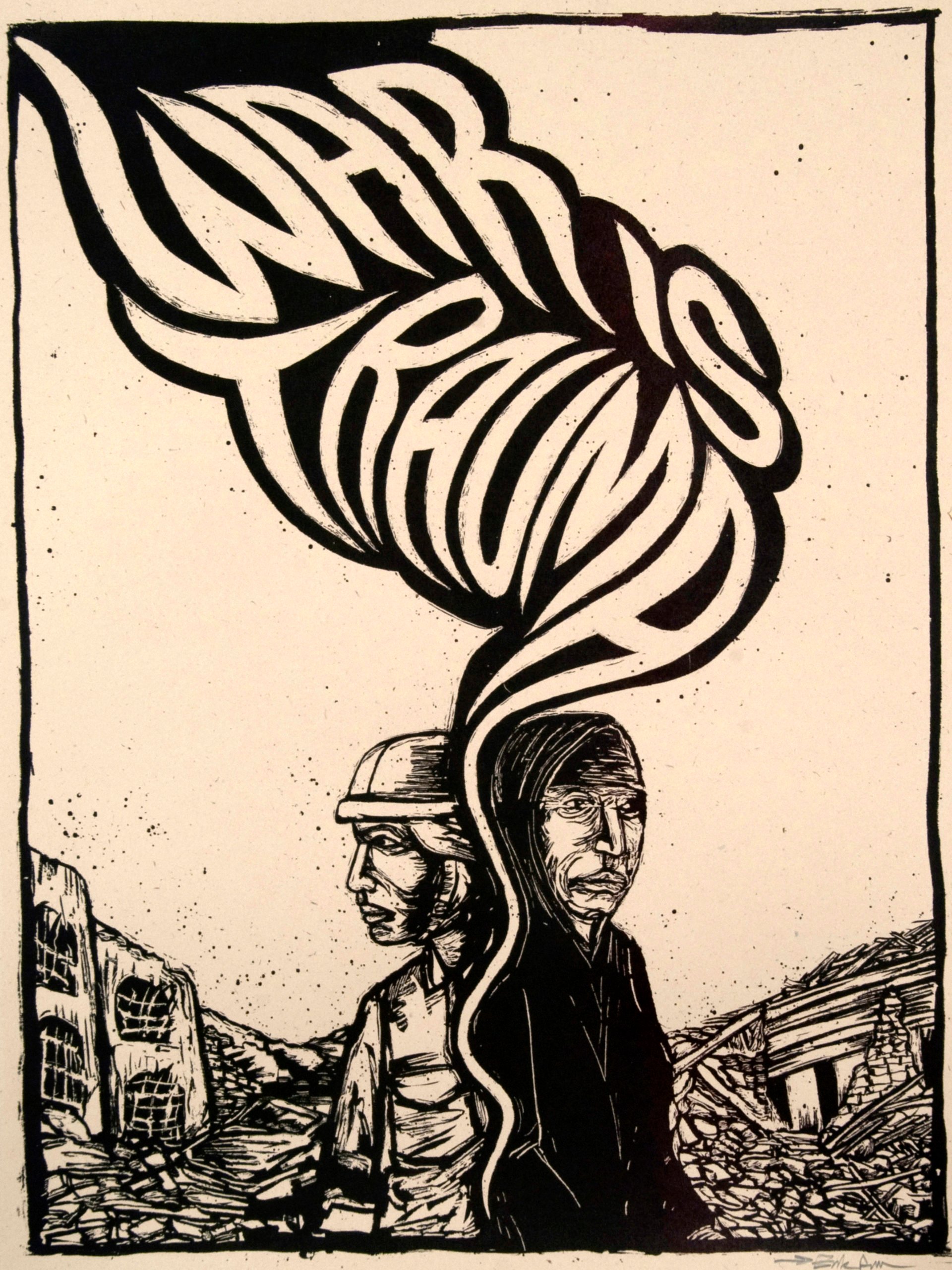 Indeed, twenty years later, the incalculable human toll of the Iaq war continues to grow: hundreds of thousands dead, millions displaced, environmental devastation, countless people tortured, traumatized, or otherwise harmed in ways unseen, occupation and embrace of torture as policy in the so-called "war on terror," and an entire generation that was born and raised with endless war. U.S. militarism turned inward has reinforced immigration restrictions, racial and religious profiling, and mass surveillance, and cracked down on dissent. We have continued to oppose the U.S. invasion and supported communities most impacted as well as the organizing taking place in Iraq, the diaspora, and in the U.S.
The Center for Constitutional Rights has fought to hold accountable the perpetrators of horrific war crimes, including those responsible for the torture at Abu Ghraib and other detention centers in Iraq, and to seek justice for those tortured and detained in the larger "war on terror." Since 2004, we have filed lawsuits against U.S.-based military contractors on behalf of Iraqis brutalized in the infamous Abu Ghraib prison and civilians killed and injured in the Nisour Square massacre. One lawsuit, Al Shimari v. CACI, continues in its 15th year as three Iraqis seek damages from the company whose employees directed and participated in a conspiracy to commit numerous illegal and depraved acts, from abuse involving dogs to sexual assault to beatings that broke bones and injured genitals. Under the principle of universal jurisdiction and before the International Criminal Court, we have fought to hold high-level political and military leaders accountable for the invasion itself and the many crimes committed in the "war on terror."
Artwork by Erik Ruin, Justseeds Artists' Collective
In 2013, to mark the 10th anniversary of the Iraq War, we partnered with the Federation of Workers Councils and Unions in Iraq (FWCUI), the Organization of Women's Freedom in Iraq (OWFI), and Iraq Veterans Against the War (now About Face: Veterans Against the War), and other organizations to launch the Right to Heal Initiative. Together, we submitted a petition to the Inter-American Commission on Human Rights (IACHR) and reports and statements to the United Nations, organized a People's Hearing, submitted letters and FOIA requests to the U.S. government, and coordinated outreach and petitions, highlighting the legacies of the war that continued to affect Iraqis an U.S. servicemembers – physical wounds, psychological trauma, environmental poisoning, sexual violence, and the displacement of thousands of people – and seeking acknowledgement, accountability, and redress for the invasion itself as well as the war crimes and rights abuses perpetrated during the war and through the impacts that followed it.
Today, twenty years after the invasion, the need for reparations is even more urgent. The impunity of the U.S. and corporations for the violent destruction of communities around the world undermines human rights for all and threatens our collective safety. Justice requires a full accounting of the harms of war and militarism, including a global commitment to creating the social, economic, and political conditions that would make war obsolete and demilitarize local communities.
20th Anniversary Media
Accountability for Torture and Killing in Iraq by Private Military Contractors
Cases brought under Universal Jurisdiction Accountability for Torture and other War Crimes
Case: Accountability for U.S. Torture: Canada
Case: Accountability for U.S. Torture: France
Case: Accountability for U.S. Torture: Germany
Case: Accountability for U.S. Torture: Spain
Case: Accountability for U.S. Torture: Switzerland


Right to Heal Initiative
Press Release: U.S. Veterans, Iraqi Organizations Demand Justice for U.S.-led Decade of War in Iraq (2013)
Executive Summary and Petition to the Inter-American Commission to Human Rights(2013)
People's Hearing on the Lasting Impacts of the Iraq War (2013)
The War is Not Over: Seeking Accountability and Reparations for the United States' Illegal War and Its Lasting Trauma (2014)
Media: Right to Heal partners on Democracy Now! (2014)
Blog: After 13 Years of Militarism, Iraqis Are Up to the Task to Lead a Reparations Process
Press Release: Veterans and Human Rights Attorneys Seek Information on Toxic Weapons Use in Iraq (2014)