Unilateral Policy Change to Formerly Rejected Re-Definition of Antisemitism Exhibits Partiality and Risks Further Suppression
CCR joined 10 other civil rights groups in sending a letter to U.S. Department of Education (DOE) Assistant Secretary for Civil Rights Kenneth L. Marcus demanding he end his department's attacks on student free speech. The letter responds to Marcus's move in August 2018 to redefine antisemitism so that student speech supporting Palestinian rights is classified as antisemitic and is grounds for a federal investigation. Prior to his appointment by Trump, Marcus was a leading apologist for Israel who openly urged filing complaints with the DOE to chill speech critical of Israel on college campuses, even after those complaints were dismissed on First Amendment grounds.
The absurdity of Marcus's redefinition is illustrated by the latest complaints filed with his office. Under the Marcus definition, Israel advocates have already:
Filed a complaint with OCR targeting the National Students for Justice in Palestine Conference in November 2018. The event convened students from diverse backgrounds to discuss achieving equality for Palestinians. The Zachor Legal Institute filed the complaint against UCLA before the conference even occurred, claiming that discussion of Palestinian rights is an attack on Jewish students.

Filed a complaint with OCR targeting a vigil organized by Jewish students at UC Berkeley in November 2018 to mourn the deaths of Palestinian children killed in Gaza and Jews killed in the Pittsburgh massacre. The complaint was filed against UC Berkeley by attorneys Neal Sher and Joel Siegal, both on the legal advisory board of the Brandeis Center, the organization Marcus previously founded and directed. The attorneys alleged that the vigil was to portray "Israel as a barbarian and racist nation," falling under Marcus's redefinition, and said the students who organized the vigil should be expelled.

Threatened a September 2018 event at San Jose State University called We Will Not Be Silenced, which planned to discuss intimidation against Israel's critics. One professor warned another of a federal investigation under the Marcus policy.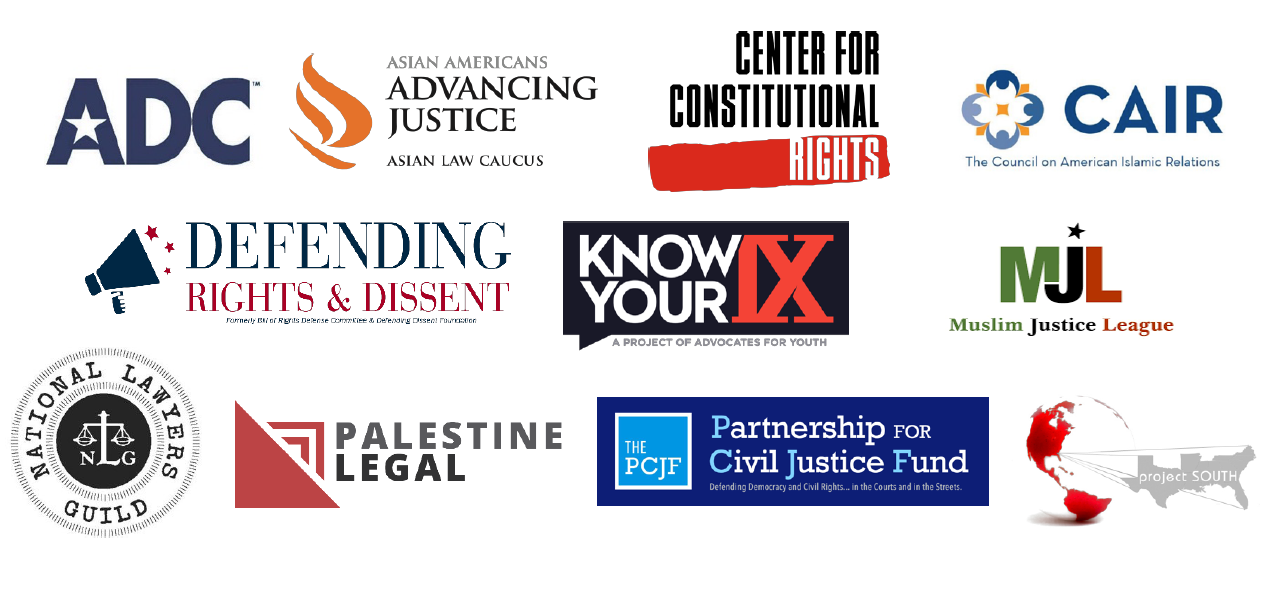 Kenneth L. Marcus
Assistant Secretary for Civil Rights
U.S. Department of Education
Office for Civil Rights
400 Maryland Avenue, SW
Washington, D.C. 20202-1100
[email protected]
November 30, 2018
Dear Assistant Secretary Marcus,
We are civil and human rights organizations dedicated to defending students from all forms of discrimination in public schools and institutions of higher education. We write to express alarm that the U.S. Department of Education's Office for Civil Rights (OCR) continues to relinquish its responsibility to protect the civil rights of all students.
Under the leadership of Secretary of Education DeVos, OCR has attacked protections for students of color, survivors of sexual violence, and victims of systemic discrimination. Now you have added free speech to the list of civil rights endangered by OCR. In August 2018, you decided to (1) reopen a 2011 Title VI complaint against Rutgers University, which OCR investigated for three years and dismissed in 2014, and (2) use the controversial International Holocaust Remembrance Alliance (IHRA) redefinition of antisemitism in revisiting the Rutgers case, and to assess others in which criticism of Israel is alleged. These actions threaten First Amendment protections and undermine the mission of your office to protect equal educational opportunity for all students. We urge you to reverse.
Instead of pursuing anti-civil rights and anti-free speech agendas, you should marshal your resources to meaningfully address the many pressing civil rights crises before you.
1. OCR policies under Secretary DeVos have eroded protections for students of color, students with disabilities, survivors of sexual assault, and more.
Under Secretary of Education DeVos, the Department has undermined rather than protected civil rights. For example, in September 2017, OCR revoked protections for student survivors of sexual violence and adopted new policies that chill and limit survivors' ability to resolve complaints.[1] In June 2017, OCR made procedural changes to limit broad investigations of systemic discrimination.[2] In July 2018, the Department put students of color with disabilities at risk by delaying regulations necessary to ensure disability services are provided on an equal basis without regard to a child's race.[3] That same month, under your superintendence, OCR revoked guidance to support schools in diversifying their campuses.[4]
Meanwhile, alarming incidents of bigotry are proliferating in schools throughout the U.S.[5] Long-standing systems of structural inequality continue to prevent students from various backgrounds from receiving equal access to educational opportunities.[6] With white supremacist attacks on the rise, including the massacre at a Jewish synagogue in Pittsburgh, the murder of two elderly Black people in Louisville, regular threats and attacks on mosques,[7] and white supremacist groups recruiting on campuses everywhere, we know that white supremacy is deadly, and that we must combat all forms of racism and bigotry together. We need the resources of the federal government now like never before to lead the nation in holding sources of bigotry accountable.
2. Your decision to reopen the Rutgers case – which was thoroughly investigated and dismissed – does not comport with OCR policies, and wastes OCR's meager resources.
OCR is constrained by limited resources, compounded by a notorious backlog in cases,[8] staffing cuts,[9] and proposed budget cuts.[10] Citing an efficiency rationale, OCR threw out over 500 disability complaints in April 2018.[11] The mass dismissal followed controversial changes to OCR's Case Processing Manual in March 2018, which called for the dismissal of complaints placing "an unreasonable burden on OCR's resources" and abolished an appeals process.[12]
Civil rights advocates decried these changes as antithetical to OCR's mission and sued.[13] In a May 2018 letter to Secretary DeVos, Members of Congress warned, "Selectively choosing which students will be protected and which complaints will be investigated is a violation of the law and will result in serious civil rights violations going unchallenged."[14] In response to the outcry, OCR recently reversed the procedural limitations,[15] but they were in place in August 2018.
One of your first acts in office at this time was to re-open the Title VI case filed by the Zionist Organization of America (ZOA), against Rutgers University, a case which OCR closed in 2014 after a three year investigation.[16] OCR cleared Rutgers of allegations that critics of Israel created a climate of antisemitism in a detailed eleven-page report laying out the evidence and reasoning for the dismissal. You vacated the previous findings and reopened a broad investigation, despite the strain on OCR's caseload, despite the fact that an appeals process did not exist at the time you re-opened it, and despite the fact that OCR now disfavors broad investigations.
This decision to focus the office's meager resources on reopening an old case comes at the expense of a myriad of other civil rights issues which demand OCR's urgent attention. In light of OCR's policy to prioritize efficiency, your decision was arbitrary, wasteful, and inconsistent with the OCR protocols in place at the time.
3. The re-definition of antisemitism for use on campuses in the U.S. has been rejected by Congress, by previous OCR leadership, by major state university systems, and by state legislatures.
In the same August 27, 2018 letter to the ZOA informing it that you were re-opening its complaint against Rutgers, you noted that the IHRA definition of antisemitism[17] is "in use" by OCR.[18] But the IHRA definition had not previously been used by OCR and its current use would be a significant policy change that you personally had tried, but failed, to achieve from the outside.
OCR previously rejected this definition of antisemitism under both the Trump and Obama administrations. In response to congressional requests for OCR to adopt the IHRA definition, your current boss, Secretary DeVos, rejected such requests in September 2017, stating that "OCR does not adopt definitions of particular forms of racism or national origin discrimination."[19] This was consistent with a similar letter sent by President Obama's Secretary of Education Arne Duncan to members of Congress in December 2015,[20] as well as four OCR decisions made in 2013 and 2014 finding no violations in situations where the IHRA definition would have resulted in a different analysis.[21] And Congress has twice failed to enact stand-alone legislation that would have required OCR to consider this definition in its enforcement.[22]
Although your August 2018 letter does not acknowledge it, you used the letter to attempt a change in the status quo and overrule the judgment of your own Secretary of Education as well as prior OCR policy and Congress.  The failure to acknowledge the change and the absence of a reasoned justification for the change makes your action arbitrary and capricious.
It is no secret that adopting this definition has been a significant goal of yours for years in your work outside of OCR. In your advocacy, however, you had never suggested that OCR already used the IHRA definition. To the contrary, you co-authored multiple letters with the ZOA demanding that OCR adopt the re-definition,[23] you conferenced multiple times with OCR officials to discuss such demands,[24] you supported the filing of multiple failed complaints to the OCR alleging that campus speech critical of Israel creates a hostile climate for Jewish students,[25] and more.[26]
Your efforts to have other entities adopt this definition have also failed. As noted above, you unsuccessfully lobbied, along with ZOA and others, for Congress to impose the re-definition on OCR.[27] The state legislature in Virginia also rejected your lobbying efforts to adopt the re-definition.[28] The University of California (UC) Regents rejected a similar re-definition of antisemitism after you, the ZOA and other advocacy organizations seeking to suppress criticism of Israel lobbied the university in 2015 and 2016.[29] The only forum in the U.S. to accept the definition for use on campuses is South Carolina, where the proposed definition failed as a stand-alone bill and only succeeded as a rider to a budget bill that expires after one year.[30]
Your August 2018 letter's claim that the IHRA definition is "widely used by governmental agencies, including the U.S. Department of State," is misleading. In fact, the State Department only uses a version of it for the purposes of data collection abroad and it has no domestic application in the U.S.[31] The re-definition is used by government agencies abroad, but its validity is widely contested, and the countries where it is used do not have the same free speech protections that we have enshrined in the First Amendment to the U.S. Constitution.
4. You attempted the controversial policy change with no public input and little, if any, internal consultation process with the department's experts.
We are concerned by the backdoor manner in which you attempted a major policy change restricting the civil rights and liberties of students across the country. Overriding prior policy makers who rejected the IHRA definition, you announced the decision that the IHRA definition is "in use" in a letter directly to the ZOA who you had partnered with for years.[32] OCR made no public announcement of your decision to adopt the IHRA decision. Your letter to ZOA was made public only through media reports.[33]
It is not clear what type of process you engaged in, if any. For a major policy decision, it is customary for multiple offices within the agency, in addition to parallel offices in other agencies, to review the proposed policy change and provide comments, which your team would duly consider. It is also customary to hear from stakeholders affected by the change, including advocacy groups, students and universities. But you made the decision to declare that the IHRA definition is "in use" two months after taking office.[34] Certainly, you did not request or receive any public input. Given the short timeline, it appears you attempted the policy change unilaterally within your own office.
5. The re-definition of antisemitism provides no new legal protections for Jewish students and infringes on First Amendment rights.
Your statement that OCR will use the IHRA definition is equivalent to stating that OCR will violate the First Amendment by establishing a federal requirement for universities to abrogate their educational missions and violate campus free speech principles.
We support long-standing OCR efforts to protect Jewish, Sikh, and Muslim students from discrimination.[35] We appreciate OCR's work to address discrimination based on actual or perceived shared ethnic characteristics as a form of national origin discrimination. Under previous administrations, OCR has already enforced this policy to address multiple cases of antisemitic discrimination.[36]
The IHRA definition of antisemitism provides no new legal protections for Jewish students who are subjected to discrimination. It carves out special treatment for students to be shielded from criticism of Israel. Such protection from political opinions and human rights advocacy against the abuses of a foreign state has no grounding in statute, and in fact would violate the U.S. Constitution and bedrock principles of academic freedom intended to ensure open debate.
Much of the IHRA definition is uncontroversial and aligns with a traditional understanding of the term.[37] But the definition radically departs from that understanding with its listing of "contemporary examples of antisemitism" which include, "Denying the Jewish people their right to self-determination, e.g., by claiming that the existence of a State of Israel is a racist endeavor" and "Applying double standards by requiring of it a behavior not expected or demanded of any other democratic nation."
This vague and overbroad re-definition falsely conflates political criticism of Israel with antisemitism and puts OCR in the position of government censor. For example, in order to apply the IHRA definition in evaluating campus complaints, OCR and university officials must determine: in order to avoid applying a "double standard," must students first criticize China, Saudi Arabia, or other states before or after criticizing Israel? Are universities required to punish students and faculty who call the Israeli state, or the U.S. or any other government, "racist"? Is a campus discussion of Israel's "Nation State" law (enacted in July 2018, to enshrine the right of national self-determination for Jews only[38]) grounds for a federal investigation? The answers must certainly be no.
Application of the IHRA definition will drive OCR investigators into a morass of viewpoint-based distinctions and may compel and punish speech in violation of the First Amendment. OCR officials may be directly liable for First Amendment violations.[39]
The re-definition of antisemitism is especially detrimental to universities, whose missions necessitate respect for freedom of speech, critical inquiry, and unfettered debate.[40] First Amendment experts across the political spectrum, public commentators, and the re-definition's original drafter have all repudiated its use on college campuses.[41]
Even if OCR takes no further action to enforce the re-definition, your announcement that the re-definition is "in use" will have an unconstitutional chilling effect.[42] It is well-documented that the same organizations that promote the IHRA re-definition – including the ZOA and the organization you founded and previously led, the Brandeis Center – use it as a tool to pressure campus administrators to restrict protected speech.[43] Students, professors, researchers, and university administrators will inevitably act in ways to avoid scrutiny of their activities and the specter of a federal investigation into their political speech activities.[44]
The threat to protected speech has already materialized. For example, a November 2018 vigil organized by Jewish students at UC Berkeley to jointly mourn the deaths of Palestinian children killed in Gaza and Jews killed in the Pittsburgh massacre[45] is now the subject of a Title VI complaint to OCR.[46] In September 2018, a pro-Israel professor at San Jose State University cited the possibility of a federal investigation under OCR's new policy in warning other professors against holding an event called We Will Not Be Silenced, which planned to discuss intimidation against Israel's critics.[47]
Instead of safeguarding against expressions of hatred towards Jewish people, this re-definition censors First Amendment-protected speech by discriminating against viewpoints critical of Israel and chilling one side of an important political debate.
6. Your focus on reopening the Rutgers case and redefining antisemitism exhibits extreme partiality and misuse of the Office.
As Assistant Secretary for Civil Rights, your actions exhibit extreme partiality in carrying out an agenda which you were unable to accomplish as an advocate prior to your appointment. You adopted a controversial, anti-speech definition of antisemitism in a highly irregular and backdoor manner. You re-opened an old investigation, contravening OCR's efficiency policies and wasting the resources of your office. It is rare, and perhaps unprecedented, for an Assistant Secretary to sign an appeal letter, but you personally signed the letter to your former advocacy partner at the ZOA re-opening the case it had filed.
Such irregular actions indicate a disturbing focus on complaints of antisemitism based on criticism of Israel, at the expense of many other civil rights complaints demanding the urgent attention of federal investigators. This is the danger of selective enforcement which members of Congress warned against.
Your actions disregard growing concerns over free speech on college campuses that are gripping the nation. Congress, the Department of Justice, civil society, students, teachers, administrators, and people on all sides of multiple social issues are wringing their hands over the narrowing of public debate. And yet weeks after taking office, you casually and surreptitiously discarded the enshrined right to criticize a foreign government on university campuses.
We implore you to cease attacking free speech and begin engaging in meaningful efforts to address antisemitic, racist, anti-Muslim, anti-immigrant, and anti-LGBT incidents and other forms of discrimination that have been fueled by increasing tolerance for bigotry.
Sincerely,
Arab American Anti-Discrimination Committee
Asian Americans Advancing Justice - Asian Law Caucus
Center for Constitutional Rights
Council on American-Islamic Relations
Defending Rights and Dissent
Know Your IX, a project of Advocates for Youth
Muslim Justice League
National Lawyers Guild
Palestine Legal
Partnership for Civil Justice
Project South
---