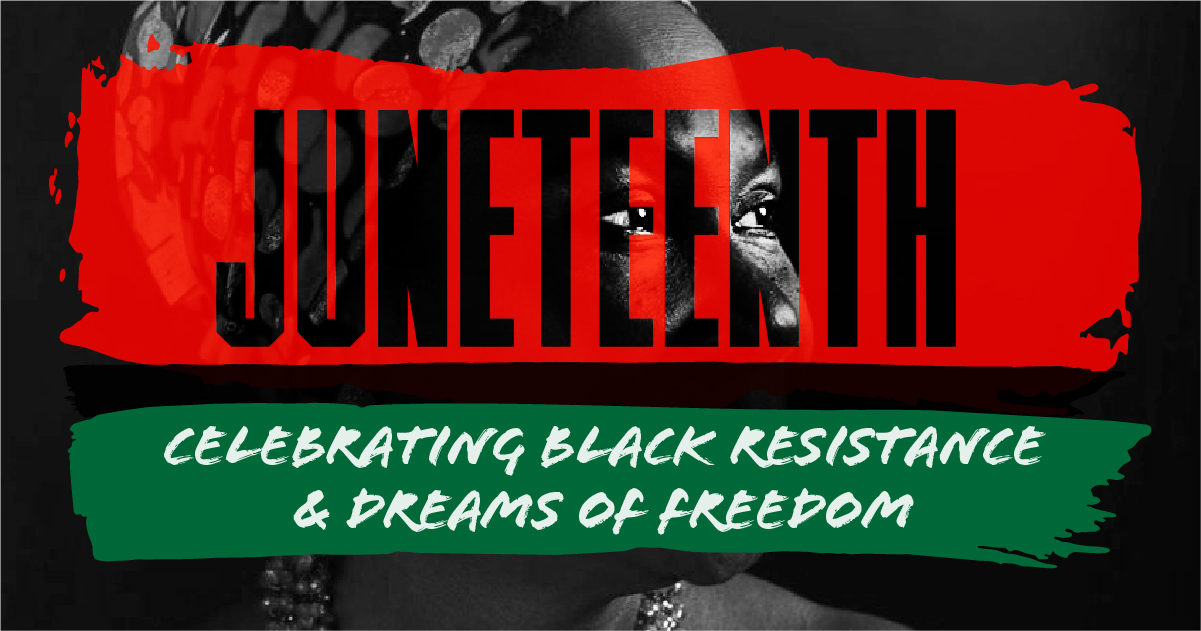 We honor Juneteenth—the celebration of the end of chattel slavery in the United States—by envisioning a world freer than the one in which we currently live. Each year since the June 19, 1865 reading of the Emancipation Proclamation to Black people in Galveston, Texas, Black people have celebrated the ongoing fight for freedom. 155 years later, Juneteenth comes during a national uprising against anti-Black racism. Broad coalitions all over the world are standing up for the abolition of our unjust prison and policing systems and our life-depleting institutions and ideologies.
The Center for Constitutional Rights marks this extraordinary moment of protest and hope with a week of art, culture, and commemoration centering Black voices and demands for justice, accountability, and freedom. The ratification of the 13th Amendment in December 1865 did not abolish all slavery in the United States, and instead explicitly permitted slavery in prisons. Today, the prison-industrial complex and the epidemic of policing and caging Black and brown bodies serve as the current manifestation of global anti-Blackness. Our Juneteenth week includes the release of our Juneteenth statement; discussions of prison abolition and visions of a world without cages; a showing of The Black Power Mixtape 1967-1975 as part of our Freedom Flicks series; and a joyous musical celebration of Black Liberation on Instagram Live. On Juneteenth itself we will join Rise St. James for a commemoration of the lives of enslaved people buried in Louisiana at a gravesite threatened by the construction of a Formosa Plastics factory. In solidarity with freedom fighters everywhere, the Center for Constitutional Rights engages in the liberation struggle with joy, honesty, and love.
The Black Freedom Struggle Continues
This moment of both protests against police violence and the novel coronavirus demands us to commit to rejecting all harmful value systems, ideologies, and institutions that serve to uphold an immoral hierarchy of human life.
The prison-industrial complex serves as the current manifestation of anti-Blackness globally: in the spirit of slavery abolitionists and the ongoing Black freedom struggle, we hereby commit institutionally to its abolition.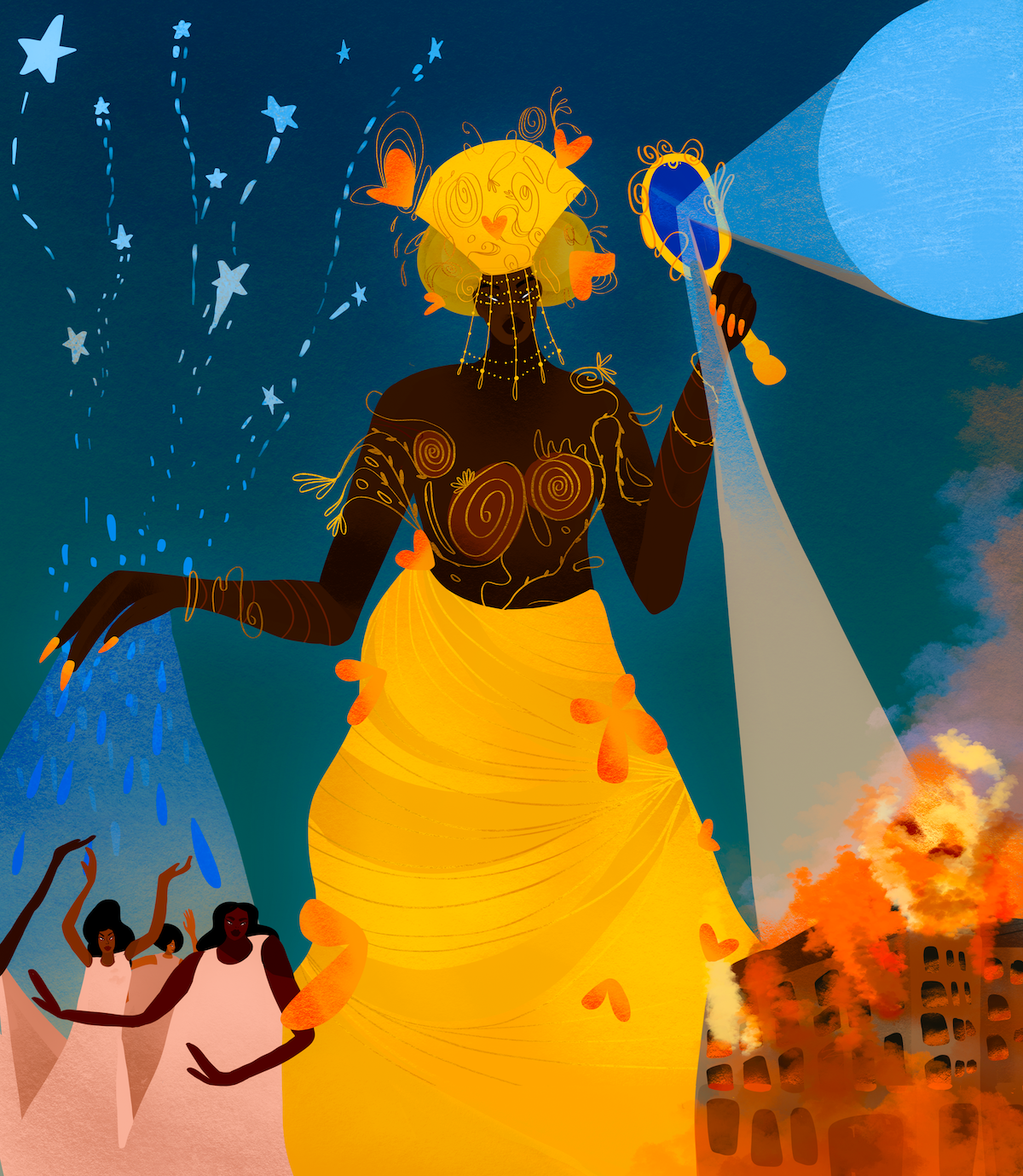 Oshun Imagery 6/5/20 by Amir Khadar
This is a depiction of Oshun/a divine being lighting up a precinct and sending love/nourishment to the girls.
Instagram: @Amir.Khadar
Amir Khadar is young West African multidisciplinary artist from Minneapolis, Minnesota whose main mediums are poetry, fibers, and digital art/design. Afrofuturism, beauty, hair, and spirituality are common cites for exploration within their work.
At the Center for Constitutional Rights, we believe in the transformative power of art and culture, and this Juneteenth we center Black voices and art to highlight the continued struggle for Black Freedom. We believe this piece of art by Amir Khadar so aptly captures the moment of Black resistance, resilience, and joy.

MONDAY, JUNE 15
Black Leaders Call on Gov. Edwards to Support RISE St. James
Prominent Black leaders signed onto a letter joining RISE St. James' call to end the Formosa Plastics project and for a moratorium on all new petrochemical facilities and expansions of existing facilities.

TUESDAY, JUNE 16
The Activist Files: Abolition & Organizing in the time of COVID-19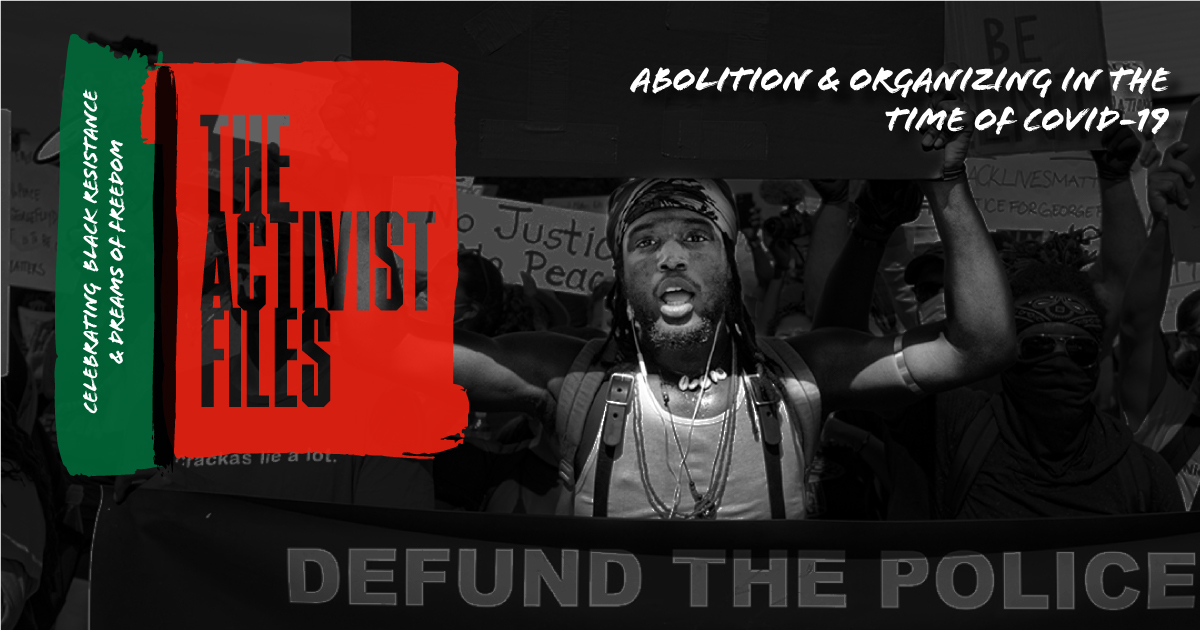 In this conversation, the last of a four-part series of blogs about the movement response to COVID-19, Samah Mcgona Sisay and Center for Constitutional Rights Advocacy Associate maya finoh discuss their personal definitions of abolition; the ways in which prison abolitionists are using this particular moment to amplify their dreams of a world without cages; how prisons, policing, and surveillance serve as threats to the public health of low-income communities; and the unique experiences of Black immigrants, trans women, and survivors of domestic/sexual violence in the U.S. criminal legal system. Check out the rest of maya's series.

WEDNESDAY, JUNE 17
La MaMa LiveTalks: The Struggle for Black Freedom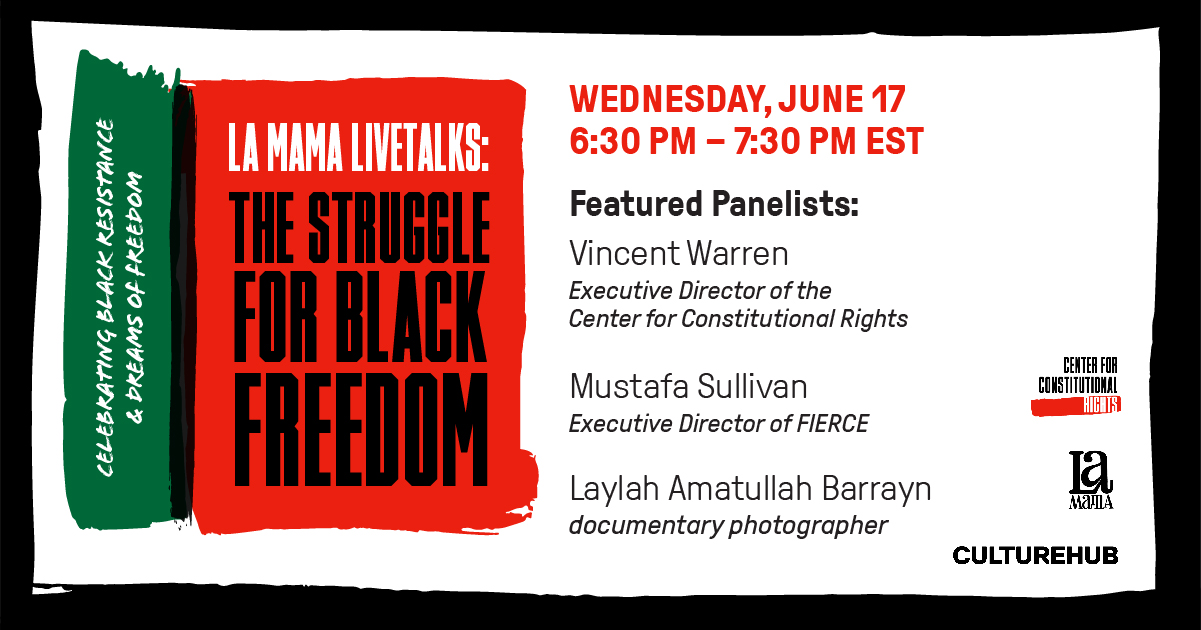 We are proud to partner with CultureHub and La MaMa as part of La Mama LiveTalks, conversations with artists, activists and thought leaders from around the country and around the world who join in discussions about art and life in times of crisis. Our Executive Director Vincent Warren will join the virtual panel with FIERCE Executive Director Mustafa Sullivan and documentary photographer Laylah Amatullah Barrayn.

THURSDAY, JUNE 18
The Black Power Mixtape 1967–1975: A Freedom Flicks Event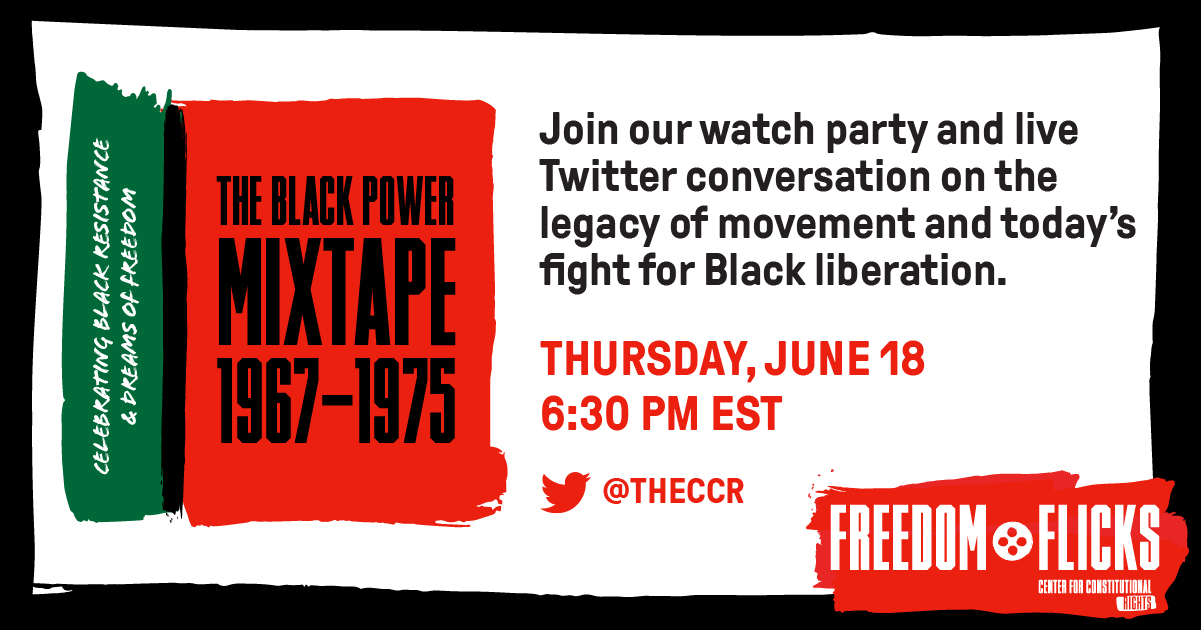 Join us in watching The Black Power Mixtape 1967–1975 as part of our Freedom Flicks series. Through archival footage and interviews with contemporary artists and activists, this powerful documentary examines years of the Black Power Movement and its leaders. While watching, join us in a community conversation on the legacy of the movement and the fight for Black liberation today.
The film is screening for free on Amazon or Apple TV. It can also be rented or purchased on Google play and Youtube. We'll be sharing prompts of discussion starting at 6:30 pm EST.

JUNETEENTH - FRIDAY, JUNE 19
Juneteenth Observance in Louisiana
Join Rise St. James and Louisiana Bucket Brigade for a Juneteenth Observance honoring the lives of enslaved people buried on a site under threat from Formosa Plastics. The Live event will start at 12 pm EST.
Celebration: Juneteenth Jubilee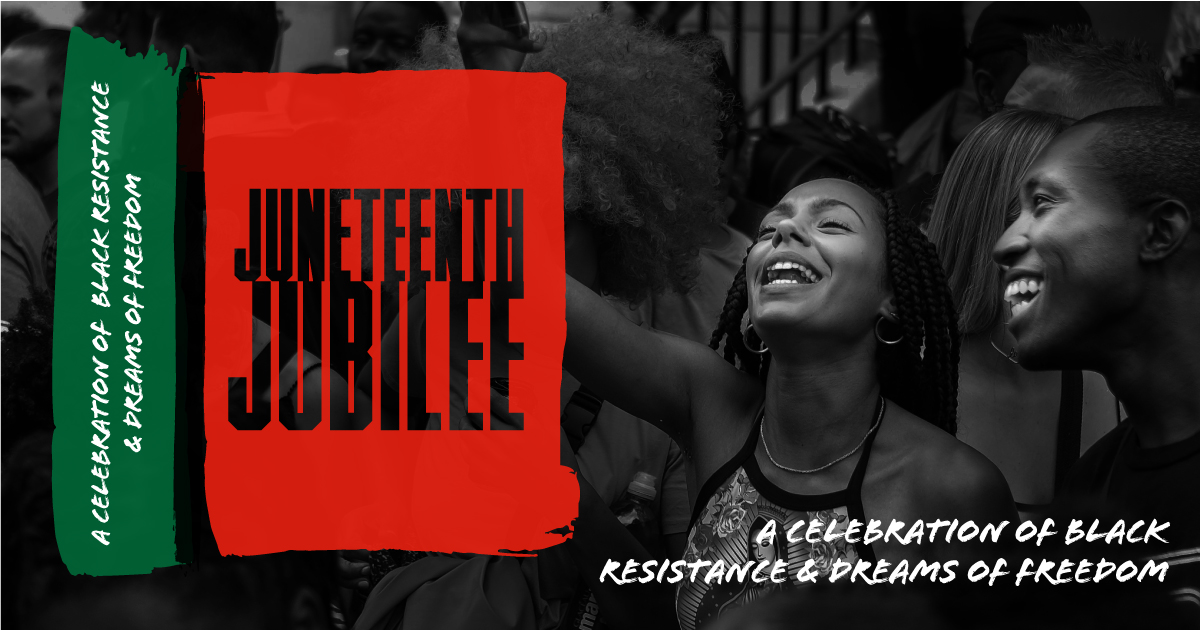 Join us for an Instagram Live party celebrating Black Liberation. From 1-4pm ET, we'll be amplifying three different Black femme DJs: MUSE(O)FIRE, Rimarkable, and Problematic Black Hottie. Tune in to hear good music and learn more about the history of Juneteenth on its 155th anniversary!