Date
Monday, September 18, 2017
5:00pm

to

7:00pm
Location
525 West 120th St.
Teachers College, Columbia University
Monday, September 18, 2017
5:00 PM - 7:00 PM
Milbank Chapel
Reception to follow in Everett Lounge at 7:00 pm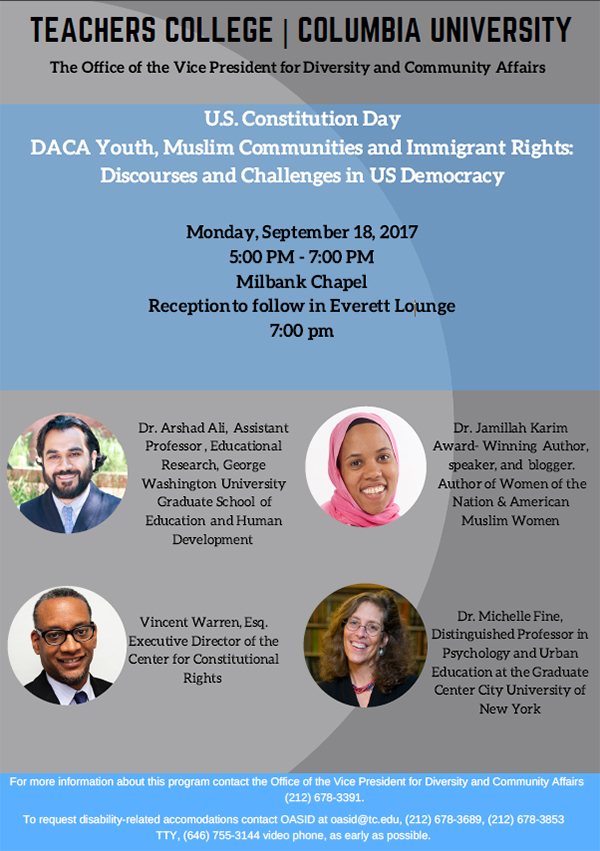 Dr. Arshad Ali, Assistant
Professor , Educational Research, George Washington University Graduate School of Education and Human Development
 
Dr. Jamillah Karim
Award- Winning Author, speaker, and blogger.
Author of Women of the Nation & American Muslim Women
 
Vincent Warren, Esq.
Executive Director of the Center for Constitutional Rights
 
Dr. Michelle Fine
Distinguished Professor in Psychology and Urban Education at the Graduate Center City University of New York
 
For more information about this program contact the Office of the Vice President for Diversity and Community Affairs at (212) 678-3391.
To request disability-related accomodations contact OASID at oasid@tc.edu, (212) 678-3689, (212) 678-3853 TTY, (646) 755-3144 video phone, as early as possible.