Date
Monday, March 12, 2018
6:30pm

to

9:00pm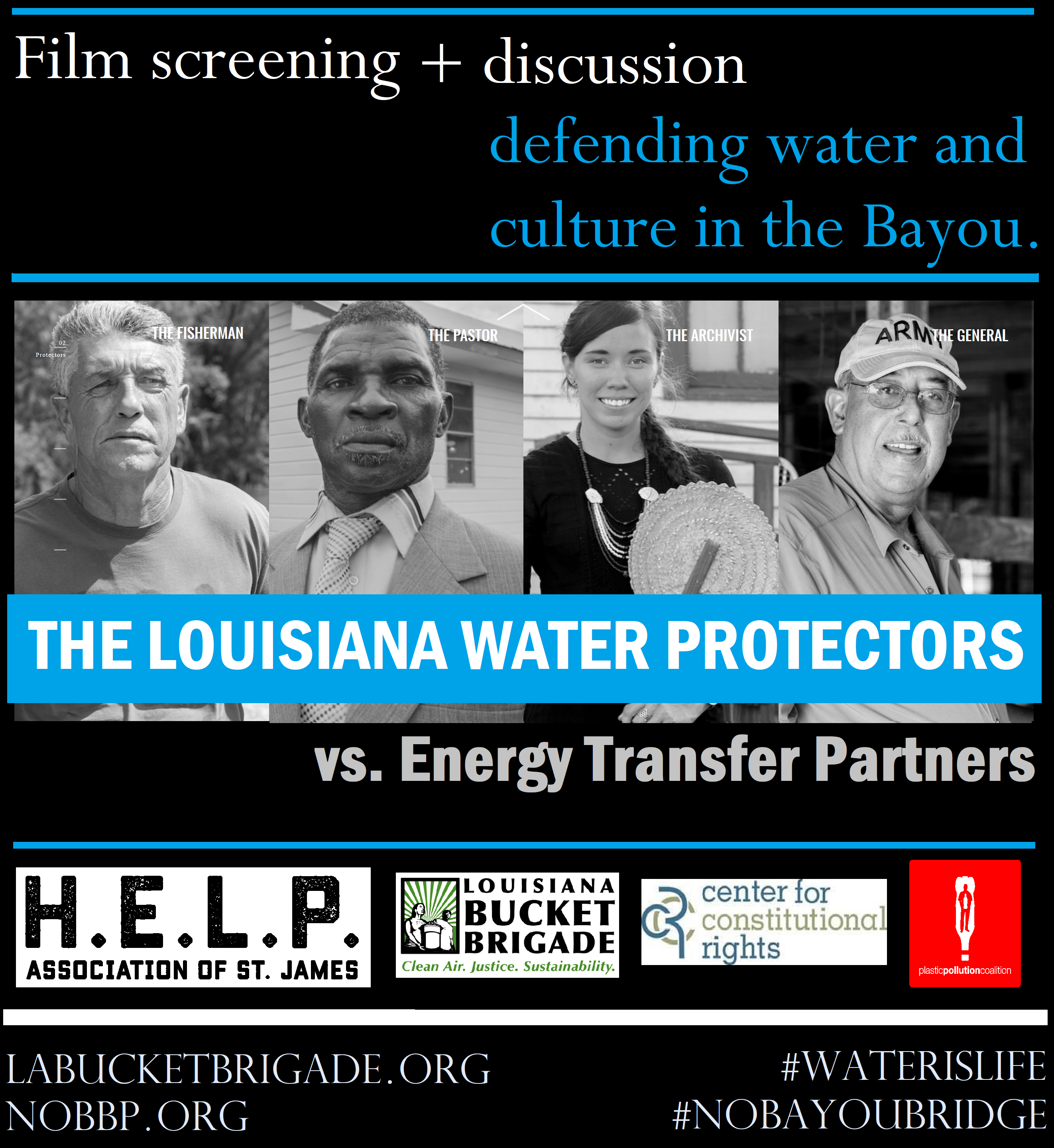 Please join CCR from 6:30 pm - 9:00pm on March 12th to watch a short-film series that takes an in depth look at the Louisiana Water Protectors on the front lines of resisting Energy Transfer Partners (ETP) controversial 162 mile 'Bayou Bridge Pipeline' project. After the screening, a discussion session featuring Anne Rolfes, Founding Director of the Louisiana Bucket Brigade, Pastor Henry Joseph of Mt. Triumph Baptist Church, St. James Louisiana and CCR's own Pam Spees, Senior Staff Attorney, will be facilitated by Dominic Renfrey, Advocacy Program Manager at CCR.  
Louisianans are fighting back. At this event we'll hear how they are defiantly saying no to the militarisation of their communities, and putting themselves in the way of this pipeline to resist the destruction of the Atchafalya Basin, and the land of the communities around it.   
About the Bayou Bridge Pipeline Fight
The proposed pipeline, that has recently begun construction, would cut through approximately 700 bodies of water in 11 different parishes across the state. According to that Pipeline and Hazardous Materials Safety Administration, ETP has spilled hazardous liquids in or near water crossings more than twice as frequently as any other pipeline company in the country this decade.  One of the water bodies the pipeline would cross is Bayou Lafourche, which provides drinking water for more than 300,000 people, including communities of the United Houma Nation.  A coalition of environmental groups and concerned Louisiana citizens called on Louisiana Governor John Bel Edwards for months to order the Army Corps of Engineers to conduct an Environmental Impact Study, but he refused.  Now they are taking that fight to court, and on Feb 22 Louisianan environmental groups won an preliminary injunction to halt temporarily halt construction of the pipeline within the Atchafalaya National Heritage Area.  
The groups are determined to stop ETP building the pipeline before it's too late, and for good reason. ETP is also the main company behind the controversial Dakota Access Pipeline – which has leaked 5 times since coming online last summer – and several other pipelines in Ohio, Pennsylvania and elsewhere, spilling several million gallons of drilling fluid and racking up record-setting multi-million dollar fines from the EPA.  ETP has also contracted with TigerSwan LLC, a private security company that has deployed highly controversial strategies during construction of DAPL, as well as engage in 'asymmetrical' intelligence and disinformation tactics to surveil, infiltrate and smear pipeline opponents in several states.