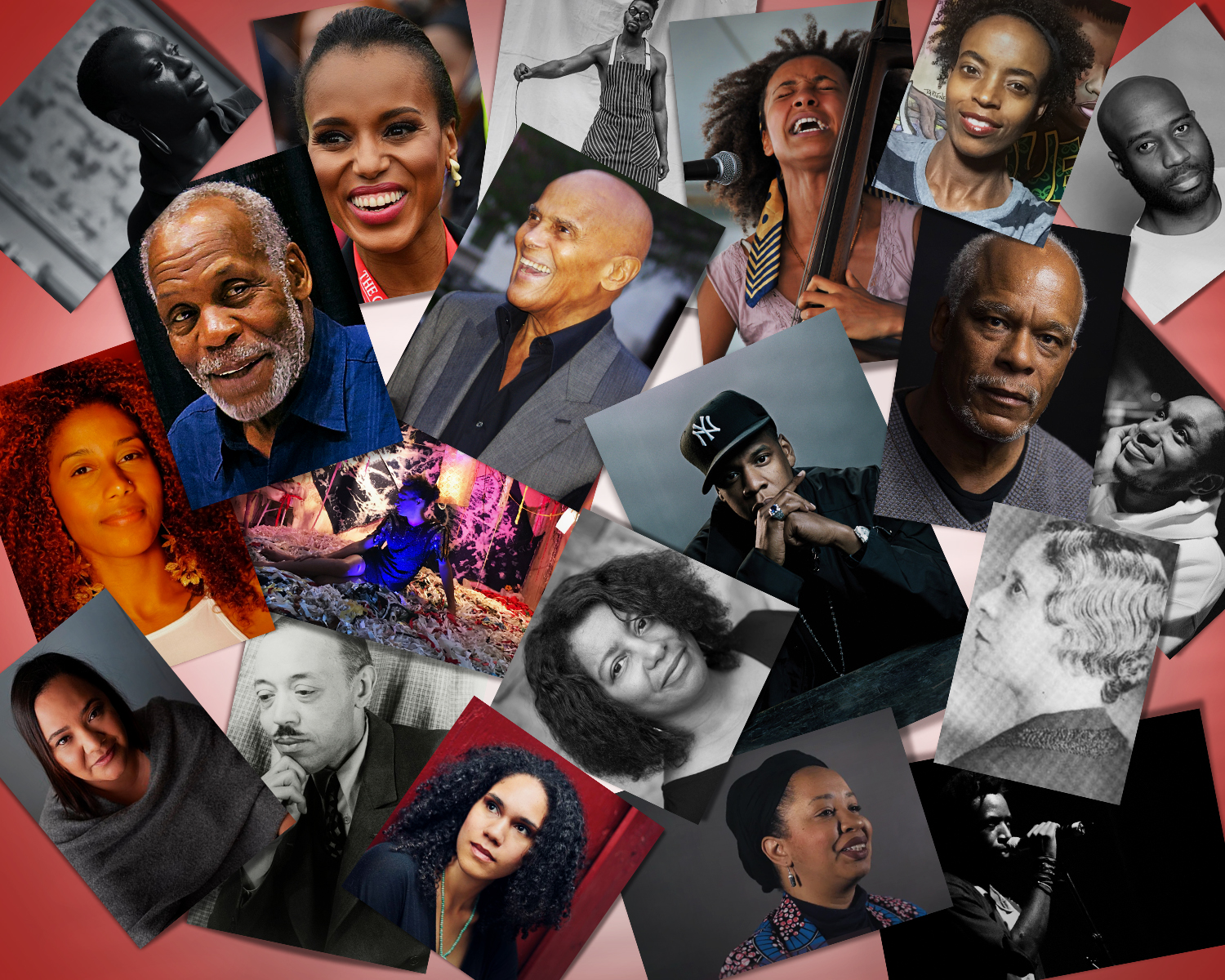 As an organization that stands with social movements and communities resisting oppression, we know that change is possible when artists, storytellers, and lawyers dream together. This Black History Month, we celebrate the extraordinary Black artists, storytellers, and lawyers who have challenged the world we have and helped us imagine the world we want to see. We are proud to highlight this special group of creatives, allies, and movement partners who are using their tremendous gifts to advocate for racial justice, human rights, and social and political transformation.
Activism through artists
For over 50 years, we have been uplifted, sustained, and inspired by countless artists who not only urgently "reflect the times," but whose work charts an irresistible future. 
We have strategized with the legendary Harry Belafonte and rapper Tef Poe during the Ferguson uprisings; we partnered with Grammy Award-winning jazz great Esperanza Spaulding and the extraordinary poets Saul Williams and Aja Monet on the treatment of prisoners at Guantanamo Bay. We've worked with artist and actor Yasiin Bey to end stop-and-frisk; filmmaker Stanley Nelson on the legacy of Black radical activism; Danny Glover to address the political crisis in Haiti; filmmaker Jacqueline Olive on modern-day lynchings and Broadway performer Tanya Birl to end solitary confinement.
We worked in partnership with Jay-Z on the closure of the infamous jail on Rikers Island; actress Kerry Washington on police killings and filmmaker dream hampton on trans justice. We have a continuing partnership with The Dream Unfinished Activist Orchestra's annual concert for Civil Rights, which has featured talents of vocalist Helga Davis, violinist Kelly Hall-Tompkins, award-winning contemporary composers like Jessie Montgomery and Courtney Bryan, and vastly underappreciated past composers like Florence Price and William Grant Still. 
Our Executive Director Vince Warren, a jazz and funk musician, often says "There are only two things worth doing in life - alleviating pain, and creating beauty." At the Center for Constitutional Rights, we honor the Black artists who do both, who do it all. Here's to Black History, Black Future, and Black Art!
FEATURED ARTISTS:
Darlene Newman


Q: How do you use art as a catalyst to tackle social change and advance racial equity?

A: In my piece,"Try It. He's Human," I tackle social change and advance racial equity by painting an African-American man as a human being enjoying the reception of positivity and expressions of love - contradictory of how he is often portrayed to the masses. I used my husband's personal experiences as inspiration to show that people do not have to cross the street when he walks down that same street, nor feel threatened in any way because he is not a machine nor monster looking to do harm, but has feelings just like anyone else with life goals and a desire to be safe, secure and loved. Everyone enjoys being shown love and hopefully this piece and many others of mine will get people to correlate males, specifically African-American males, with positive emotions and humanistic qualities.

I love two-dimensional animation! It's expressiveness and motion are elements I use in the aesthetic of my work. However, art is a calling for me: not just to create fun images, but to address issues in a manner that emphasizes the positive alternative. This fuels me. This uplifts me. This challenges me to go against the grain of seeing something for what it is, and to imagine how a topic that may be considered ugly or harsh can morph into a beautiful outcome or a beautiful expression of celebration. This has birthed several series such as,"Strength In Weakness," "So Loved," and "Church Women In Hats." What I see turns into dancing buildings, elongated limbs and exaggerated movements. I use strong lines and bright acrylic colors to bring my work to life.

To create imagery everyday that pushes my mind out of the negative realm is exciting! My work is food for my soul, not only because of the process of creating it, but the process of interacting with people who view and interpret my work. I have had the privilege of hearing viewers' amazing testimonies of healing, of overcoming obstacles and of childhood nostalgia. I see my work feed the soul of others, as well, and I am thankful.

---

 

Zeelie Brown

Q. How do you use art as a catalyst to tackle social change and advance racial equity?

A: I exist, whole.

Zeelie Brown's work reflects the complex experience of the spaces we embody. Harvesting space, textiles, sound, and concept as media, she explores ideas of queer refuge, transmaternality, nurture, revolutionary softness, and radical Black empowerment in an age of surveillance capitalism. Her work is grounded in the folk culture of her rural coastal Alabama homestead, steeped in a mix of Yoruba, Dahomey, and Kikongo religious imagery. She has performed at MoMA, the Shed, CCCADI, and Gavin Brown's Enterprise among many others. Current projects include a tribute to Audre Lorde, and a personal exploration of post-capitalism.



---
Dario Calmese



Q: How do you use art as a catalyst to tackle social change and advance racial equity?

A: I engage art as a tool for community healing, storytelling, and documentation. As a Black-American artist, it is imperative that I not only confront the past, but engage the living, and document for posterity. The fight for liberty is a mental exercise and a shared experience.

Sitting at the nexus of art, fashion, and academia, Dario is an artist, writer, director, and brand consultant currently based in New York City. He received his Master's in photography from the School of Visual Arts and his Bachelors in psychology at Rockhurst University in Kansas City. Classically trained in the performing arts, he uses his knowledge of movement, gesture, and psychology to create complex characters and narratives that explore history, race, class, and what it means to be human.



---

 

Kimberly M. Becoat



Q.How do you use art as a catalyst to tackle social change and advance racial equity?

A. On a conscious level I'm never thinking of my work as purposefully tackling social change or equity. As a Black American woman, I feel those two constructs fortunately or unfortunately are embedded in my DNA. Tackling social change and equity is an everyday occurrence in the smallest and grandest ways of my life. The work naturally addresses and narrates itself to those specific social cues at times. I'm just a conduit for what I witness - experience or read.

Kimberly M. Becoat is a contemporary mixed media artist whose work is a stylistic abstraction with a conceptual investigation of new materials and visual experiences with social commentary.

She uses a variety of art materials including acrylic paint, sumi ink, and watercolor as well as less conventional items like sand, tar paper, foil, candy wrappers and other detritus. Her most recent abstract and conceptual work is an investigation of urban environments meant to create "urban displacement", such as in public housing - aimed to surgically remove "massive amounts of Blacks and Latinos" into designated forgotten pockets of city landscapes.

Kimberly has been featured in a number of exhibits, including her most recent solo exhibition, Welcome to Urbania at RUSH Arts Gallery NY, and her solo exhibit, New Abstractions at Essie Green Galleries, Capital One Bank in NY, BAMart at the Brooklyn Academy of Music, MoCADA Museum (The Museum of Contemporary African Diasporan Arts), the Deutsche Bank as well as the television shows, Netflix Original Series "Luke Cage" and the FX series, "The Americans."

Art description: Kimberly M. Becoat, Capital Gains, gold leaf, cotton, burlap, sumi ink, collage images on Strathmore paper. (size included in the jpeg of the image). 2018/19.

---




Aaqil Ka



Q: How do you use art as a catalyst to tackle social change and advance racial equity?

A: I use my art to challenge people to disentangle ourselves from the values and assumptions of the ruling class. I use familiar ideographs and tropes to turn these values on their heads, and to promote emancipatory values. My work juxtaposes images of conflict and victory to display the historical tension between the members of class society.

Aaqil Ka is a multidisciplinary artist based in Brooklyn, NY. Born and raised in Memphis, TN in the historically Black neighborhood of Orange Mound, his parents, a public school teacher, and chemical engineer and U.S. Navy veteran, are from farming families who were formerly sharecroppers. Aaqil can recount his mother's experience integrating a segregated school. American history is very personal and often experienced as a generational memory.

Before relocating to attend Pratt Institute in 1995, Aaqil was a member of the NAACP and was a youth activist with United Way. He was also a member of the Mid-South Cartoonists Association, which provided a platform for creating political cartoons. Aaqil currently works as a scenic artist in film and television as a member of United Scenic Artists, Local USA829. His works include painting, art direction, and production design in media, and restaurants. His art has been exhibited at The United Nations, MoCADA, The Nathan Cummings Foundation, and The Caribbean Cultural Center.

"Gotta Be a Soldier at the Battle of Morning Algebra" (2018)
36" x 24"
Digital montage on aluminum sheet

This piece was part of the LR9:1957 exhibit at the Sheen Center in 2018 centered around the events of the Little Rock Nine's heroic fight to desegregate their public school. My subject is Melba Joyner Pattillo Beals, who in an interview with the San Francisco Examiner recounted advice she received from the soldier assigned to escort her during the events of 1957. "In order to get through this school year, you will have to become a soldier. Never let your enemy know what you are feeling," she recalls him saying to her.

This quote resonated with me particularly, because it mirrors my own approach to navigating the struggles and contradictions within the society we live in. I also intended to place the events of 1957 within a larger picture, as a "battle" which is a tactical element of a broader strategy. Though public schools have legally been desegregated and later civil rights laws passed, our society has yet to reconcile the inequities in access to education and community resources; and yet public schools are still segregated by race and class.

In the work, I display a camouflage pattern with a superimposed map of Little Rock, in order to create a battle map with the belligerents in their military positions that mimic the Battle of Bayou Fourche, a Civil War battle fought in the area.
---
Activism through lawyers:
Weeksville event: Community as Classroom: Reparations & Building Coalitions

Feb. 8, 2020 at 4-5:30 p.m.

Weeksville Heritage Center
158 Buffalo Ave.
Brooklyn, NY 11213

On Saturday February 8, 2020, join Center for Constitutional Rights Bertha Justice Fellow Brittany Thomas as she engages in a discourse around reparations, how we might build a coalition across nations and cultural spheres to have our justice claim fully addressed as a part of the Weeksville Heritage Center's celebration of Black History Month. Joining Brittany will be representative from National Coalition of Blacks for Reparations in America (N'COBRA), National African American Reparations Commission (NAARC), Regional Council for Africans in the Americas (RCAA), scholars and artists. The audience will engage in a Story Circle led by Ebony Noelle Golden, Founder and CEO of Betty's Daughter's Art Collaborative.


Live recording of "The Activist Files"

"How it Would Feel to Be Free: Southern Resistance to Race and Gender Oppression"

A live taping of "The Activist Files"

6-9 p.m.

Friday, Feb, 28, 2020

Studio Arte East
17th Floor
265 W. 37th St.
NY, NY 10018

As part of the Center for Constitutional Rights' Black History Month celebration, we will be recording "How it Would Feel to Be Free: Southern Resistance to Race and Gender Oppression," a taping of "The Activist Files" before a live audience.

We will be in conversation about the fights for racial, gender, and LGBTQIA justice that Southern leaders are spearheading.

Podcast guests include Lakeesha Harris Reproductive Justice and Sexual Health Program Manager, Women with a Vision; Valencia Robinson, CEO and Founder, Mississippi in Action; and Quita Tinsley, co-director, Access Reproductive Care - Southeast.

Please RSVP by Feb. 26, 2020

Light refreshments will be served.




Activism through storytellers: Staff picks
Books

Heavy by Kiese Laymon: This book is a beautiful, sad, vulnerable, and authentic memoir, depicting the life of a young black man in America.

Homegoing by Yaa Gyasi:  A 2016 historical fiction novel, each chapter in the novel follows a different descendant of an Asante woman named Maame, starting with her two daughters, who are half-sisters, separated by circumstance.

Just Mercy by Bryan Stevenson: Adapted into a film by the same name starring Michael B. Jordan and Jamie Foxx, Just Mercy, written by fellow movement lawyer Bryan Stevenson tells the true story of the transformative work of the Equal Justice Initiative to confront injustice in the carceral system.


The Bluest Eye by Toni Morrison: The passing of one of the great, visionary American novelists Toni Morrison left an imperceptible hole in the hearts of all who were touched by her literature. Her breakout debut novel, The Bluest Eye, tells of eleven-year-old Black girl Pecola Breedlove and her development into womanhood in a society shaped by misogynoir. 


The Broken Earth Trilogy by N.K. Jemisin: N.K. Jemisin's highly decorated The Broken Earth Trilogy made tectonic waves in the world of literature confronting race, caste, and climate change in this speculative fiction series. The groundbreaking series earned her a Hugo Award for Best Novel in 2016, 2017, and 2018, making her the writer in the award's history receive the recognition in three consecutive years. Start with The Fifth Season. 

Films

The Waiting Room directed by Peter Nicks: "A cinema vérité portrait of a California city's public safety-net hospital as it struggles to handle patient overload in a swooning economy and a constantly shifting landscape of healthcare policy." Source: PBS.org

Moonlight directed by Barry Jenkins: "A young African-American man grapples with his identity and sexuality while experiencing the everyday struggles of childhood, adolescence, and burgeoning adulthood." Source. Imbd.com

Music

Juliana Huxtable x Discwoman mix: "An experiment in rhythm with occasional breaks with spoken vocals" —@JulianaHuxtable. Source: Discowoman.com

Songs in the Key of Life by Stevie Wonder: "The album has been regarded by music journalists as the culmination of Wonder's 'classic period' of recording." Source: Wikipedia