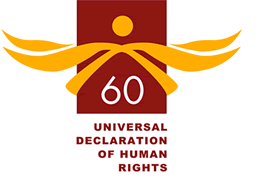 The Universal Declaration of Human Rights (UDHR) was adopted by the UN General Assembly on December 10, 1948. It was the first time the fundamental freedoms and rights of all persons were set forth in detail by the international community. When World War II ended, despite wide variations in ideological, cultural and political contexts, the 58 Member States of the UN laid out a common vision—a vision for a world where every person is entitled to equal justice, opportunity and dignity without discrimination.
The UDHR led to the creation of the International Bill of Rights, which includes the legally binding International Covenant on Economic, Social and Cultural Rights and the International Covenant on Civil and Political Rights. The UDHR embodies the right to life, liberty and security of person, the right to be free from torture, arbitrary arrest and detention and the right to a fair and public hearing. It also enshrines the right to an adequate standard of living for health and well-being, the right to work, education, medical care and other essential social services, as well as the right to freedom of opinion, expression and peaceful assembly and association, among others. These are inherent rights belonging to all persons that cannot be granted or withdrawn by anyone or any government.
On December 10, 2008, the Universal Declaration of Human Rights turns 60 years old. CCR recognizes this anniversary by renewing its call for accountability to these critical universal standards.
Accountability is the cornerstone of any human rights agenda. Although a majority of states are legally bound to uphold their commitment to human rights, the actual protection of these rights on the ground in people's day-to-day lives is shockingly insufficient. Racial profiling, race and gender-based violence and harassment, lack of access to medical care, detention without trial, torture, use of coerced evidence and other abhorrent practices that have come to define the Bush Administration's "war on terror" are all examples of how the United States consistently violates the human rights standards it is bound by. Through litigation and organizing, CCR is fighting to establish accountability for the standards set by the Universal Declaration of Human Rights at all levels of government and to achieve justice for the victims of human rights violations
Our work today builds off of our legal victories of the past 42 years. Some of our historic human rights cases are below, and click here for more information about our past cases pages.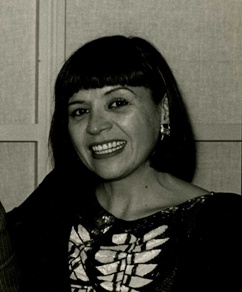 Dolly Filartiga (pictured here) Filártiga v. Peña Irala was a landmark case that revived the Alien Tort Statute (ATS), a 1789 federal statute that was little-used prior to this case. The ATS gives foreign nationals the right to sue in U.S. Courts for wrongful actions that violate international law. The Statute grants district courts jurisdiction to hear tort claims for actions that were "committed in violation of the law of nations or a treaty of the United States." This case decided that the ATS could be used for torts committed both within the United States and abroad. CCR won this suit on behalf of the family of Joelito Filártiga, son of a prominent opponent of the right-wing Paraguayan regime, who was tortured and killed by Paraguayan police. The decision was a precedent for claims involving an increasing number of internationally recognized rights, such as the right to life, liberty and security of person as well as freedom from torture, slavery, genocide and cruel and inhuman treatment. CCR's litigation in Filártiga has been hailed by experts in this country and abroad as a watershed case for international human rights.
The right to adequate health and well-being, including food, clothing, housing, medical care and necessary social services:
CCR has been at the forefront for the fight for a woman's right to choose. We believe it is essential for protecting a woman's right to adequate health and well-being, including food, clothing, housing, medical care and necessary social services. CCR filed its first major women's rights case in 1969, when this type of litigation was largely uncharted territory. Abramowicz v Lefkowitz was the first to focus on women's rights as opposed to doctors' rights by challenging New York's criminal abortion law. It became a model for similar cases that invalidated abortion laws in other states, several of which were cited in the Supreme Court's Roe v. Wade decision that most laws restricting the right to abortion are unconstitutional. Harris v. McRae, CCR's victorious class action lawsuit, challenged federal restrictions on Medicaid funds for medically necessary abortions. In the wake of McRae, the use of litigation within state courts to challenge funding restrictions became the primary strategy to win back Medicaid funding--a victory for economic rights in general.
The right to be free from arbitrary interference privacy, family, home or correspondence by fighting illegal domestic surveillance of activists and others:
U.S. v. U.S. District Court was briefed and argued before the Supreme Court by CCR founder Arthur Kinoy in February 1972. It arose out of a federal conspiracy prosecution in which the government admitted wiretapping the defendant without a warrant but argued that the Attorney General could authorize wiretapping without warrants in cases involving national security. The Supreme Court unanimously rebuked this attempt by the federal government to bypass the courts to wiretap domestic activists.
The right to equality:
CCR has fought for protection of this fundamental right since its founding. In the 1970s, when the Ku Klux Klan began to strengthen anew, CCR worked with activists around the country to organize a national Anti-Klan Network. Crumsey v. Justice Knights of the Ku Klux Klan was a lawsuit seeking an injunction, as well as monetary and punitive damages from the Ku Klux Klan for the shooting of five Black women. This was the first time that the Ku Klux Klan Act of 1871 was utilized to obtain damages for Klan victims. The case won over $500,000 in damages and secured a sweeping injunction against the KKK and associated individuals, prohibiting their campaign of assault, intimidation and harassment.
Building from our past work, CCR continues in the struggle of the accountability demanded by the Universal Declaration of Human Rights. Join us today and sign up for to receive case updates and action alerts via email.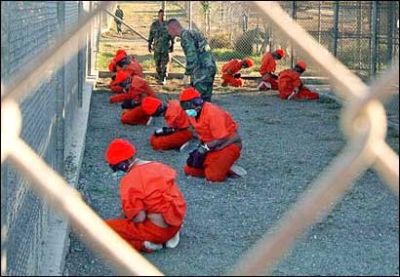 Guantanamo Bay DetaineThe right to full equality to a fair and public hearing by an independent and impartial tribunal:
On January 11, 2002, the first prisoners were brought from Afghanistan to Guantanamo Bay Naval Base. They were quickly labeled "terrorists" and "the worst of the worst," and were denied access to the courts to determine their legal rights. Since that time, we have learned that the vast majority of these men are innocent of any crimes against the United States and have been brutally tortured and abused both physically and psychologically. On June 28, 2004, CCR's historic Supreme Court case Rasul v. Bush secured the nearly-800 men's right of access to the federal courts to challenge their detention. However, Congress passed first the Detainee Treatment Act of 2005 and then the Military Commissions Act of 2006, both of which purported to strip detainees of their right to access the federal courts. Court decisions in the wake of the MCA had the effect of stalling all pending habeas cases that moved forward after Rasul. Two cases became the first to challenge the MCA, Al Odah v. United States and Boumediene v. Bush. These cases were eventually consolidated and argued before the Supreme Court on December 5, 2007. In July 2008, the Court held, first, that the detainees in Guantanamo have a constitutional right to habeas corpus and, second, that the review process under the Detainee Treatment Act could not substitute for full habeas review. The Court decision paved the way for approximately 200 habeas corpus petitions filed on behalf of the remaining approximately 250 Guantánamo Bay detainees to move forward.
The right to life, liberty and security of person:
In 1996, CCR filed a lawsuit against Royal Dutch Shell for its role in environmental degradation and human rights violations in the Ogoni region of Nigeria. At the center of the case are the 1995 executions of the Ogoni 9, a group of peaceful activists led by Ken Saro-Wiwa. CCR contends that the oil company colluded with Nigeria's military government by providing money and weapons to crush the protest movement and by bribing witnesses to give false testimony, thereby colluding in the arrest and execution of the Ogoni 9. CCR fought multiple motions to dismiss, and the trial is scheduled to begin on February 2009. Click here for more information on Wiwa v. RPDC and Wiwa v. Anderson.

The right to be free from discrimination and under equal protection of the law:
Floyd, et al. v. City of New York, et al. is a federal class action lawsuit against the New York City Police Department (NYPD) and the City of New York that challenges the NYPD's continued practices of racial profiling and unconstitutional stop-and frisks. These NYPD practices have led to a dramatic increase in the number of suspicion-less stop-and-frisks per year in New York City, especially in communities of color. This case builds from CCR's landmark case Daniels v. City of New York which challenged the NYPD's policy of conducting stop-and-frisks without reasonable suspicion of criminal activity, as required by the Fourth Amendment. Additionally, Daniels plaintiffs alleged that officers selectively targeted them on the basis of their race and national origin in violation of the Equal Protection Clause of the Fourteenth Amendment. The plaintiffs sought damages and a judgment declaring that the NYPD Street Crime Unit's operations were unconstitutional, as well as an order eliminating the Unit. CCR's victory in this case led to the shuttering of the Street Crimes Unit, notorious for shooting the unarmed Amadou Diallo to death with 41 bullets, as he stood unarmed outside his apartment building. Floyd continues to fight for an end to racial profiling in New York City and to secure the right to be free from discrimination and under equal protection of the law.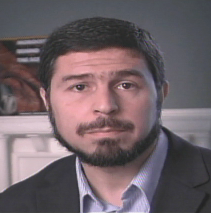 Maher Arar (pictured here)
No one shall be subjected to torture or to cruel, inhuman or degrading treatment or punishment:
CCR was the first organization to bring a legal challenge to "extraordinary rendition" the U.S. government's practice of secretly transferring people from U.S. custody to the custody of foreign governments that use torture. In 2004, CCR filed a case on behalf of Maher Arar against then-Attorney General John Ashcroft and other U.S. officials. Arar was detained at JFK Airport in New York in September 2002 and falsely labeled a member of al Qaeda. After nearly two weeks of intensive interrogation, he was sent to Syria where he was tortured and kept underground in a dark 3 x 6 x 7 foot cell for over 10 months. He was released a year later and returned to Canada. Arar was never charged with any crime and a full investigation by the Canadian government revealed there was no evidence implicating him in terrorism or any offense, and found that he had been tortured. The case was reheard by the U.S. Second Circuit Court of Appeals on December 9, 2008; click here to watch the argument.
The right to be free from arbitrary arrest, detention or exile:
In response to the racial profiling and detention of more than 1,200 Arab, South Asian and Muslim men in the months following September 11, 2001, CCR filed Turkmen v. Ashcroft in 2002. The case was brought on behalf of a class of non-citizens from Arab and South Asian countries who were detained at the Metropolitan Detention Center (MDC) in Brooklyn, New York. Some were held without charge for as long as nine months and subjected to severe verbal and physical abuse. Instead of being presumed innocent until proven guilty, the plaintiffs and hundreds of other post-9/11 detainees were abused and held often on charges of minor immigration violations, targeted solely for their national origin.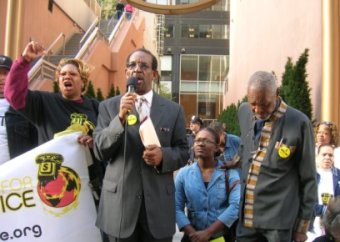 The right to protection of the family unit:
Families who wish to stay in touch with their loved ones incarcerated in New York State prisons must accept collect calls at a rate that, until recently, was 630 percent higher than regular consumer rates. This practice by a monopoly provider makes it prohibitively expensive for families to stay connected to their loved ones. In response, CCR launched the New York Campaign for Telephone Justice—a campaign that mobilized prison families across the state in a strategic effort that combined grassroots organizing, innovative media and marketing techniques and aggressive legislative advocacy to end the practice in 2006. We continue our fight in the courts in Walton v. NYSDOCS and MCI, a class action lawsuit that challenges the constitutionality of the State's monopoly telephone contract with MCI/Verizon.