From Immigrant Defense Project (IDP) and the Center for Constitutional Rights (CCR)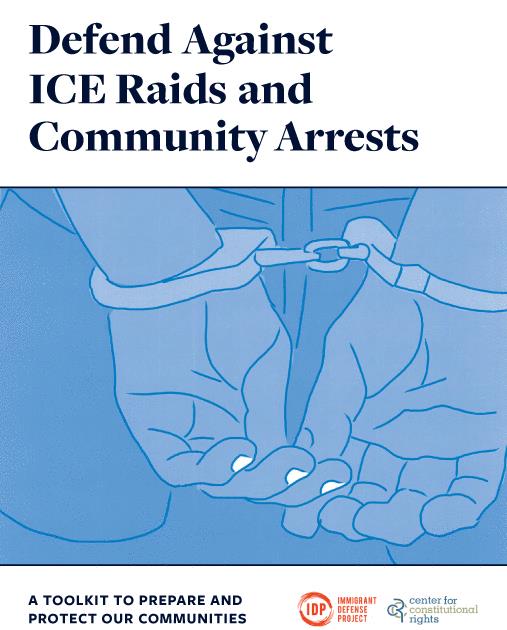 Defend Against ICE Raids and Community Arrests serves as the first comprehensive guide and organizing resource to fight back against the Trump administration's efforts to criminalize communities and deport millions of people.

DOWNLOAD THE TOOLKIT
Through the Freedom of Information Act (FOIA), IDP and CCR collected key information about Immigration and Customs Enforcement (ICE) raids and arrests under the Bush and Obama administrations. Based on years of community defense experience, litigation, and legal research, including hundreds of first-hand accounts of ICE raids from immigrants, our joint #stopICEcold toolkit offers social justice advocates, lawyers, and community members critical information and analysis of our country's massive detention and deportation system, as well as straightforward guidance on how to prepare for the ICE raids.
Visit IDP's website for other resources related to ICE raids and community arrests, including Know Your Rights flyers and emergency preparedness tools. 

Inside the toolkit:


Definitive information on who ICE targets for deportation, priority locations for ICE activity, and common ICE arrest tactics and strategies.
Recommendations for immigrants and advocates on emergency preparedness for those at risk of deportation, individual rights during ICE encounters, and potential legal and community challenges to ICE raids.
Key takeaways from years of critical research and experience with the mechanics of the world's largest detention and deportation apparatus — including an initial forecast of what we may see under a Trump administration.
Select internal DHS/ICE enforcement memos and training documents secured through FOIA litigation — as well as summaries of raids reported to IDP, organized by common ICE tactics and ruses.