From Immigrant Defense Project (IDP) and the Center for Constitutional Rights (CCR)

Defend Against ICE Raids and Community Arrests serves as the first comprehensive guide and organizing resource to fight back against the Trump administration's efforts to criminalize communities and deport millions of people. Updated in March 2020, this resource remains a critical tool for our communities and the data is continuously updated via the ICEWatch Raids Map.

DOWNLOAD THE TOOLKIT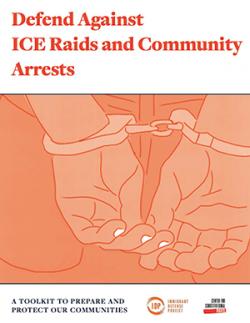 Through the Freedom of Information Act (FOIA), Immigrant Defense Project (IDP) and the Center for Constitutional Rights collected key information about Immigration and Customs Enforcement (ICE) raids and arrests under the Bush and Obama administrations. Based on years of community defense experience, litigation, and legal research, including hundreds of first-hand accounts of ICE raids from immigrants, our joint toolkit offers social justice advocates, lawyers, and community members critical information and analysis of our country's massive detention and deportation system, as well as straightforward guidance on how to prepare for the ICE raids.
In this resource, we have assembled our research from the FOIA and monitoring of home raids to support community defense against ICE's deportation dragnet. It contains information on: (1) who ICE targets for deportation; (2) where and how ICE locates people in communities; and (3) ICE arrest tactics during raids. We also include resources on how to fight back against these abusive practices that destroy the fabric and safety of communities, emergency preparedness resources for those at risk of deportation, and possible legal and community challenges for those who have experienced raids.
Visit IDP's website for other resources related to ICE raids and community arrests, including Know Your Rights flyers and emergency preparedness tools.