[caption align="right"]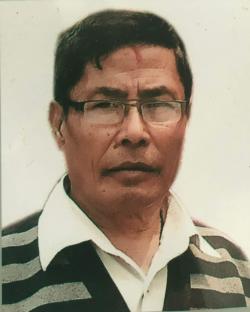 Purna Raj Bajracharya[/caption]
Purna Raj Bajracharya currently lives in Katmandu, Nepal with his wife, sons, and daughters-in-law. Purna is a plaintiff in Ziglar v. Abbasi (formerly Turkmen v. Ashcroft), a lawsuit filed in 2002 on behalf of a class of Muslim, South Asian, and Arab non-citizens swept up in connection with the 9/11 investigation. From October 2001 to January 2002, Purna was detained at the Metropolitan Detention Center (MDC) in Brooklyn, New York, where he was held in harsh and punishing solitary confinement in the Administrative Maximum Special Housing Unit (ADMAX SHU). Like nearly a hundred other men, Purna was detained as a "terrorism suspect" based solely on his race, religion, ethnicity, and immigration status and abused in brutal detention conditions for the many months it took the FBI and CIA to clear him of any connection to terrorism.
In 1996, Purna entered the United States on a three-month B1 business visa. He overstayed that visa to remain in Queens, New York for five years. He worked at various odd jobs, including at a pizzeria and flower shop, and sent money to his family in Nepal. Though the separation was difficult, Purna was heartened to know that his earnings were giving them a better life. He planned to return to Katmandu in late fall 2001 or in the winter. Before leaving the U.S., he wanted to film some of the New York streets he had come to know. He loved to explore the city and take photographs and videos so his wife and children could see the great country he had grown to admire through his own eyes.
Purna came to the attention of the FBI on October 25, 2001, when a Queens County District Attorney's Office employee observed an "Arab male" videotaping outside a federal building. Investigators from the office approached Purna, who tried, with the very little English he knew, to explain that he was a tourist. Upon the agents' request, Purna brought the FBI and INS to his apartment in Woodside and provided them with his passport and various identification documents. He acknowledged that he had overstayed his visa and was in the U.S. unlawfully. Purna was then placed under arrest by the INS, and transported to MDC on October 27, 2001. By November 5, 2001, the New York office of the FBI had completed its investigation of Purna, clearing him of any connection to terrorism. Yet, he was held at MDC in the ADMAX SHU for two more months.
"I was helpless...I could not convince them [of] my innocence, though I cried and cried and cried. Nobody was there to listen [to] my voice."
His time in ADMAX SHU was hell, a terrible nightmare that even to this day Purna struggles to confront. He was placed there without justification. He was denied access to the outside world, including an attorney and the Nepali consulate, arbitrarily and abusively strip-searched, subjected to sleep deprivation and interference with his religious practice, denied basic personal items like soap and toilet paper, and deprived of adequate food. At one point, he was so traumatized by his experience that he began weeping constantly. He thought he was going crazy, and he recalls screaming to guards that he was going to die.
After Purna was deported to Nepal on January 13, 2002, he faced considerable challenges trying to raise his children with no resources. In some ways, life has improved since then—his sons are working and providing for the family—yet he feels the lasting mental and physical effects of his unjust detention at the ADMAX SHU. Remembering that time in his life continues to be painful for him, but he is committed to seeking justice in this lawsuit.
"There are so many people who, despite being innocent, have suffered a lot mentally and physically. We have to win."