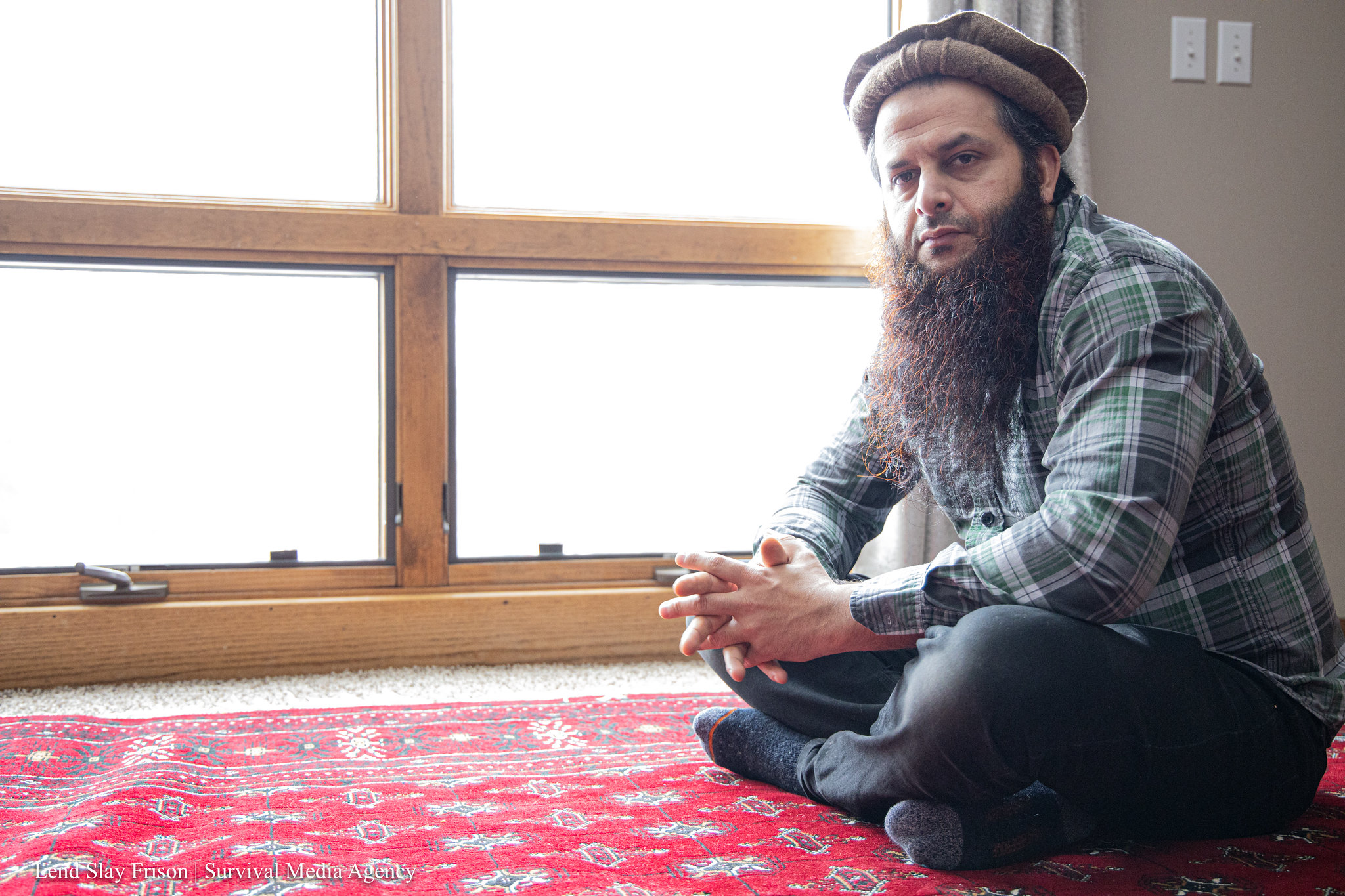 Photo of plaintiff Naveed Shinwari taken by Lend Frison
Naveed Shinwari is a lawful permanent resident who has lived in the United States since 1998, when he was just 14 years old. He currently lives in Omaha, Nebraska with his wife and three daughters. Naveed is a plaintiff in Tanzin v. Tanvir, a federal lawsuit challenging the FBI's abuse of the No-Fly List as a tool to coerce American Muslims into spying on their religious communities.
"Words can't explain the suffering of my family, the worry and tears of my mother. The years I couldn't see my wife because I was stuck in this open prison and couldn't fly."
In February 2012, Naveed and his mother were travelling from Afghanistan back to the United States, where he was living. While in transit through Dubai, they were prevented from boarding their flight and Naveed was told that he would need to contact the U.S. consulate in Dubai before he could fly. The next day, Naveed went to the consulate and met with two FBI Special Agents who took him into an interrogation room and questioned him for more than three hours. They asked him questions about whether he had visited any training camps in Afghanistan and whether he was associated with any "bad guys," and questions about the mosque Naveed attended in the U.S. and his religious activities. They used threatening language, and at times he felt coerced to speak. At several points, the FBI asked him to take a lie detector test, but Naveed declined because he believed he was answering all of their questions truthfully. Two days later the agents said he could return to the U.S. if he bought a new plane ticket on a U.S.-based airline, which he did.
When Naveed and his mother landed in Virginia for their layover, federal agents searched his bags and belongings. Two FBI agents escorted him to a room and interrogated him for two hours. He answered all of their questions truthfully, just as he did in Dubai, but was told that he would be visited by FBI agents when he arrived home in Omaha.
"I felt like I was in shackles, imprisoned, uncertain of what would happen next."
In mid-March 2012, FBI agents appeared at Naveed's home, questioning him again about the same topics he had discussed in prior interrogations. This time, the agents told Naveed that they knew he was unemployed and that they were willing to pay him to be an informant on his own religious community. The FBI's focus on Naveed had nothing to do with any ongoing criminal investigation or activity connected to him or specific individuals in his community. Naveed declined to work as an informant because of religious and moral objections. He believed that if he became an informant he would have to engage with his peers in a deceptive manner, monitor, and entrap innocent people, and that those actions would interfere with the relationships and trust he had developed with those community members. He didn't want to put himself or his community at risk, or be associated with a government or agency that persecuted its own people.
Shortly after this conversation, Naveed attempted to board a flight from Omaha to Orlando, where he had obtained temporary employment. He was denied a boarding pass at the airport. Police officers approached him at the ticket counter, told him he was on the No-Fly List, and then escorted him out of the airport. FBI agents showed up the next day at his house unannounced and, for the second time, asked Naveed if he would become an informant, offering him financial compensation and other assistance if he agreed to work with the FBI. Naveed declined again, knowing that refusing to do so would likely mean the FBI would keep him on the No-Fly List to pressure him.
"They would scare me psychologically. [They] mentally abused me. I went into a major depression and suffered from anxiety and panic attacks. I didn't want to go outside of the house, I couldn't keep my job, and I had to use all my credit cards to pay the mortgage and countless bills. The debt piled up."
Because of his placement on the List, Naveed couldn't take the job in Orlando. For years, he couldn't easily visit his father in Virginia, or see his wife and family in Afghanistan. He suffered serious economic and emotional distress and became reluctant to attend religious services. Due to the lack of transparency around the No-Fly List, the FBI has enormous unchecked power to abuse the List and use it as an extrajudicial tool to intimidate and coerce individuals like Naveed.
Eventually, Naveed found lawyers to represent him and joined other American Muslims in filing a federal lawsuit challenging the FBI's use of the No-Fly List to coerce them into spying on their religious communities. It was only when CUNY CLEAR, the Center for Constitutional Rights, and the law firm of Debevoise & Plimpton filed the case that the U.S. government confirmed that Naveed was no longer on the No-Fly List. Naveed and the other plaintiffs continued their lawsuit and are trying to hold government officials accountable. His case is currently before the Supreme Court.
When asked why his continued pursuit of justice is important to him, Naveed explained that he wanted to use his lawsuit as an opportunity to educate and organize against federal repression. He said: "Everyone knows how the world treats Muslims. No lawsuit has to tell them that. The government has an unlimited amount of resources at its disposal. We will resist and speak out."