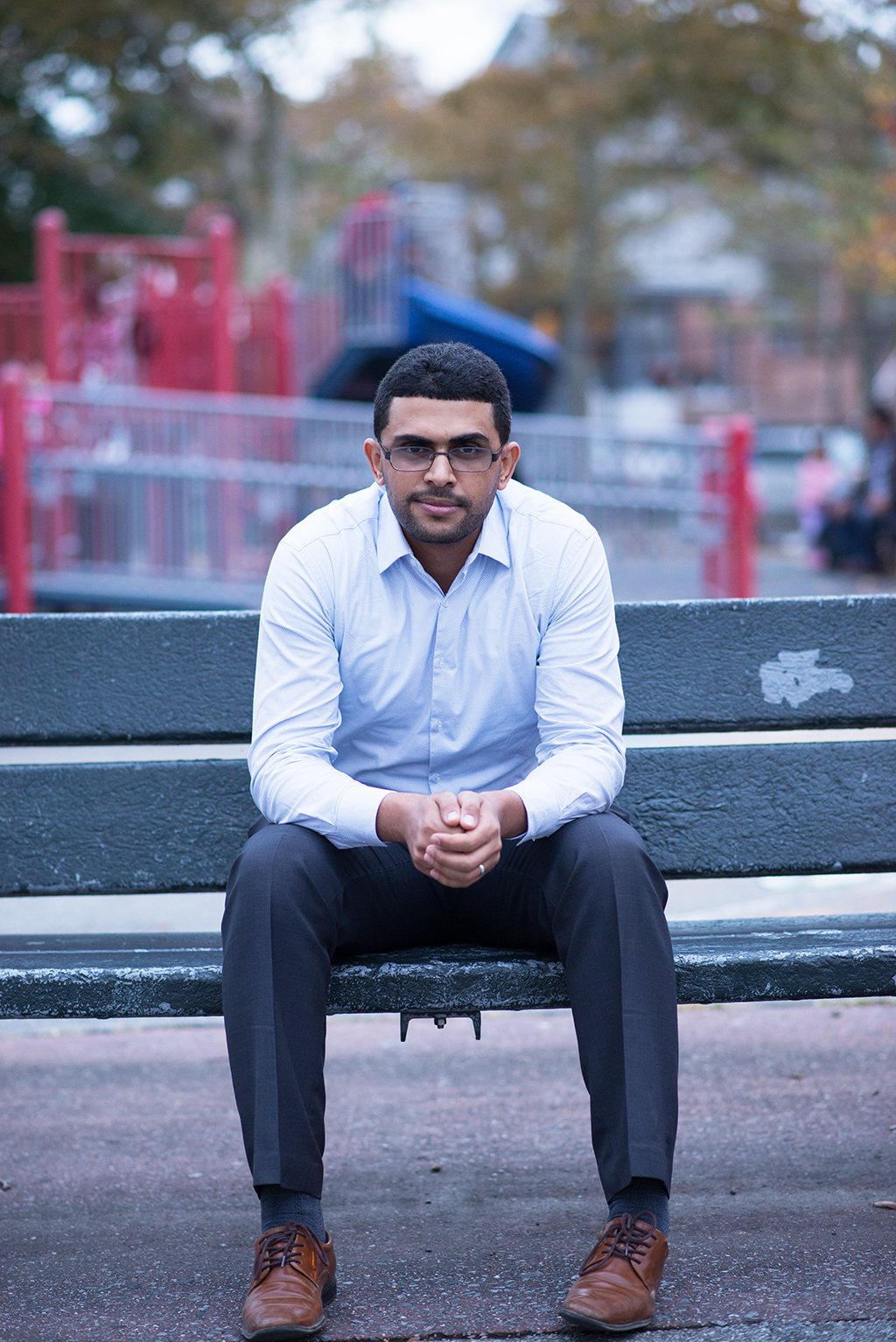 Update: shortly after the Center for Constitutional Rights filed the lawsuit on behalf of Mohammed, the U.S. State Department gave his wife, Amal, a visa. The family was reunited in January 2019, and Amal and Mohammed held a big celebration of their marraige and unification in Brooklyn with friends, family, and their community days after she landed.
Mohammed Alobahy came to the United States at the age of 16. He has since received citizenship, graduated from college, and now works as a structural engineer. "I came to this country full of hopes and dreams," he said. "Those dreams included going to college and becoming an engineer, starting a family, and living a respectable and honorable life that I couldn't have in Yemen." Trump's Muslim Ban has turned Mohammed's dreams into a nightmare, separating him from his wife, Amal, who was stranded in Djibouti. Mohammed is a plaintiff in Alobahy v. Trump.
In January 2016, Mohammed returned to Yemen to marry his childhood sweetheart, Amal. They are from the same village and grew up together. After his wedding, Mohammed returned to the U.S. to graduate and to petition for his wife's visa so that she could join him. He provided all the information that was asked of him. Things seemed to be going smoothly, but also slowly. She was scheduled for her final interview at the U.S. Embassy in Djibouti on November 14, 2017. She made her way from Yemen to Djibouti in time, even though the journey was difficult. At the end of her interview, the consular officer told her everything was in order, and gave her a document informing her that her visa was approved and that she would soon be called to pick up her passport with the printed visa. Mohammed and Amal celebrated their impending reunification. Mohammed and his mother bought a wedding dress for Amal, so they could have a second wedding party for her once she arrived.
Amal waited, but the call from the U.S. Embassy never came. In March, Amal was told to go to the U.S. Embassy to pick up her passport. There, they gave her a letter that informed her that her visa was denied due to Trump's Muslim Ban.
In the months that she had been waiting, the Muslim Ban had gone into effect. It is a policy that "scattered loved ones and separated families for no reason other than to earn more votes," Mohammed said. He had to cancel all of his post-marriage plans and move back to his parents' home in Brooklyn. He had to uproot his life in order to support Amal in Djibouti, where she is stranded. He sent $2000 a month to cover her costs. In addition to the financial hardships, Mohammed remarks on the emotional hardships of not being with his young wife – whom he had not seen since they were married in January 2016. 
"At times, when my wife and I talk about our situation and the thread of hope that we both are still hanging on, I can hear my wife cry silently, and I can't help but to feel heavy-hearted and helpless. The question that breaks my heart and shatters my dreams, scaring my hopes, and swapping my smile with a tear and a frown is when my wife asks me 'Mohammed, will we ever meet?' Going back to Yemen is not an option—it feels like a death camp to me. I'm not going to send my wife back to Yemen. When I was there I saw firsthand the bombing. It's not the life I want for my wife."
It gave Mohammed hope to see that there are still so many people who continue to recognize the injustice that he and families like his are experiencing, even when the president, the highest court in the land, and other high-ranking officials look the other way. He says:
"As long as I have rights as a citizen, I will fight for them."