Updated in 2020!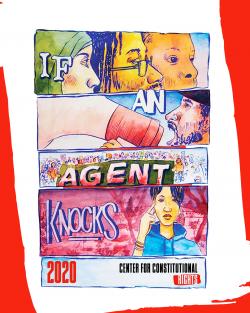 The Center for Constitutional Rights created If An Agent Knocks to provide advice to activists likely to be targeted by FBI agents or other federal investigators. Since its original release in 1989, If An Agent Knocks has been widely circulated in progressive activist communities across the country. Our updated guide includes both the timeless advice included in the original version and extensive updates to reflect the current state of the law and law enforcement tools.
Read the 2020 update here.
Federal agents have many tools at their disposal to surveil and target activists and chill movements organizing for social change. Drawing on decades of the Center for Constitutional Rights' experience representing activists and communities subject to federal repression, If An Agent Knocks offers information and concrete suggestions for potential interactions with federal agents, how to document them, protect yourself, and your communities.
We hope individuals and groups use this resource to develop and prepare practical responses – if an agent knocks at your door.
---
Disclaimer: This booklet is for informational purposes only and does not constitute legal advice. The Center for Constitutional Rights aims to provide a general description of the legal and practical issues that progressive or radical activists might face. Each person's circumstances are unique, and minor factual differences may result in very different answers to the questions presented here. For answers to specific legal problems, issues or questions, obtain the advice of a qualified attorney in your area.