Date
Tuesday, September 7, 2021
5:00pm

to

6:30pm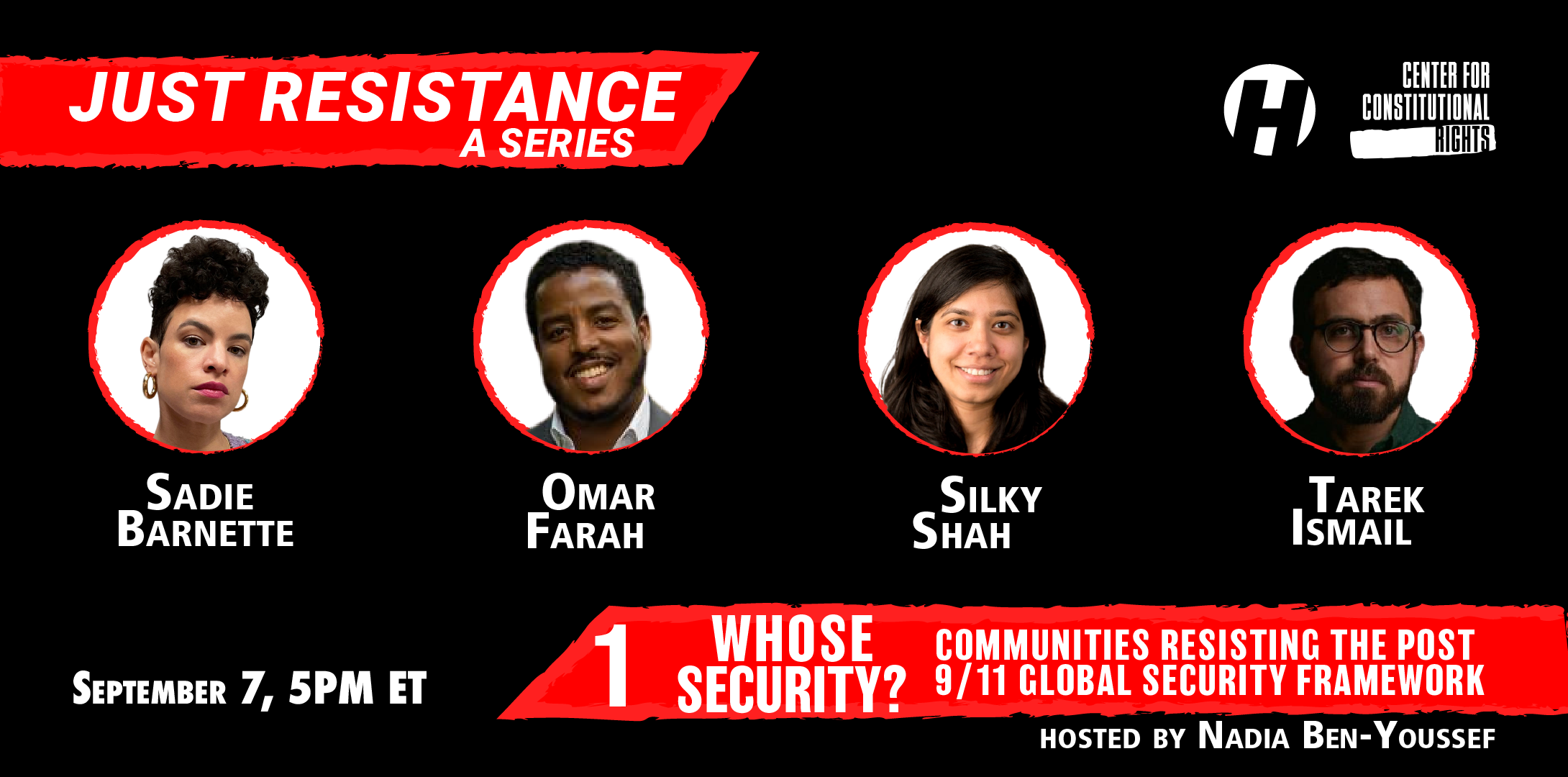 In this inaugural event of a four-part series marking the 20th anniversary of 9/11, artists, lawyers, and scholars will be reflecting on the impact of the post-9/11 "global security" framework on communities fighting for their rights to be, to move, to believe, and to resist. From the indefinite detention of Muslim men in Guantanamo, to the unending repression of the Black freedom movement, to suppression of advocacy for Palestine, and to the racist immigration and border regimes, panelists will trace the harms of post-9/11 policies with an emphasis on the ever-expanding terrorism framework. The conversation will highlight stories of creative resistance to U.S. policies of criminalization and dehumanization, and point towards new horizons of community safety and collective flourishing.
To mark the 20th anniversary of 9/11, the Center for Constitutional Rights, Haymarket Books and our partners are pleased to present a four-part series, "Just Resistance: 20 years of global struggle against the post-9/11 human rights crisis." The series is an opportunity to bring together our colleagues and comrades from impacted communities across the world, to center stories of survival, and to contextualize the last two decades of U.S. policy within a history of imperialism, domination, and impunity. Over the course of the series, we will also invite audiences to imagine the next 20 years of demilitarization and decolonization.
Speakers:
Sadie Barnette, Multimedia artist
Omar Farah, Senior Staff Attorney at the Center for Constitutional Rights
Silky Shah, Executive Director of Detention Watch Network (DWN)
Tarek Z. Ismail, Associate Professor of Law at the CUNY School of Law
Nadia Ben-Youssef (moderator), Advocacy Director at the Center for Constitutional Rights
 
Register through Eventbrite to receive a link to the video conference on the day of the event. 
This event will also be recorded and have ASL interpretation.