Date
Friday, May 14, 2021
12:00pm

to

1:30pm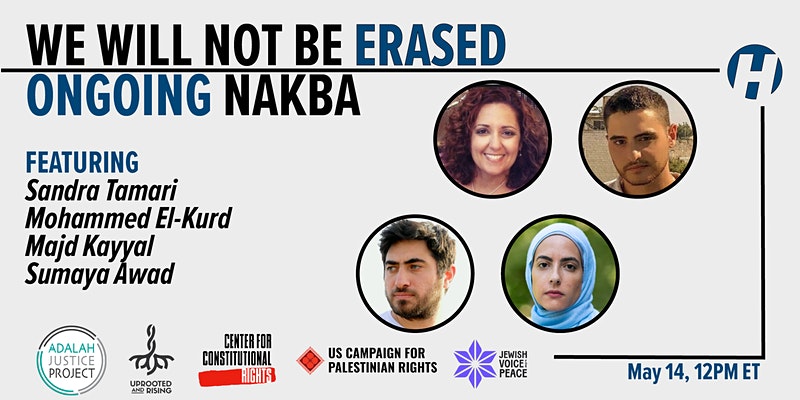 Israel's founding in 1948 was a result of premeditated ethnic cleansing campaigns across historic Palestine with the goal of displacing and dispossessing the indigenous Palestinian population from their land. The violence of the 1948 Nakba didn't stop. In fact, successive Israeli governments, with the financial and political backing of the U.S., have given Israel the green light to expand and entrench its colonial project.
Colonialism is alive and well in the 21st century. The Nakba is not a thing of the past, but an ongoing reality. On Friday, May 14th, at 12:00 p.m. EST, join us for a discussion and a call to action as we unpack the history of 1948, stories of survival, and the many ways the Nakba is ongoing today.
Register through Eventbrite to receive a link to the video conference on the day of the event, and to receive email updates about this and other events. This event will also be recorded and have live captioning.

Speakers:
Sandra Tamari — organizer and the Executive Director of Adalah Justice Project
Mohammed El-Kurd — writer and poet
Majd Kayyal —novelist and journalist
Sumaya Awad — writer and socialist organizer based in New York City
 
This event is co-sponsored by Haymarket Books, Adalah Justice Project, US Campaign for Palestinian Rights, Uprooted and Rising, Jewish Voice for Peace, and the Center for Constitutional Rights.