Date
Monday, March 18, 2013
12:00am
Please join CCR to pack the courtroom for trial in our landmark case challenging the New York City Police Department's practice of unlawful stops and frisks, Floyd et al. v. the City of New York.
The Floyd case is being brought on behalf of millions of New Yorkers illegally stopped by the NYPD over the past seven years, and is the first class-action lawsuit challenging the NYPD's stop-and-frisk practice to be tried in federal court.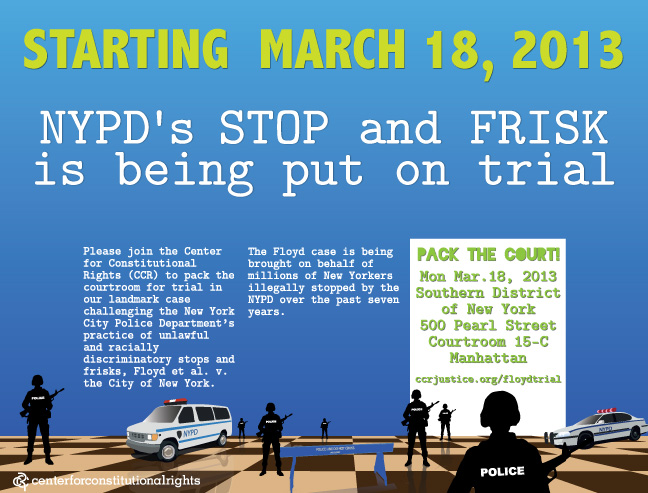 What: Trial in Floyd v. City of New York
Where: Southern District of New York, 500 Pearl Street. The trial will take place before Judge Shira Scheindlin in Courtroom 15-C.
When: The trial will start March 18, 2013 and will run Monday through Friday each week until May 20, 2013. (Updated March 14, 2013)
We advise for people to arrive at least 20 minutes in advance to allow time to go through courthouse security. As of April 16th, you must have photo ID in order to enter the courthouse.
Remember you will need to check your phone, camera, iPod and most electronic devices at the front desk with security since these items are not allowed inside the courthouse. You will also not be able to wear any buttons inside.
The overflow room is located at 40 Foley Street. Modified schedules will be posted to this page, so check back regularly.
Schedule Updates / Modifications (updated 5/14/2013)
Wed, May 15: Last day of trial
Mon, May 20: Summations
9:45 a.m. - 12:30 p.m. Defendant (City) Summations
12:30 - 12:45 p.m. Ligon defendants (City)
2:05 - 2:20 p.m. Ligon plaintiffs (NYCLU)
2:20 - 5:05 p.m. Floyd plaintiffs (CCR & Co-counsel)
For travel directions, please click here.
Background:
The Center for Constitutional Rights (CCR) has long been active in the movement to address racial profiling, particularly in New York City. CCR engages in advocacy and organizing efforts to address discrimination, brutality, misconduct and abuse by the police, has written on the human impact of the stop and frisk practices, is a member of the Communities United for Police Reform campaign, and engages in advocacy against discriminatory policing practices across the country. In 2008 CCR filed Floyd, et al. v. City of New York, et al., a federal class action lawsuit against the NYPD and the City of New York that challenges the NYPD's practices of racial profiling and unconstitutional stops and frisks.