Date
Wednesday, September 16, 2020
5:00pm

to

6:30pm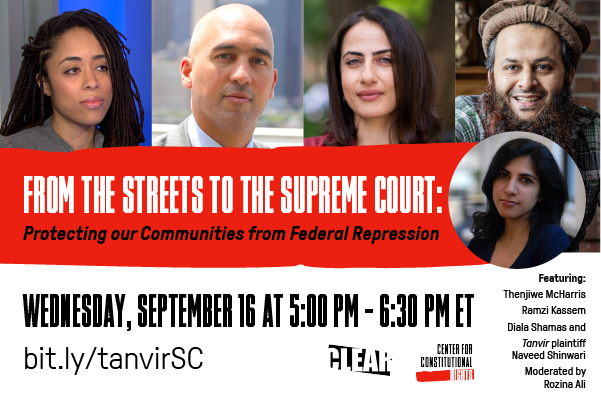 As the question of how to rein in law enforcement abuses takes center stage nationally, join the Center for Constitutional Rights, CLEAR, and CUNY School of Law for a virtual panel discussion in advance of Supreme Court arguments in Tanzin v. Tanvir, a case brought on behalf of American Muslims who were placed or kept on the No-Fly List by the FBI for refusing to spy on their Muslim communities. 
What happened to the plaintiffs is part of a long history of federal agents abusing tools at their disposal to target Black, Brown, and Indigenous communities. A history that is ever-present. We are currently witnessing a blatant and well-resourced federal crackdown on a vibrant movement of protesters, with communities of color at the center, in defense of Black lives. We are seeing in real time the dizzying expanse of tools used by federal agents to target, suppress, and surveil individuals and movements across the country. 
Speakers will discuss how we can protect our communities and hold federal agents accountable using litigation, advocacy, and public education resources.
The event will begin at 5:00 pm ET on September 16. Please register to receive the access link and password.

ASL translation and speech to text transcriptionwill be provided for this event. 
---
Speakers
Naveed Shinwari is a plaintiff in the Tanvir lawsuit. Naveed was repeatedly questioned and harassed by the FBI as they attempted to recruit him to spy on his community. As retaliation for his refusal to do so, Naveed was placed on the No-Fly List and unable to travel to Afghanistan to visit his wife and daughters for two years. His fight to hold government officials accountable for their abuse of power continues. On October 6, his case will be argued before the Supreme Court.

Diala Shamas is a staff attorney at the Center for Constitutional Rights, where she works on challenging government and law enforcement abuses perpetrated under the guise of national security, both in the U.S. and abroad. Diala has represented individuals who were approached for questioning by local and federal law enforcement, targeted for surveillance, placed on federal watch-lists, or who have had immigration benefits withheld on national security grounds, including in the Tanvir case.
Ramzi Kassem is the founding director of CLEAR. He is a Professor of Law at the City University of New York. His writing, teaching, and legal practice all aim to contest the expressions and excesses of the sprawling U.S. security state, both domestically and abroad. In support of clients, communities, and social movements, Ramzi has litigated civil rights, constitutional, criminal, immigration, national security, wartime detention, and war crime cases at all levels of the U.S. federal judiciary, before military commissions and international tribunals, and in various administrative proceedings, with students, colleagues, and co-counsel. He will be arguing before the Supreme Court on October 6. 
Thenjiwe McHarris is a co-founder of Blackbird and serves within the leadership of the Movement for Black Lives (M4BL). She has spent her entire political and professional career challenging the injustices that imprison people and their communities in a life of poverty or behind bars. She has over 15 years experience in international policy and advocacy work. She leads Blackbird's organizing team, working hand-in-hand with organizations and coalitions building long-term efforts for justice. Before Blackbird, Thenjiwe served as senior leadership in the US Human Rights Network and led advocacy efforts at Amnesty International.
Moderator
Rozina Ali is a journalist based in New York. Her work focuses on the War on Terror, Islamophobia, the Middle East, and South Asia. Previously, she was on the editorial staff of The New Yorker, and was a senior editor at the Cairo Review of Global Affairs in Egypt from 2013 and 2015. She is currently a fellow at Type Media Center.
 
---

More about Tanzin v. Tanvir: After CLEAR, the Center for Constitutional Rights, and the law firm of Debevoise & Plimpton filed the lawsuit, in 2015 our clients were removed from the No-Fly List, but they continued to pursue their claims against the individual FBI agents who tried to coerce them into spying and retaliated against them when they refused. This case is one opportunity to push back against federal agents' abuse of power. The question before the Supreme Court is whether individuals can receive damages for the harm caused when government officials interfere with their freedom to practice their religion.