Date
Thursday, September 27, 2012
Join CCR and Communities United for Police Reform (CPR) September 27th to rally for NYPD Accountability and Community Safety!!!
The September 27th rally will kick-off an Advocacy Day to demonstrate broad-based opposition to discriminatory policing, and support for the Community Safety Act. The Community Safety Act is a package of landmark legislation in the City Council to bring real accountability to the NYPD. Sign the CPR petition to help end discriminatory, unlawful and abusive policing practices in NYC! This rally will highlight the problems of discriminatory and abusive policing, and call for the City Council to support and pass this monumental legislative package to create real community safety that respects the rights and dignity of all New Yorkers.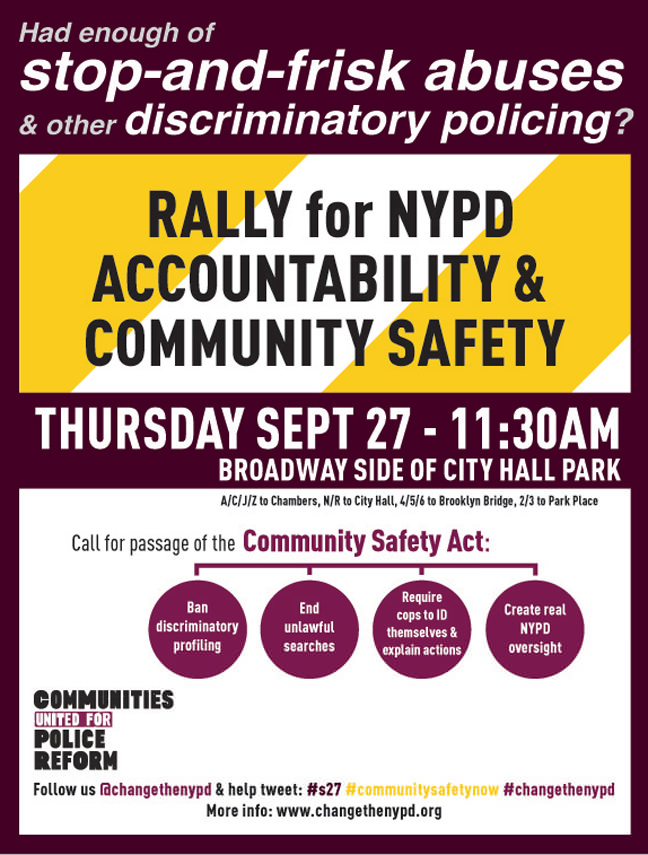 The rally is scheduled for Thursday, September 27th at 11:30 am across the street from 250 Broadway, right outside City Hall. The program will include community members who have experienced discriminatory policing, advocates, elected officials, and exciting performances.
YOU DON'T WANT TO MISS THIS!
For more information, email events@ccrjustice.org or visit the rally webpage.
CPR is an unprecedented campaign to end discriminatory policing practices in New York City, bringing together a movement of community members, lawyers, researchers and activists to work for change. The partners in this campaign come from all 5 boroughs, from all walks of life and represent many of those unfairly targeted the most by the NYPD. This groundbreaking campaign is fighting for reforms that will promote community safety while ensuring that the NYPD protects and serves all New Yorkers.