Join us from 8:30am – 9:00am outside the courthouse on the first day of Toto Constant's trial for grand larceny and mortgage fraud to bear witness as Constant faces justice in the U.S. and to stand in solidarity with the Haitian people who anxiously await a fair trial for Constant's human rights abuses in Haiti.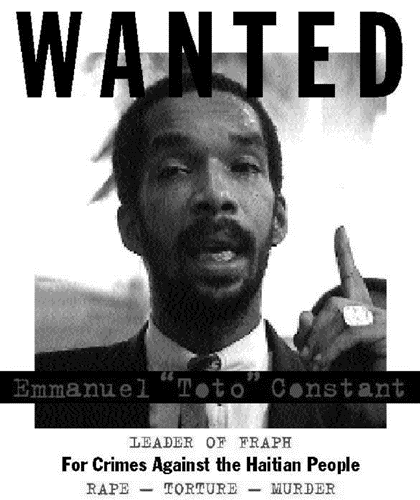 Toto Constant has spent the past 14 years – in Haiti and in the U.S. – trying to evade justice, whether it be for rape and other torture of the Haitian people or swindling money out of people and banks in New York. He was a leader of FRAPH (Revolutionary Front for the Advancement and Progress of Haiti) during Haiti's 1991—1994 military rule, which claimed the lives of thousands of Haitians and included a systematic campaign of rape and other torture, arson and executions against the residents of the poorest communities in Haiti.
Mr. Constant fled Haiti to the U.S. in 1994 when a Haitian court issued a warrant for his arrest for murder and torture. From 1996 until his arrest for mortgage fraud in 2006, Constant has enjoyed a comfortable lifestyle in Queens, NY, despite international outcry and extradition requests from Haiti for his crimes against humanity.
In 2000, Constant was convicted in abstentia by a Haitian court for having command responsibility over the perpetrators of the infamous 1994 "Raboteau massacre." Shortly afterwards, there was a military coups and in 2004, CCR and the Center for Justice & Accountability (CJA) filed a civil suit against Mr. Constant in New York on behalf of three women who survived FRAPH's campaign of violence against women, including rape. In 2006, the court found Constant liable for torture, including rape, attempted extrajudicial killing, and crimes against humanity. He has been ordered to pay $19 million dollars in damages, which he is currently trying to get out of paying.
Last spring, after receiving information from Haitian and U.S. human rights attorneys and activists about Constant's past leadership of the FRAPH, Judge Abraham Gerges set aside the original plea bargain for Constant, over the objections of the Department of Homeland Security, which was urging Constant's immediate deportation to Haiti. A coalition, including Haitian human rights attorney Mario Joseph, CCR, CJA, the International Support Haiti Network and the Institute for Justice and Democracy in Haiti, also provided information that, because of the destruction of the justice and prison system by the latest mililtary rule, there was no system to adequately try Constant or prevent him from further terrorizing the population.
For more information contact ccummings@ccrjustice.org or 212.614.6421
Want to learn more? Download our fact sheet about Toto Constant below or get more involved by helping CCR to monitor the trial.