Date
Saturday, October 7, 2023
12:00pm
Location
S Orange Ave & E Anderson St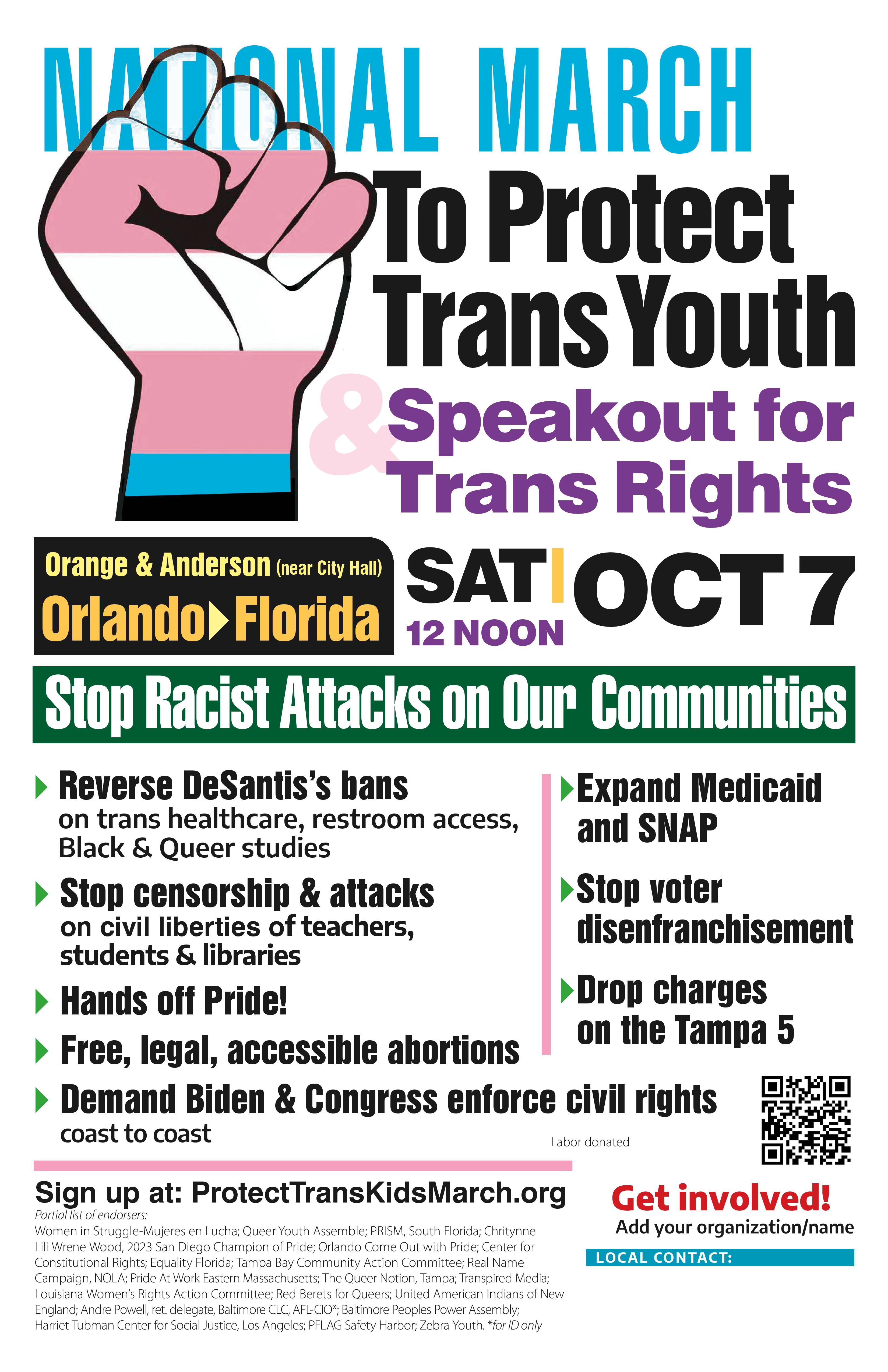 On Saturday, October 7th at 12 p.m. ET, trans activists and allies from across the U.S. will be convening in Orlando, Florida at Orange & Anderson (near City Hall) for a National March in Florida to Protect Trans Youth and a Speakout for Trans Lives.
In Florida and many other states, new laws are robbing trans youth and adults of gender-affirming healthcare. Gov. Ron DeSantis and Florida's state legislature are at the forefront of the attacks on trans lives. Pride events are threatened with cancellation, and trans people and drag artists are being banned from public life. Teachers are forbidden to talk about LGBTQ+ lives and Black history. Children are forbidden to play sports or use the bathroom. DeSantis recently signed laws banning trans people from using public restrooms, authorized the kidnapping of trans children across state lines, expanded the "Don't Say Gay" law, and banned healthcare for all trans people. DeSantis also signed laws targeting abortion rights and immigrants. These laws are accompanied by threats and violent acts by organized far-right groups.
Only the power of the people, mobilized in large numbers, can turn the tide. We can't wait for the next election. People's lives are on the line now.
Join organizers in Orlando on October 7th as a first step toward building a new nationwide movement for the defense of civil rights and workers' rights, to stop the advance of fascism and white supremacy.
Learn more about the march and how you can get involved here.