Date
Thursday, September 19, 2019
7:50pm

to

9:30pm

The Center for Constitutional Rights is excited to partner with the Film Forum on the September 19th screening of MIDNIGHT TRAVELER, one family's extraordinary story of migration and borders filmed on mobile phones. Center for Constitutional Rights Advocacy Director Nadia Ben-Youssef will join Writer/Editor/Producer Emelie Mahdavian and Producer Su Kim for a discussion and Q&A after the 7:50 p.m. screening. 
You can purchase tickets on the Film Forum website and use special code CCRJ for discounted tickets for this or any of the screenings. MIDNIGHT TRAVELER runs from September 18th through October 1st.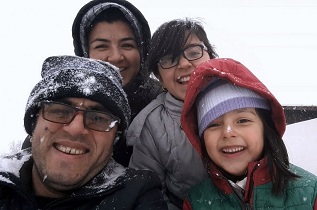 "A documentary that feels like a modern-day message in a bottle, an urgent appeal for help from a family that's still searching for a home." (Scott Tobias, Variety) 
In 2015, the Taliban in Afghanistan call for the death of Hassan Fazili, a filmmaker who, with his wife, runs Kabul's Art Café, a progressive meeting place. The couple and their two young daughters begin a harrowing 3500-mile, 3-year "journey to the edge of Hell," across Iran, Turkey, Greece, Bulgaria, and Serbia – ultimately arriving in Hungary. Utilizing only mobile phone cameras, they tell an extraordinary story of ordinary people caught between terror and the inhumanity of Kafkaesque bureaucracies.
---
About Freedom Flicks
At the Center for Constitutional Rights, we believe in the transformative power of art and culture. Freedom Flicks, the Center's long-running film series, harnesses the power of film to educate, activate, and build community. Freedom Flicks engages audiences across disciplines in stories of struggle and courage that shape our world, past and present. Our programming includes screenings of cutting-edge, socially engaged films followed by a short conversation with storytellers, lawyers, and activists. Join us.