Join grassroots activists, human rights organizations, and advocates for the detained men in holding President Obama to his promise by taking action. Together, we say "Not another broken promise! Not another day in Guantanamo!"
What: Global Day of Action to Close Guantánamo and End Indefinite Detention
When: May 23, 2014
Where: Click here for full listing of event contacts and details in an area near you.
Last year, a mass hunger strike in protest of deplorable conditions and the injustice of over a decade of indefinite detention at Guantanamo captured the world's attention and forced President Obama to address the crisis that was unfolding under his watch. In a much-publicized speech delivered on May 23, 2013 at the National Defense University, the President committed, once again, to closing the prison and resuming transfers. He also announced that he was lifting his administration's self-imposed moratorium on transfers to Yemen. President Obama must be judged by his actions and not his words.
A year later, only twelve men have been transferred. Seventy-seven cleared men still languish at Guantanamo. And, shamefully, the President has nothing to show for lifting the moratorium on transfers to Yemen: not a single Yemeni man has left Guantanamo alive since 2010. This is not progress.
On May 23, 2014, activists all over the world are holding President Obama accountable for his promise to close the prison and end indefinite detention once and for all. Join them and take action!
Watch and share this video, which explains the current situation at Guantanamo. Change your Facebook profile picture. Shape the conversation and keep this issue alive on Twitter using the hashtags #closegitmo, #Guantanamo, #GitmoProblems.
Learn more about CCR's clients and the current situation at Guantanamo: ccrjustice.org/closegitmo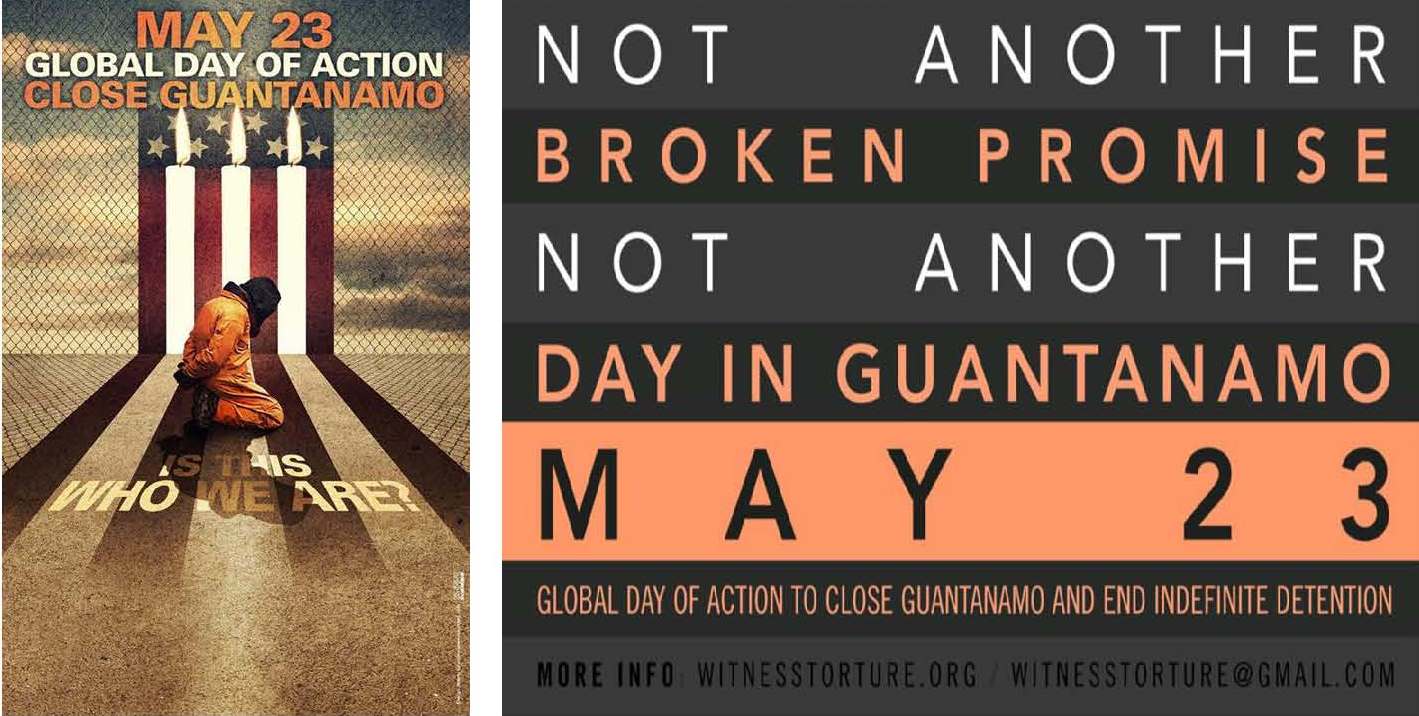 Visit Witness Against Torture's events page for information on demontrations in over 30 cities worldwide, including Washington DC, New York City, Boston, Chicago, Toronto, London, Sydney, and Mexico.
The May 23rd Day of Action is being coordinated by Witness Against Torture in collaboration with:
Center for Constitutional Rights; Amnesty International; World Can't Wait; Veterans for Peace; September 11th Families for Peaceful Tomorrows; CloseGuantanamo.org; Codepink; CloseGitmo.net; Blue Lantern Project; Popular Resistance; London Guantánamo Campaign; No More Guantánamos; The Torture Abolition and Survivor Support; The National Religious Campaign; Chicago Coalition to Shut Down Guantanamo; Council on American-Islamic Relations (CAIR); Association of Roman Catholic Women Priests; Project; Tiffin Area Pax Christi; People for Peace & Justice Sandusky County; Free Omar Khadr Now; The Justice Campaign; Metro New York Religious Campaign Against Torture; North Carolina Stop Torture Now; The Rabbinic Call for Human Rights; Pax Christi Metro New York; AmnestyUSA; OK/Group #238; Hartford Catholic Worker; Interfaith Communities United for Justice and Peace; Northwest Ohio Peace; Saints Francis & Therese Catholic Worker