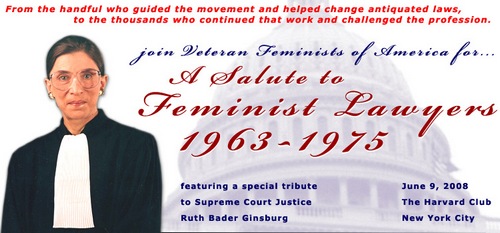 THEN: In the 1970s, there were only 3,000 women entering law school yearly and a mere 7,000 in practice. Women were discriminated against (legally), disparaged (without recourse), punished for being married to spouses in the same field, and harassed at will. Rape had to be proved by having a witness. A rape victim's sexual history could be used against her at trial.
NOW: There are nearly 300,000 women at the Bar in the U.S, with a wholesome 40,000 entering law school each year. Today, women comprise 23% of all lawyers, an increase of 600% in the last 30 years. There are statutes prohibiting sexual harassment at the workplace. In some states, hiring barriers based on women's marital status or sexual orientation are illegal. Also prohibited are unequal access to credit, mortgages, public accommodations, team sports, sports scholarships and professional schools, along with unequal pay for essentially equal work. There is significant legal recourse for victims of violence and rape. Women are indispensable (if not yet entirely welcome) to the military and able to enroll in all military academies.
Panel conveners include Cynthia Fuchs Epstein, author Women in Law and Karen DeCrow, author of Sexist Justice, each book a first in its field. Looking to the future, Judge Emily Goodman will moderate a panel of younger women attorneys.
Our honorees, including Justice Ginsburg, will be on hand to accept a VFA medal and to tell their history-making stories to our video recorder. Some will participate on the three panels.
For further information about this event, please contact Joan Michel.