Date
Saturday, December 10, 2022
12:00pm

to

2:00pm
Location
Weinberg/Newton Gallery
688 North Milwaukee Avenue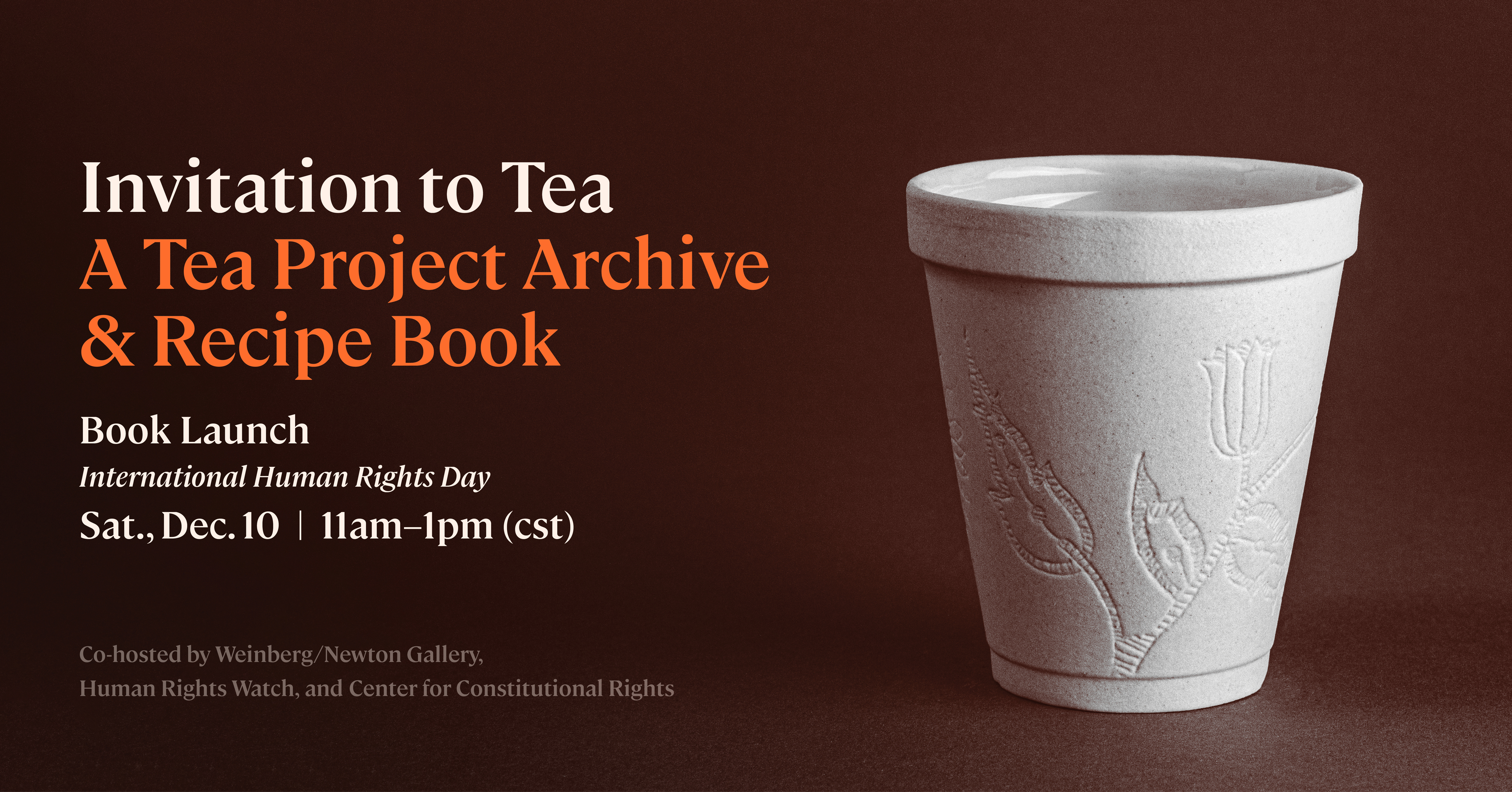 The Center for Constitutional Rights is excited to co-host this book launch and conversation with the Weinberg/Newton Gallery and Human Rights Watch on International Human Rights Day. The event is in person at the Weinberg/Newton Gallery with livestream access, which wiill be shared by email after registration. Please note that the event begins at 11 a.m. CT/12 p.m. ET.  Visit the event page for information and registration.
"Tea is something that we all share."—Mohamedou Ould Slahi, Guantánamo torture survivor
Ten years in the making, this book compiles 48 tea recipes, stories, and traditions, one for each of the countries that have had citizens extralegally held at the U.S. military prison in Guantánamo. Highlighting the resistance of the people imprisoned there—780 since 2002—the recipes are paired with images of porcelain cast Styrofoam cups inscribed with flowers, inspired by stories of these men carving into Styrofoam cups as a form of expression, survival, and resistance. The tea recipes in this book, which vary from sweet and milky to astringent and spicy, are a celebration of this resistance and traditions passed down from generation to generation—traditions of comfort, medicine, generosity, and solidarity.
Speakers
Aliya Hussain | Advocacy Program Manager, Center for Constitutional Rights
Michael Rakowitz | Artist working at the intersection of problem-solving and troublemaking
Mohamedou Ould Slahi | Author and Guantánamo torture survivor
Aaron Hughes | Artist, educator, anti-war Iraq War veteran, activist, curator and editor of Invitation to Tea
Amber Ginsburg | Artist, educator, member of many collaboratives, and editor of Invitation to Tea