Join us in Washington DC on April 28 and 29 for an "International Drone Summit: Killing and Spying by Remote Control"hosted by CODEPINK, Reprieve, and the Center for Constitutional Rights. US drone strikes have killed an estimated 3,000 people around the world, including hundreds of civilians, without any judicial process or meaningful oversight, and without any transparency or accountability. The summit's dual objectives are to better inform the public about the reality and significance of the US government's expanding use of both killer and surveillance drones, and to facilitate networks and strategies to resist this expansion.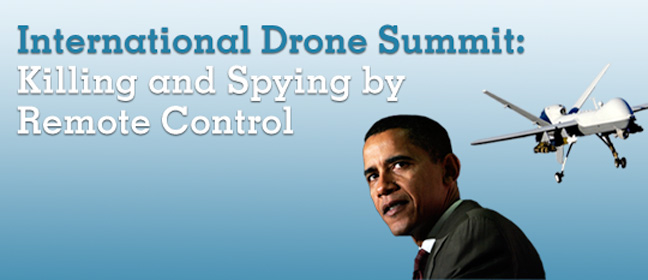 The Saturday, April 28 program is open to the public
and brings together human rights advocates, robotics technology experts, activists, lawyers, scholars and journalists, and shares the stories of people whose families and lives have been directly impacted by remote-controlled drone strikes. Speakers include award-winning journalist Jeremy Scahill, CCR Senior Staff Attorney Maria LaHood, and Shahzad Akbar,
a Pakistani attorney who represents victims of US drone strikes, and who was finally granted a visa to speak at this conference after months of pressure by CCR and other organizers.
This is an all day event with multiple panels beginning at 9am at Mount Vernon Place United Methodist Church, 900 Massachusetts Ave. NW, Washington DC. See
this site
for updates on the full program, and
register here today!