Date
Wednesday, January 12, 2022
3:00pm

to

4:30pm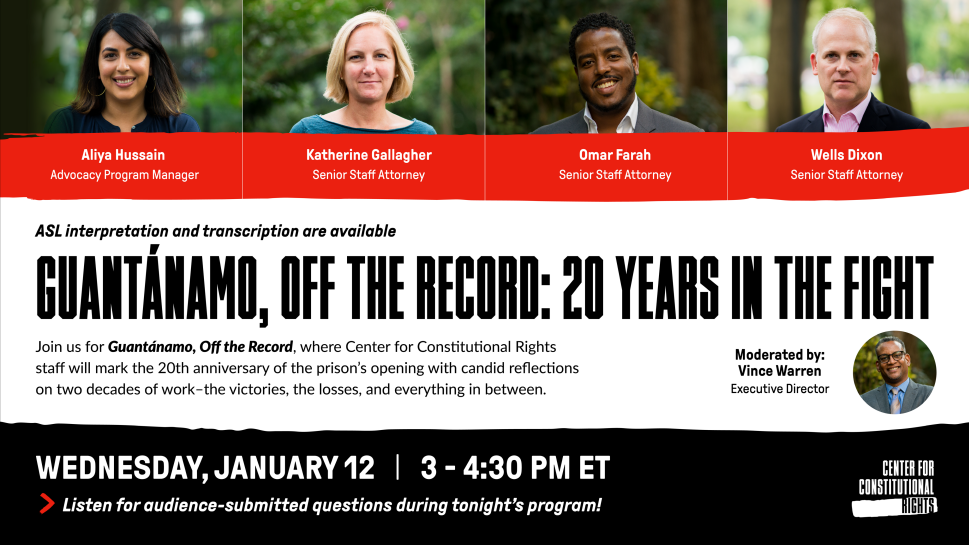 The Center for Constitutional Rights has led the fight against indefinite detention and torture at Guantánamo since the prison opened in January 2002. We've made hundreds of trips to the island prison, gathering client stories and pursuing justice and accountability in the courtroom, in the streets, and before governments all over the world.
Join us for Guantánamo, Off the Record, where Center for Constitutional Rights staff will mark the 20th anniversary of the prison's opening with candid reflections on two decades of work‒the victories, the losses, and everything in between. Lawyers and advocates will share stories that didn't always make the headlines, but that helped define the ongoing struggle to close the forever prison.
What led corporate attorneys to represent detained men? Is there really a souvenir shop at Guantanamo? What does life look like for men after they are released? Send us a question in advance when you register! 
Register now to join the conversation
.
Speakers:
Aliya Hussain, Advocacy Program Manager 
Katherine Gallagher, Senior Staff Attorney
Omar Farah, Senior Staff Attorney
Wells Dixon, Senior Staff Attorney 
Moderated by Vincent Warren, Executive Director