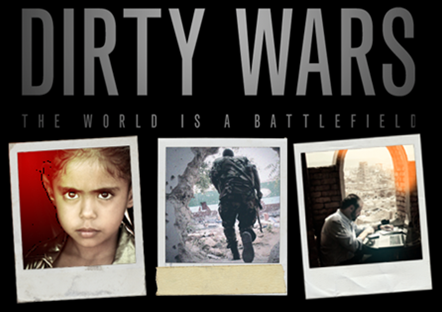 CCR is proud to partner with Directors and Producers for the U.S. premiere of "Dirty Wars", a documentary film that follows investigative journalist Jeremy Scahill as he explores the hidden truth behind America's expanding covert wars. The film addresses the CIA-authorized and directed drone strikes whose legality is being challenged in a lawsuit filed by CCR and the ACLU. View the film trailer here.
The film will open in select theatres on June 7, with ongoing openings and screenings throughout the United States over the course of the summer. Please see below for links to purchase tickets in a city near you* and check back for updates about CCR talkback panels and discussions.
*Please note that tickets usually go on sale 1-2 weeks before the opening date. In New York City, tickets are on sale now for the IFC. Please help us by selling out the theatre in your town so the producers can bring the film to more cities!
What: U.S. Film Premiere of "Dirty Wars"
Where: Cities around the United States (please see list below)
When: Beginning June 7, 2013
CCR-related upcoming events
*6/21 Premiere in Orange County, Beverly Hills, Portland and Nashville. Continued screenings in Boston, DC, Los Angeles, Chicaco and New York City.
*6/21 Milwaukee talkback discussion with Jeremy Scahill
*6/21-22 San Franscisco area talkback discussions with Director Rick Rowley
*6/22 Minneapolis talkback discussion with Jeremy Scahill
*6/23 New York City talkback discussion with Jeremy Scahill and Director Rick Rowley
CCR-related past events
*CCR Senior Staff Attorney Pardiss Kebriaei will participate in a talkback discussion on Saturday, June 8th following the 4:20pm screening at the IFC theater in New York City.She will be alongside the film's writer-director David Riker and journalist Amy Goodman.
*Wed, 6/12 at 6:25 p.m. The Rosa Luxemburg Stiftung-New York Office is hosting a free screening of Dirty Wars at the IFC Center, followed by a Q&A session with Amy Goodman of Democracy Now! and Anthony Arnove, co-producer of the film. Please RSVP here. RSVP is required for this free screening, and attendees are advised to arrive by 6 p.m. to guarantee a seat.
Upcoming Screenings

About the film

"Dirty Wars follows investigative reporter Jeremy Scahill, author of the international bestseller Blackwater, into the heart of America's covert wars, from Afghanistan to Yemen, Somalia and beyond. Part political thriller and part detective story, Dirty Wars is a gripping journey into one of the most important and underreported stories of our time. What begins as a report into a U.S. night raid gone terribly wrong in a remote corner of Afghanistan quickly turns into a global investigation of the secretive and powerful Joint Special Operations Command (JSOC).
As Scahill digs deeper into the activities of JSOC, he is pulled into a world of covert operations unknown to the public and carried out across the globe by men who do not exist on paper and will never appear before Congress. In military jargon, JSOC teams "find, fix, and finish" their targets, who are selected through a secret process. No target is off limits for the "kill list," including U.S. citizens. Drawn into the stories and lives of the people he meets along the way, Scahill is forced to confront the painful consequences of a war spinning out of control, as well as his own role as a journalist.
We encounter two parallel casts of characters. The CIA agents, Special Forces operators, military generals, and U.S.-backed warlords who populate the dark side of American wars go on camera and on the record, some for the first time. We also see and hear directly from survivors of night raids and drone strikes, including the family of the first American citizen marked for death and being hunted by his own government.
Dirty Wars takes viewers to remote corners of the globe to see first-hand wars fought in their name and offers a behind-the-scenes look at a high-stakes investigation. We are left with haunting questions about freedom and democracy, war and justice."