Date
Tuesday, January 30, 2018
6:30pm

to

8:00pm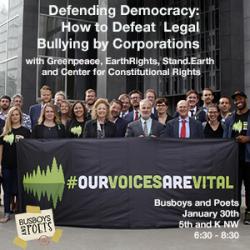 Defending Democracy: How to Defeat Legal Bullying by Corporations
5th & K
| Cullen Room | January 30, 2018 | 5:30 pm - 8:30 pm
Dissent, free speech, advocacy, and nonviolent protest are all crucial, constitutionally protected means for activists to advance our causes. And they work. Throughout history, these tools have achieved important environmental, social, and civil rights progress. That's exactly why powerful corporations and their allies in government are using a variety of approaches to crack down on activists—and why activists are joining together to push back and defend our rights to nonviolent democratic participation.
Strategic Litigation Against Public Participation (SLAPP) is a tool used by corporations to chill critical speech and advocacy on matters of public interest—they have been used against organizations and activists from all sectors of civil society, most recently and aggressively against environmental groups. The impact of the SLAPP goes far beyond the defendant group itself. SLAPP suits act as a warning to others: speak out against us and you, too, could find yourself in court. SLAPPs have a powerful but insidious impact on free speech and the ability of advocacy groups to hold the powerful to account. Employing the Racketeer Influenced and Corrupt Organizations Act (RICO ) statute is a relatively new iteration of this old tool—and is particularly dangerous given the fundamental role that networks, coalitions, and collaborative campaigns play in advocacy that challenges corporate power. If civil society loses its ability to build power through coalitions that could be targets for "criminal conspiracy," then the companies win and our democracy, our communities, and our planet lose.
Panelists:
Rachel Meeropol, Senior Staff Attorney for the Center for Constitutional Rights, Counsel to Earth First! Journal in ETP v. Greenpeace
Katie Redford, Attorney and Director of EarthRights International, advisors and counsel in multiple SLAPP suits
Todd Paglia, Executive Director, Stand.earth, defendant in SLAPP suit by Resolute Forest Products
Annie Leonard, Moderator, Executive Director, Greenpeace US, which is a defendant in SLAPP suits by Resolute and ETP
Deepa Padmanabha, Staff Attorney for Greenpeace US, which is a defendant in SLAPP suits by Resolute and ETP
This event is free and open to the public!