Date
Thursday, May 5, 2022
5:00pm

to

7:00pm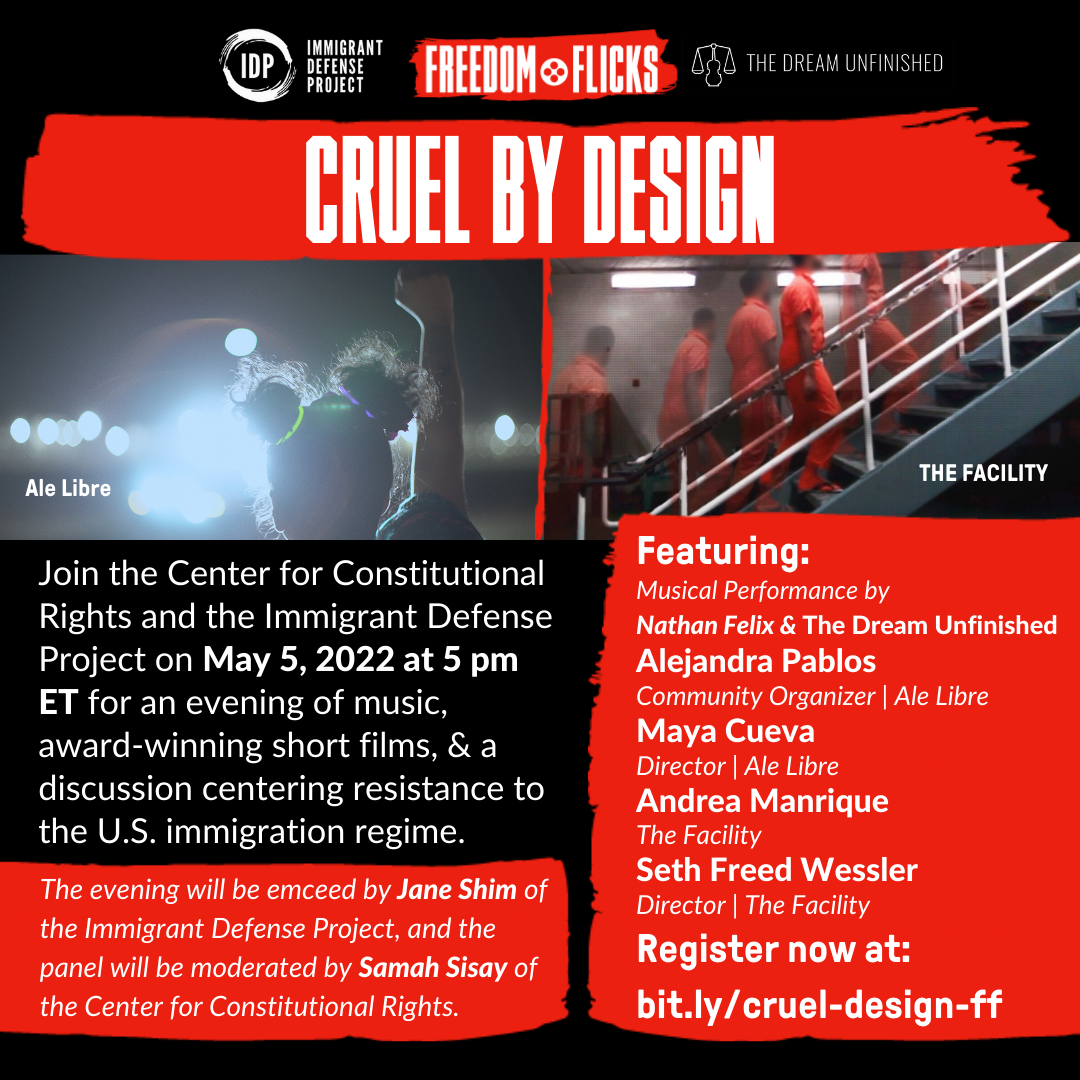 Join the Center for Constitutional Rights, The Dream Unfinished and the Immigrant Defense Project on May 5, 2022 at 5 pm ET for an evening of music, film and discussion centering resistance to the U.S. immigration regime. Building on a new report,"Cruel by Design: Voices of Resistance from Immigration Detention", the event will feature two powerful, award-winning short films: Ale Libre and THE FACILITY
Ale Libre follows a community organizer, Alejandra Pablos, who has been criminalized, while she prepares for her deportation case.  (Presented by The New Yorker)  
THE FACILITY is a harrowing account of the first hand experiences of immigrants struggling for freedom and justice from within ICE detention during the COVID-19 pandemic. (Presented by Field of Vision)
Our evening will begin with a musical performance revolving around immigration and borderlands, composed by Nathan Felix and The Dream Unfinished. Following the screenings, the filmmakers and protagonists will join a discussion with staff from the Center for Constitutional Rights and Immigrant Defense Project.  
Panelists:
Alejandra Pablos, Community Organizer, Ale Libre 
Maya Cueva, Director, Ale Libre
Andrea Manrique,THE FACILITY
Seth Freed Wessler, Director, THE FACILITY
The evening will be emceed by Jane Shim of Immigrant Defense Project, and the panel will be moderated by Samah Sisay of the Center for Constitutional Rights.
Register now to join us for what is sure to be a dynamic evening.
ASL and Spanish interpretation, and both English and Spanish live transcription will be provided for this event. 
Se ofrecerá también interpretación y transcripción en vivo en español. Para ver este evento en español por favor visite: https://youtu.be/dlYoO-3-Jvc 
---
By Design | Freedom Flicks Spring/Summer 2022 Season 
The Center for Constitutional Rights is proud to present By Design, our Spring/Summer 2022 Freedom Flicks Film Series. This season tells a story of a carceral society and a criminal legal system that is cruel, unjust and racist, by design. With films exploring the harsh realities of immigration detention and the racist legacy of Jim Crow, audiences will be invited to consider the shared roots of these systems of confinement and social control. Join us for evenings of storytelling by those most impacted by these systems, and for discussions featuring the filmmakers, activists and members of Center for Constitutional Rights staff. Our hope is that in recognizing these oppressive systems as not broken, but rather designed to dehumanize, criminalize and exclude marginalized communities, we will demand an end to these systems and collectively commit to building life-giving institutions of safety for all.