Date
Monday, June 25, 2018
12:30pm
Location
Rayburn House Office Building
Room 2044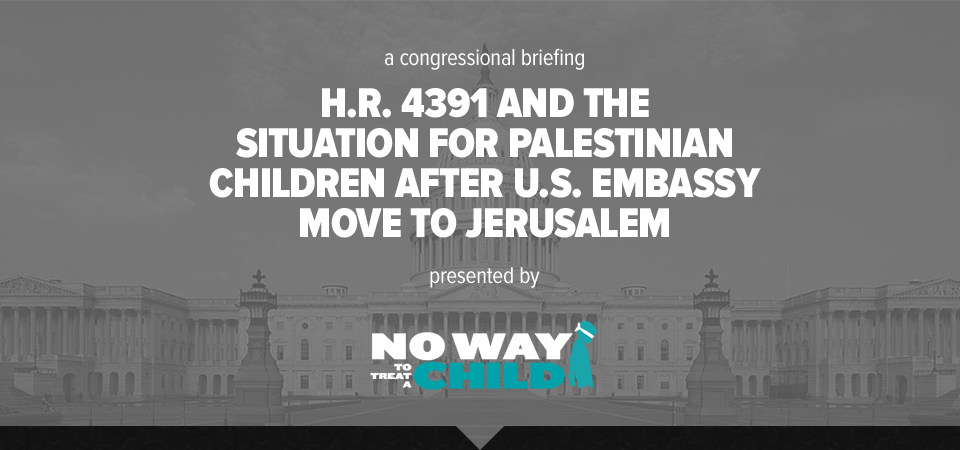 On June 25, 2018, DCIP and AFSC will host a congressional briefing examining how persistent grave human rights violations, systemic impunity, discrimination, and recent U.S. policy decisions, like relocating the U.S. embassy to Jerusalem, affect the lives of Palestinian children growing up under military occupation. The briefing will feature 5 panelist, including CCR's own Diala Shamas, discussing their first hand experience with Palestinians and U.S. Palestinian Policy. 
The briefing, will also provide updates on "The Promoting Human Rights by Ending Israeli Military Detention of Palestinian Children Act," or H.R. 4391, the first-ever bill to address Palestinian human rights in the U.S. Congress.
More Information:
Children under 18 years old account for nearly 46 percent of the 4.95 million Palestinians living in the occupied West Bank, including East Jerusalem, and the Gaza Strip. This generation of Palestinian children have lived under Israeli military occupation where systemic impunity and persistent grave human rights violations are the norm, not the exception.
With leaders that seemingly lack a political vision to pave the way for a future with justice and equality, children see only a future with limited prospects where their hopes and dreams are stifled by an Israeli military occupation with no end in sight.
For more information visit: http://bit.ly/HR4391briefing
Speakers:
Diala Shamas, Staff Attorney, Center for Constitutional Rights
James Zogby, President, Arab American Institute
Bill Van Esveld, Senior Researcher, MENA, Children's Rights Division, Human Rights Watch
Farah Bayadsi, Attorney, Defense for Children International - Palestine
Jehad Abusalim, Policy Consultant, American Friends Service Committee
Moderator:
Jennifer Bing, Palestine Israel Program Director, American Friends Service Committee, and co-leader of No Way to Treat a Child campaign
Sponsored by:
Defense for Children International - Palestine and American Friends Service Committee