Date
Wednesday, January 11, 2023
1:00pm
Location
Lafayette Park
17th & H Street NW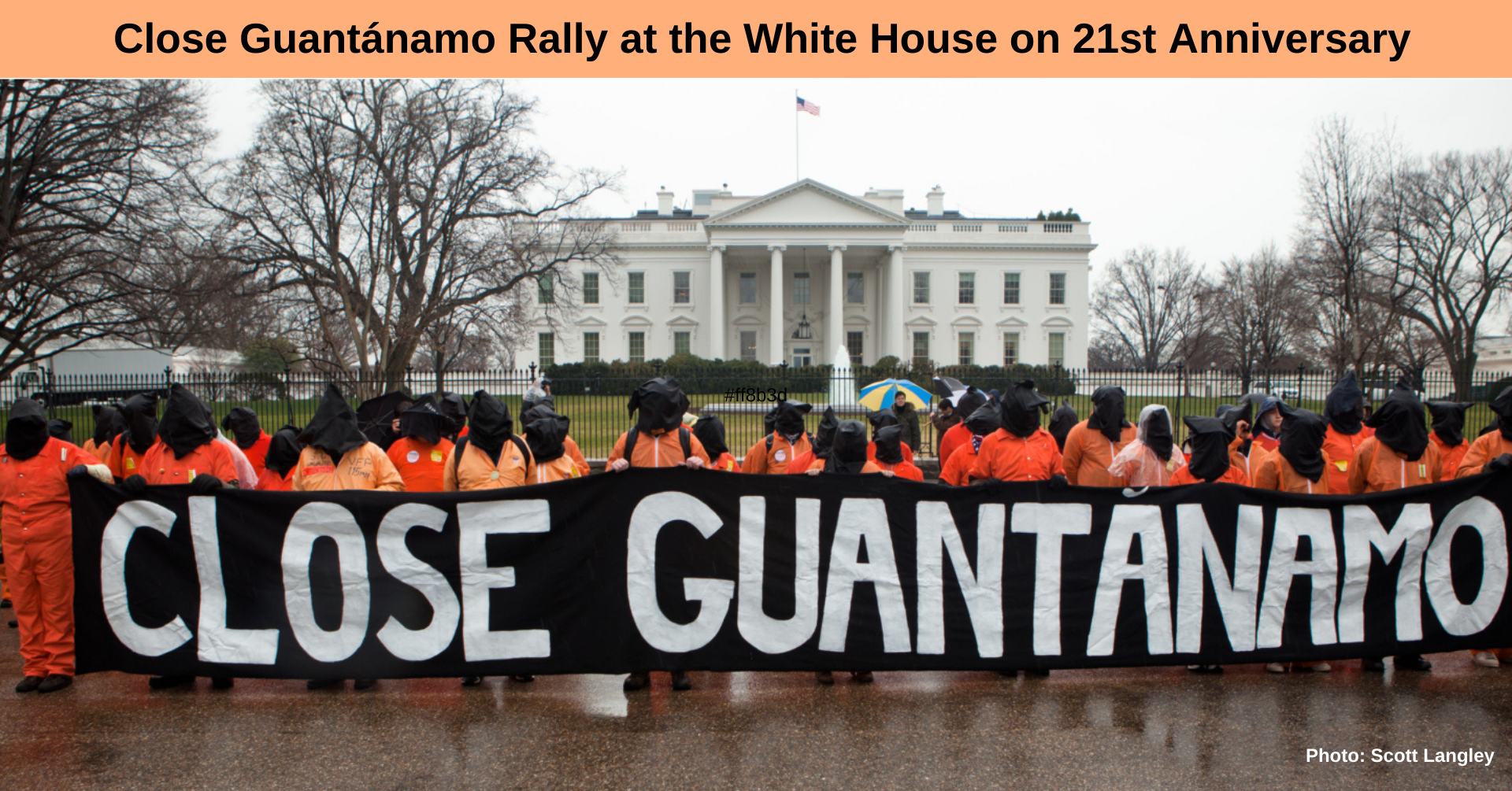 Join justice advocates, activists, and attorneys in Washington, D.C. on January 11, 2023, the 21st anniversary of the opening of the detention facility at Guantánamo Bay. We will gather in the southwest quadrant of Lafayette Square Park, by the White House, at 1 p.m. ET. You can find more information on the Facebook event page.
Speakers will include Dr. Maha Hilal, Executive Director of Muslim Counterpublics Lab and member of Witness Against Torture, and James Yee, former U.S. Army Muslim Chaplain at Guantánamo Bay.
This January marks 21 years since the Guantánamo Bay prison was opened as part of the so-called global "War on Terror." Over 700 men and boys have been released, but there has been no measure of justice or accountability for their detention and abuse.
Thirty-five Muslim men remain detained at Guantánamo. They are aging, and they are hoping to be reunited with their families before they die. The majority of the population has been cleared for release, and only a handful have been charged with a crime in the unjust military commissions system. None have received a fair trial, and more than 21 years later, there still has been no accountability for the 9/11 attacks.
Since the U.S. prison at Guantánamo Bay opened in 2002, there has been a global movement condemning its existence to detain Muslim men and boys without charge or trial. For over two decades, family members, activists, lawyers, advocates, artists, and storytellers have stood in solidarity with the men detained, uplifting their stories of injustice, advocating for the prison's closure, and calling for accountability for the torture and abuse that has taken place at Guantánamo and CIA detention sites. We have built connections with the men detained and with those who are now free, and across numerous struggles for justice.
This anniversary calls on us to mobilize and build our power to collectively close and abolish Guantánamo. We know a future without Guantánamo and all that it represents is possible.