Date
Tuesday, April 7, 2015
7:00pm
Join SMUG, Familia, APAU, MHACASA, Out NOW!, Stop the Hate & Homophobia Coalition and Center for Constitutional Rights for a film screening and panel discussion of "Call Me Kuchu" during Mount Holyoke's QPOC week! If your organization or church would like to co-sponsor the event by bringing membership and spreading the word, please fill out link here: http://bit.ly/19sLEl9
What: "Call Me Kuchu" film screening and discussion
Where: Mount Holyoke College, Dwight 101
When: Tuesday, April 7th at 7:00 p.m.
RSVP: Click here to RSVP on Facebook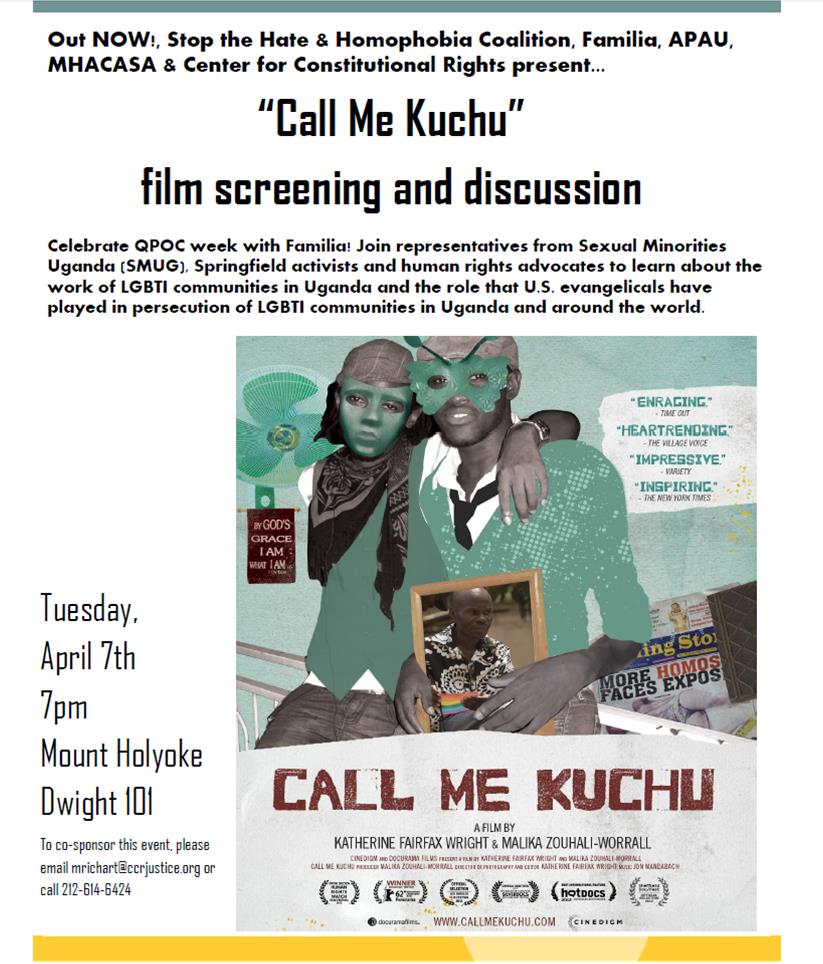 >>>>>>>>>>>>>>>>>>>>>>>
ABOUT THE FILM: Call Me Kuchu

In Uganda, a new bill threatens to make homosexuality punishable by death. David Kato, Uganda's first openly gay man, and retired Anglican Bishop Christopher Senyonjo work against the clock to defeat state-sanctioned homophobia while combatting vicious persecution in their daily lives. But no one is prepared for the brutal murder that shakes their movement to its core and sends shock waves around the world.

>>>>>>>>>>>>>>>>>>>>>>>>
ABOUT THE CASE: Sexual Minorities Uganda v. Scott Lively

On March 14, 2012, the Center for Constitutional Rights (CCR) filed a federal lawsuit on behalf of Sexual Minorities Uganda (SMUG), a non-profit umbrella organization for LGBTI advocacy groups in Uganda, against Abiding Truth Ministries President Scott Lively, a U.S.-based attorney, author, and self-described world-leading expert on the "gay movement." Filed in the United States District Court in Springfield, Massachusetts, the suit alleges that Lively's involvement in anti-gay efforts in Uganda, including his active participation in the conspiracy to strip away fundamental rights from LGBTI persons, constitutes persecution.

This is the first known Alien Tort Statute (ATS) case seeking accountability for persecution on the basis of sexual orientation and gender identity. The United States Supreme Court has affirmed the use of the ATS as a remedy for serious violations of international law norms that are widely accepted and clearly defined. Persecution is defined in international law as the "intentional and severe deprivation of fundamental rights contrary to international law by reason of the identity of the group or collectivity."