On May 17th, people around the world will mark the 100th day of the current hunger strike at Guantánamo and over 11 years of indefinite detention without charge or trial by calling on President Obama to keep his promise to close the detention facility. Each detained man must be immediately released unless given a fair trial in federal court.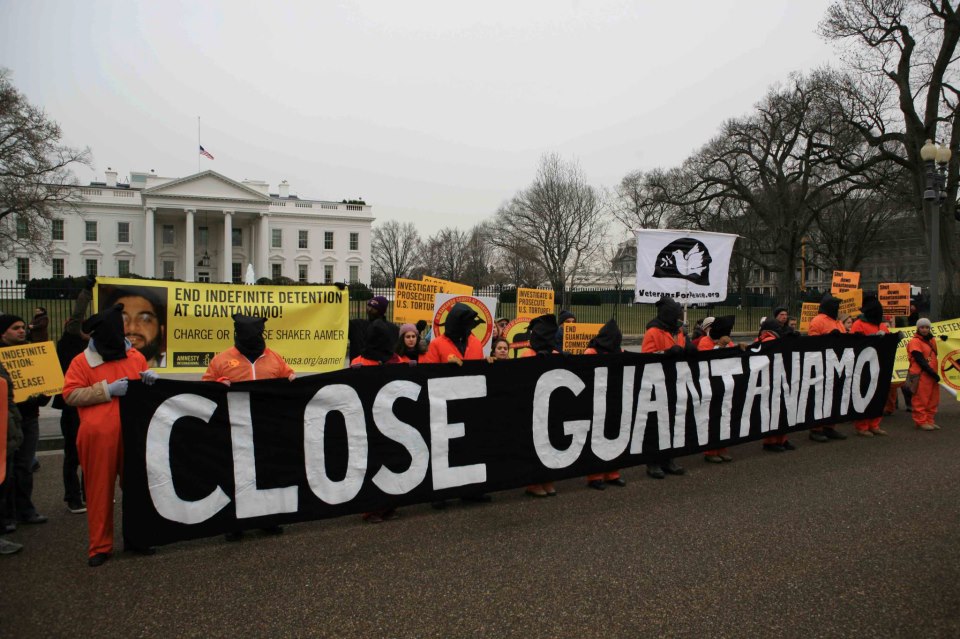 Some of the many ways you can help:
Join a coalition of human rights groups and activists at the White House on Friday, May 17th at 12:00 p.m. to deliver over 300,000 petition signatures and demand that President Obama use his authority to close Guantánamo. We'll be there on May 17th from noon - 1:00 p.m. Spread the word, and bring as many people as possible! RSVP for the DC event on facebook and spread the word.


Add your name at this critical time and sign petitions at CCR's CREDO petition & Change.org.
Join vigils in NYC (5pm, Times Square Armed Forces Recruiting Station on 43rd street between Broadway and 7th ave), Chicago (

Federal Plaza on May 17 @ 4 PM)

, and London (US embassy @ 2-4pm), or organize your own using CCR's online Advocacy Toolkit.
Global call-in action: Call the White House or the US embassy in your country. The White House comment line number is (202) 456-1111.

Sample message: "I support closing the prison at Guantánamo. President Obama can and should resume transfers, today. Indefinite detention without charge or trial is a human rights violation. All detained men must either be fairly tried in federal court, or released."
Tweet the White House:

@BarackObama @WhiteHouse keep your promise to #CloseGitmo. Start transfers today
Want to learn more or get more involved?
Sponsors: This May 17 Day of Action is sponsored by the Center for Constitutional Rights, Amnesty International, Code Pink, National Religious Campaign Against Torture, Torture Abolition and Survivor Support Coalition, Witness Against Torture, World Can't Wait, London Close Guantánamo Campaign and many others