Date
Wednesday, April 1, 2009
12:00am
The purpose of the April 1st 2009, 60/60 Conference in Strasbourg, France is to discuss the nature and significance of NATO's commitment to international human rights and the rule of law. In particular, speakers will address NATO's changing role post-9/11 in the global context of the fight against terrorism, and examine NATO's role in the rendition of terrorist suspects to secret prisons and torture sites. With experienced and prestigious speakers ranging from academics, lawyers, investigators, to representatives of NATO and the European Court of Human Rights, the conference will be a unique platform to debate critical questions on the eve of NATO's 60th Anniversary Summit – to take place in Strasbourg two days later – and four months after the 60th Anniversary of the Universal Declaration for Human Rights (UDHR).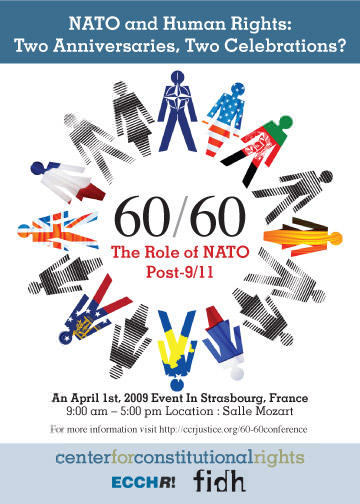 The organizers of the 60/60 Conference, the Center for Constitutional Rights (CCR, based in New York), the International Federation for Human Rights (FIDH, based in Paris), and the European Center for Constitutional and Human Rights (ECCHR, based in Berlin), were inspired by the convergence of these two 60th anniversaries to commemorate them together. Our hope is that bringing both anniversaries together in this year 2009 will inspire new thinking not just about the significance of NATO and UDHR individually but, most importantly, the value of NATO and UDHR to each other.
The 60/60 Conference will be a one day conference, with three panels and a keynote address from Canadian citizen victim of rendition to Syria, Maher Arar, via live video conference. The Conference will take place in the 18th century famous Salle Mozart, 1 rue du Miroir, in the heart of the city (sallemozart.free.fr) from 8:30 am until 5:00 pm. A map to the conference's room location is included in the program (Tramway Station Langstross, Grand' Rue). Visit Strasbourg Tourist Office at Otstrasbourg.fr for accommodation and other practical information.
The program for the conference can be downloaded as a PDF with this link or the link towards the bottom of the page.
This conference is co-sponsored by the Center for Constitutional Rights along with:
the International Federation for Human Rights


and the European Center for Constitutional and Human Rights.


This conference is free and open to the public, but because seating is limited, you can register here to secure yourself a seat.