Fordham University Students Win Landmark Fight to Establish Palestine Club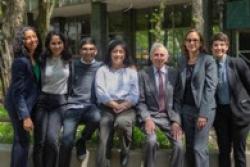 Five Fordham University students, represented by the Center for Constitutional Rights, have won a landmark legal victory against Fordham University, which sought to prohibit them from forming a Students for Justice in Palestine (SJP) club at their university. Awad, et al. v. Fordham University is the first lawsuit in the country challenging institutional censorship of students advocating for justice in Palestine, and this win marks the first major legal victory for free speech for advocates of Palestine on college campuses.
"When universities promise they are 'committed to research and education that assist in the alleviation of poverty, the promotion of justice, the protection of human rights and respect for the environment,' as Fordham defines its university's characteristics, they must allow students to pursue this education. Rather than allow Fordham's administration to impose its backwards and imperialist politics on us, we were victorious in the fight for students' rights to organize for justice for Palestine. This victory shows that when we fight back, we can win. Free Palestine!," said Sapphira Lurie, who graduated from Fordham University in 2017.
For more the Fordham students' case, visit our case page. For a timeline comparing events in the Fordham litigation with events in Palestine, visit our resource page. To learn more about the Center for Constitutional Rights' work in solidarity with movements for Palestinian human rights, visit our website.
Civil Rights Group Stands in Solidarity with Victims of Mass Shootings
The Center for Constitutional Rights stands in solidarity with the victims and the families of the deceased of the recent mass shootings in El Paso, Texas and Dayton, Ohio. Although we do not yet know the full details of the shooters' motives, it appears that the shooting in El Paso, Texas was an act of white supremacist violence committed against the Latinx border community. Those in power at the highest levels of government, who have spewed anti-immigrant rhetoric while implementing policies to target vulnerable immigrant communities, bear major responsibility, as do politicians beholden to the NRA and its toxic and perverse ideology.
At the same time that we call for justice for the victims of this and other senseless slaughter committed by white supremacists, we should not accept calls for expanded law enforcement powers to combat it, including new domestic terrorism legislation. The notion that this country – with its vast, existing arsenal of criminal laws, surveillance tools, and law enforcement power – lacks the means to hold those responsible now and in the future accountable is bogus. Moreover, as the Center for Constitutional Rights knows from defending activists and those broadly targeted as "terrorists," adding a new law-enforcement category of "domestic terrorism," with all the expansiveness and malleability that term permits, carries the potential for serious abuse.
Read our full statement on our website.