We continue our fight to protect asylum rights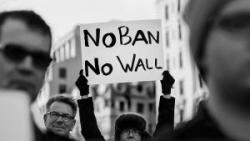 In a decision late Monday, a federal district court rejected the Trump administration's second attempt to dismiss our lawsuit, Al Otro Lado v. Nielsen. The suit challenges the unlawful turnback of asylum seekers at ports of entry along the U.S.-Mexico border – including attempts to restrict asylum applications through the so-called "metering" process.
"This decision powerfully affirms the force and scope of this nation's binding commitment to the principles of asylum and due process and resoundingly rejects this significant part of the administration's multi-faceted attack on asylum seekers -- and our law," said Baher Azmy, Center for Constitutional Rights legal director.
Learn more by reading our press release in English or Spanish and visiting our case page.
Call to action: LGBTQIA+ & reproductive rights are under attack – support us in fighting back!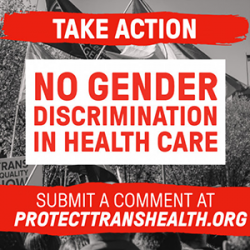 The Trump administration has proposed a rule that seeks to eliminate nondiscrimination protections under the Affordable Care Act (ACA) that prevent transgender people, pregnant people, and people who have had abortions from being denied access to healthcare or insurance. The rule would also limit access to health care for non- or limited English speakers. Make no mistake: this is a serious attack on our rights and our safety.
We are urging our supporters to act now and submit a comment to the U.S. Department of Health and Human Services to reject this rule. It only takes five minutes, but the impact will be felt nationwide. Comments must be submitted by August 13.
Learn more and submit your comment at Protect Trans Health's website.
Blog: What's progressive about trying to silence a boycott for peace and justice? (by Josh Manson)
The House of Representatives passed a resolution condemning the Boycott, Divestment, and Sanctions (BDS) movement, a global campaign combating Israeli human rights abuses and violations of international law. The resolution contained dishonest language smearing one of the movement's most prominent advocates, Omar Barghouti, and inaccurately depicted the international non-violent movement for freedom and justice for the Palestinian people as designed to undermine peace...
Continue reading on our website.
Blog: An evening of activism with Laverne Cox (by Chinyere Ezie)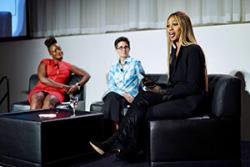 Last month, I had the privilege of moderating a discussion at Simpson Thacher's 6th Annual Citywide Diversity Reception with activist and Emmy-nominated actress Laverne Cox. Cox, who gained international recognition and acclaim for her portrayal of trans inmate Sophia Burset on the hit Netflix show Orange is the New Black, sat down with...
Continue reading on our website.