All fines dropped for Ramapough Lenape Nation in NJ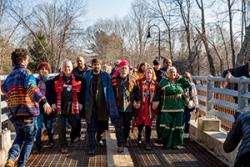 On June 28, the Ramapough Lenape Nation and the Township of Mahwah reached a settlement in all their pending lawsuits. The settlement with Mahwah dismisses all fines levied, which had run into the millions of dollars. It also acknowledges the Ramapough may continue to have gatherings and conduct religious activity on their land, and ensures that Mahwah will not seek to remove existing religious items on the land.
"We are thrilled that the Ramapough and the Township of Mahwah have come to a settlement that respects the Ramapough's fundamental rights," said Center for Constitutional Rights Senior Staff Attorney Rachel Meeropol. "The legal team can now focus all our attention on holding the Polo Club accountable for their racist harassment and conspiracy to deny the Ramapough use of their own land."
Read our press release on our website. While you're there, check out our case page for a full timeline of events.
Stories of transgender individuals amplified in remarkable Supreme Court filing
On Wednesday, the Center for Constitutional Rights and the Transgender Law Center filed an amicus brief with the Supreme Court in a case deciding whether discrimination against transgender people falls under the category of sex discrimination prohibited by the Civil Rights Act of 1964.
The brief highlights the stories of 30 transgender individuals who have experienced discrimination in the workplace because of who they are, including prominent transgender rights activist and Stonewall veteran Miss Major Griffin-Gracy.
"Before the Supreme Court rules on the rights of transgender employees, it is essential that they hear the voices and experiences of transgender people," said Center for Constitutional Rights Staff Attorney Chinyere Ezie. "All transgender people, and especially transgender people of color, know that discrimination is real and it is dangerous: it fuels poverty, homelessness, and mass incarceration."
For more information, read our press release and take a look through our resource page. You can also read the amicus brief on our case page.
We're hiring! – Technology Director
Are you or is someone you know looking for new opportunities to work on high-level technology strategy?
The Center for Constitutional Rights is hiring its first Technology Director, an exciting opportunity for an experienced, innovative technologist with a desire to use their expertise for positive social change. 
The Technology Director will lead and develop our technology to advance our mission; lead our IT team in the management of day-to-day IT operations; and plan and execute new technology-related projects and initiatives.